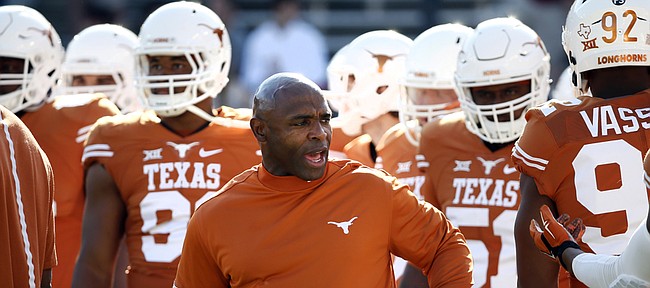 It's a tough time for Texas football, which enters Saturday's 7 p.m. home game against winless Kansas at 3-5 overall, 2-3 in Big 12 play and with a very un-Texas-like 39-33 record since the 2010 season that followed UT's loss in the 2009 BCS national championship game.
To say the natives are getting restless would be an understatement, and second-year UT coach Charlie Strong, who is just 9-12 thus far at Texas, has been at the center of the storm.
This week, on the heels of a 24-0 loss at Iowa State last weekend — an embarrassing defeat that followed back-to-back impressive wins over Oklahoma and Kansas State — Strong and the Longhorns have been asked some tough questions about the state of the program. While 39 wins in what Kansas fans know as the post-Mark Mangino era might sound like a dream to those in Lawrence — the Jayhawks are just 12-56 since 2010 — it's been more of a nightmare in Austin, and frustrations are starting to mount both inside and outside the program.
Freshman linebacker Malik Jefferson, who hails from Mesquite, Texas, was asked this week if he thought the luster of the Longhorns' brand was starting to wear off.
"Not at all," said Jefferson, the No. 1-ranked LB in the 2015 class who chose UT over offers from Alabama, Auburn, Baylor, Clemson, Florida State, LSU and several other heavy hitters. "Like I said, it takes time, and that's what it's going to come down to, people who really want to buy in are going to buy in."
Strong certainly is one of those guys. After a successful run at Louisville landed him the job at Texas, Strong has struggled to inject his culture and philosophy into the program that operated for 16 years under Mack Brown.
Built on defense, hard work, running the football and toughness, the Longhorns showed none of Strong's staples in the first five weeks of the season but looked like the poster child for all of those traits in their upset of OU and dominant win over K-State.
Just as quickly as that showed up, however, it was gone. Asked if a team losing its identity that quickly after finding it was an indication that this UT team was mentally soft, Strong objected.
"I don't think they're soft at all," he said. "You know, you have a group that (has) some toughness to them because that's what this program will always be built on, just mental and physical toughness, and they have that."
The players may but the fans might not. Especially with Texas basketball ushering in the exciting Shaka Smart era, it's possible that, for the first time in a long, long time, fans of UT athletics will look to hoops to help them forget about their team's struggles on the gridiron.
"I hope they don't," Strong said when asked if he thought the fans might check out. "Because at the end of the day, the players need their support, and they need them there to cheer them on. When the fans look at the number of losses, a lot of times it's just human nature, you feel like, 'I've got something else to do, why do I go watch them play.' But we've still got games to be played and our fans have been unbelievable, and I feel like they will continue to support us and be there for us."
Jefferson agreed and said the whole thing could be put back on track this weekend with a strong showing against the Jayhawks, who have not defeated Texas in the Big 12 era.
"The fans are going to show up," Jefferson said. "Everybody is going to be supporting us. A lot of people are really upset. I'm sorry I don't have an answer for you, but we're just going to keep playing Texas football and try to get this team turned around."