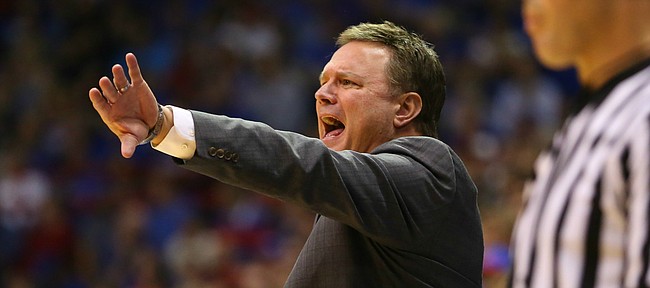 Bill Self spent his Wednesday morning and afternoon working as an administrator, not as a basketball coach.
"I didn't prepare for the game (89-66 win over Pittsburg State). I didn't go to practice today. I didn't meet with the team pre-game. I was in meetings all day," said Self, trying to help resolve the Cheick Diallo eligibility situation. 
KU's 6-foot-9 freshman forward from Mali has yet to be deemed academically eligible for competition by the NCAA Eligibility Center.
"This was the worst day a coach could have to open a season because you should be excited about a season. You spend all day dealing with other things that are more important than your actual season. Of course that has to be done. I totally understand that. It's disappointing we're dealing with it on Nov. 4," Self added.
Photo Gallery
Kansas basketball v. Pittsburg State (exhibition)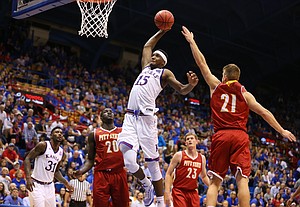 Images from Wednesday night's exhibition between the Jayhawks and Gorillas at Allen Fieldhouse.
Self told Diallo at 4 p.m., that he wouldn't be playing in the exhibition game because his case remains ongoing.
"There wasn't progress but there were certainly talks. The talks are ongoing," Self said. "The process is still playing itself out. I was very disappointed for Cheick that we let him know at 4 o'clock today he wouldn't be suited up, but that's the nature of the business. Certainly I'm hopeful everybody is working diligently to try to resolve this in the earliest manner it can possibly be resolved. It's disappointing but one in which it wasn't from a lack of effort today on our part, I'll say that."
Podcast episode
After discussing his team's exhibition opener against Pittsburg State, which exposed some weaknesses of Kansas, coach Bill Self details how busy and disappointing a day he had leading up to the game, due to being in constant meetings regarding the eligibility of freshman Cheick Diallo.
Self was asked if this is a situation where Diallo might be eligible for a certain amount of games, say second semester.
Podcast episode
Kansas basketball players Devonté Graham, Perry Ellis and Carlton Bragg discuss the Jayhawks' first exhibition of the 2015-16 season, an 89-66 victory over Pittsburg State.
"I would like to say that is not possible, but after going through the process I'd say anything is possible," Self said. "Not putting any blame or fault on anything. It's just there's a few moving parts. The NCAA has to follow policy on those parts. So it can be a little frustrating but certainly it's not one at this point and time to stand up and beat the drum saying, 'This should positively happen.' I think we have to respect the process."
Self was asked if it's "normal" to have back and forth discussions (with the NCAA) about an eligibility matter.
"I'll be real honest. I don't know what's normal. I personally don't think this is normal. I don't know what's normal," he repeated.
Asked flat out if KU has actually received a ruling and KU may be in an appeals process, Self said: "I can't say. I've been told to let the process play (out)."
And asked when it would be determined if Diallo is eligible or not, Self said: "I thought everything would be done by today. The thing about it is it may be a long time, it could be a long time just because if there's a ruling ... if it does not go the way you want, there are numerous opportunities you have to fight in (appeal)."
Other players in attendance: The Texas Wesleyan basketball team, which plays Park University today in Olathe, attended the KU-Pitt State game. Former Free State guard Doug Compton plays for Wesleyan. Also in the crowd was former KU guard Merv Lindsay, who played for both New Mexico and Wesleyan after leaving KU.
This, that: KU junior Landen Lucas started, but picked up two quick fouls. He had no points and two rebounds in eight minutes. "Landen was nicked up, that's why he didn't play. He turned his ankle pretty severely yesterday but wanted to play tonight," Self said. ... KU for the 2015-16 season has added several countertops for fans on the second level to use as they dine on concessions. Also, there are additional concession areas in the fieldhouse this season. There are now 16 points of sale on the second level compared to eight last year. ... Schnider Herard, a 6-foot-10, 255-pound senior center from Prestonwood Christian Academy in Plano, Texas, who at one time was being recruited by KU, on Wednesday committed to Mississippi State. Sources said the Jayhawks backed off on the No. 34-ranked (by Rivals.com) Herard recently with KU having landed 6-9 Mitch Lightfoot and still in the running for several other big men including Jarrett Allen, Udoka Azubuike, Marques Bolden and Harry Giles.
— See what people were saying about the exhibition during KUsports.com's live coverage.
---
---
More news and notes from Kansas vs. Pittsburg State
---