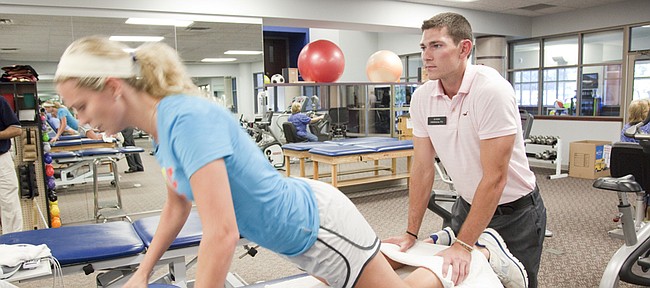 Former Kansas University basketball guard Tyrel Reed, who was awarded a doctorate in physical therapy during KU Med School graduation ceremonies on Sunday at Memorial Stadium, is joining Lawrence's OrthoKansas, LLC as a physical therapist, the company announced Monday on Facebook.
Reed, 26, who played for KU's 2008 NCAA title team, "has experience in both inpatient and outpatient settings and has a special interest in sports performance and injury prevention in young athletes," OrthoKansas wrote in a release.
Reed, who interned for OrthoKansas his senior year at KU, joins a staff of 21 providers, which includes board-certified Orthopaedic Physicians and Surgeons, PA-Cs and Physical and Occupational Therapists.
"Real happy to be back in Lawrence," Reed said Monday night in a text message to the Journal-World.
KU senior guard Christian Garrett graduated Sunday with a degree in sport management. The 6-foot-4 Los Angeles native told the Journal-World last week he is exploring options of playing pro ball overseas next season.
Vick skipped UK visit: LaGerald Vick, a 6-5 senior combo guard from Memphis' Douglass High, enjoyed last week's KU visit so much, he committed to KU on Sunday without visiting Kentucky.
He'd actually scheduled a visit to Lexington, Kentucky, for Sunday until Tuesday.
"You know, it's really not a huge surprise. I think Kansas maybe had a little bit more of a need for a wing, than Kentucky, right now," said Eric Bossi of Rivals.com. "Kentucky is also chasing after (No. 19-ranked) Caleb Swanigan, too. So, they could have shifted their attention a little bit late in the process."
About comparisons between the No. 137-rated Vick (in Class of 2016) and former KU guard Ben McLemore of the Sacramento Kings, Bossi said: "I haven't personally seen him, recently enough, to make that comparison. I think the comparison is more in terms of how they (KU coaches) see his career arc. Ben, who didn't play his first year, really exploded in that second year. Now, that doesn't mean the (KU) staff is telling Hurd (Norton, AAU coach of Vick) they think Vick is going to be a lottery pick after two years of college. They just think he has a chance to be really good his second year."
Barring some unforeseen circumstance, Vick will be a member of KU's incoming recruiting class, not the Class of 2016. He should be eligible to play immediately, including a spot on KU's World University Games team.
Vick, who averaged 26 points and 11 rebounds last season, was one of five finalists for the Memphis Commercial Appeal's Pepsi Best of the Preps (Memphis) Player of the Year Award.
Rivals.com's Dan McDonald had this to say about Vick's play for Team Thad at a recent Under Armour event in New Orleans:
"Vick had a terrific morning, going for 20 points and six rebounds. The lanky 6-foot-5 off guard oozes athleticism and got his points off a combination of three-pointers and dunks. The biggest improvement in his game over the past calendar year is his comfort level putting the ball on the floor and attacking the rim. He's going to be a good one and is due to see his ranking rise if his play continues at a high level."
Many players available: KU, which has one scholarship remaining to award in recruiting, is in the market for a big man, coach Bill Self told the Journal-World Sunday. He did not name names in accordance with NCAA rules.
Thon Maker, a 7-foot senior from Orangeville Prep in Mono, Ontario, continues to list KU, Indiana, Kentucky and Arizona State, but there's been little buzz about him actually ending up in Lawrence. Maker's mentor, Ed Smith, told Zagsblog on Monday his pupil is currently thinking about "finishing high school first and then U.S. college (rather than playing in Europe prior to entering 2016 NBA Draft)."
Maker is ranked No. 9 by Rivals.com. He may enroll at a college in December and play just one semester of college ball.
No. 61-ranked Tevin Mack, a 6-6 senior forward from Dreher High in Columbia, South Carolina, who prior to Vick's announcement had KU on his list of schools, this afternoon will choose either Texas, Georgia or Clemson. Texas is believed the leader.
No. 67-ranked Ke-Vaughn Allen, a 6-3 senior combo guard from North Little Rock (Arkansas) High, told
ESPN's Jeff Goodman he will remain committed to Florida in the wake of Billy Donovan's decision to leave the Gators for the NBA's Oklahoma City Thunder.
Another big man became available Monday when, according to CBSsports.com, Providence freshman Paschal Chukwu had decided to transfer. The 7-foot-2, 225-pounder from Nigeria, averaged 2.6 points and 2.4 boards last year. He was ranked No. 61 in the Class of 2014 by Rivals.com. He played high school ball at Fairfield College Prep School in Connecticut. He moved to the U.S. three years ago.
Also on the market is Greek 7-foot center Georgios Papagiannis, who played for a pro team in Greece this past season but was not paid, thus is still an amateur. Kentucky is believed the leader if he decides to play one season in the U.S. before entering the draft.