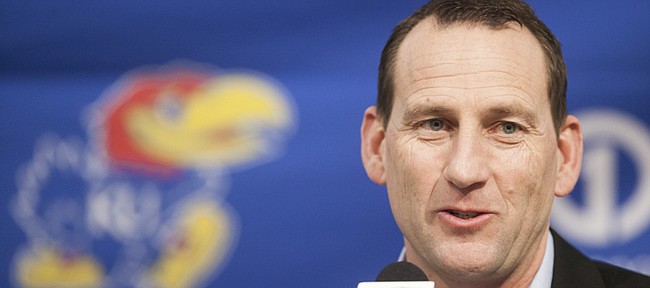 For weeks after he was hired back in December, first-year Kansas University football coach David Beaty raved about the quality of the coaching staff he brought with him to Lawrence.
Three days into spring practices, the elements that make Beaty so high on each coach already have become evident.
From co-defensive coordinator Kenny Perry's constant riding of the KU cornerbacks, to offensive coordinator Rob Likens' propensity to repeat a single instruction throughout a practice just to make sure there's no possible way to be misunderstood, to the fiery nature of guys like special-teams coach Gary Hyman, offensive line coach Zach Yenser and defensive line coach Calvin Thibodeaux, KU's new assistants — along with already-intense holdovers Clint Bowen and Reggie Mitchell — have needed no time to feel right at home in their new surroundings.
Asked if he was surprised at the fast start from his coaching staff, Beaty said no.
"It's a way of life," he said. "There was a plan from the beginning in terms of what type of folks we were looking for. It's not necessarily yellers and screamers. It's teachers, but we do want (the players) to feel urgency."
That has not been an issue.
Even when running the most simple and seemingly uneventful drills, KU's coaches have made it clear that, whether the Jayhawks do a drill right or wrong, they will do it well.
Even if a guy makes the right play in the end, if he did not follow the right steps along the way or let up at any point, you can bet he'll hear about it before his next rep.
"Effort's a minimum expectation," Beaty said. "We tell 'em we're not gonna spend a lot of time on their effort, because we expect that every day. We expect (them) to produce. You look across the world, it's the guys that produce that are the big winners."
That philosophy led to the hiring of this coaching staff, and even though they've only had a week on the field together, Beaty said he was overjoyed that the coaching around him had matched his expectations.
"A long time ago, a good buddy of mine told me the definition of urgency is an immediate call to action," Beaty said. "And that's what we want them to feel in everything we do — between drills, before practice starts — and we're trying not to lower that standard on anything."
Asked what question he heard on the recruiting trail most this offseason, Beaty said the athletes and parents he recruited wanted to know why or how KU was different than the rest of the schools out there. Each time, Beaty pointed to his coaching staff.
"One of the things I do say is, 'Hey, you're gonna have a hard time finding a place that has more energy, enthusiasm and passion than we have and better coaches on their staff,'" Beaty recalled. "There's a lot of great coaches in this country, but I really like our staff."
Early standouts
Although Beaty and company are still getting to know their new players, the Jayhawks have honored multiple players following each of the first three practices this spring.
March 24 — T.J. Semke and Jordan Shelley-Smith (special teams), Ronnie Davis (defense) and Ben Johnson (offense).
March 26 — Tevin Shaw (special teams), Ben Goodman (defense) and DeAndre Mann (offense).
March 28 — Ronnie Davis (special teams), Fish Smithson (defense) and Tre' Parmalee (offense).
KU will hit the field for spring practice No. 4 of 15 this afternoon.