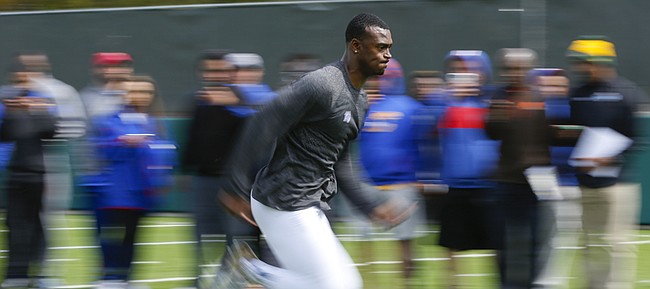 Wednesday's pro timing day for Kansas University's football team attracted scouts from 25 NFL teams and produced mixed results for the 15 members of the 2014 KU football team who participated.
Linebacker Victor Simmons, tight end Jimmay Mundine, wide receiver Nigel King and cornerback Dexter McDonald each recorded some of the best times and measurements during the testing, while cornerback JaCorey Shepherd and defensive lineman Keon Stowers faced adversity.
Photo Gallery
Kansas Football Pro Day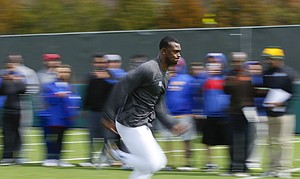 Former Kansas football players work out before NFL scouts during Pro Day
"I'm pretty happy with my results," said Simmons, who recorded the highest vertical jump (41 inches) and added to it 18 reps of 225 pounds in the bench press, 11 feet in the broad jump and a 40-yard dash time of 4.56 seconds. "I came out here expecting to perform well because I've been training hard the past several weeks."
Wednesday's pro day, which marked the last official KU event for these athletes, began in the weight room at 10:30 a.m. and wrapped on the practice fields just before 2 p.m. In between, the Jayhawks — along with a dozen or so others from schools nearby, including former Jayhawks Keeston Terry and Jake Heaps — ran through combine-style drills that tested everything from speed and strength to intelligence and agility.
McDonald finished with a 40.5-inch vertical leap, 4.37-second 40-yard dash time and 11-2 broad jump. Mundine had a 38-inch vertical, 4.60 40 time and 20 reps on the bench press.
As is the case at most pro days, the majority of the Jayhawks labeled the 40-yard dash as the day's most important event.
"I just wanted to let the scouts see me run," said King, who clocked a 4.46-second 40, a 39.5-inch vertical, 10-foot-9-inch broad jump and 15 reps in the bench press. "The football part is natural. I do all that. The 40 was important, and I'm happy with my time."
Added wide receiver Tony Pierson, who ran a 4.41 40 and was known as the fastest guy on the team throughout his career: "That's been my main focus since I started working out, just keep on grinding on that 40 time. I think everybody just feels good about the day, and we're relieved that we got this opportunity to show what we can do."
Almost everybody. Shepherd, who along with linebacker Ben Heeney was invited to the NFL combine in Indianapolis in February but sat out of drills because of a hamstring injury, ran the 40 on Wednesday but did not record an official time because the injury affected both of his attempts. Shepherd, whose game film scouts have fallen in love with, has been plagued by the aggravated hamstring since January and was noticeably bothered he was not able to show better on Wednesday.
"It's disappointing, but I'm not gonna let it get me down," Shepherd said. "I just have to get myself healthy and go from there. Everything else is up to the man above. He brought me this far, so I just have to keep believing and not get down about something I can't control."
Stowers, a defensive lineman who was well on his way to 25 or more reps in the bench press, stopped at 18 after injuring his pectoral muscle mid-lift. Despite the setback, scouts said they remained impressed by Stowers' film and strength.
Heeney was on hand Wednesday but only ran through positional drills, choosing to let his combine numbers, which were among the best at his position, speak for the themselves.
Of all the Jayhawks, Heeney and Shepherd are the most likely to get drafted, but several of the guys who competed figure to get an opportunity via free agency, and a few could wind up following in the footsteps of former Jayhawks and current Denver Broncos Chris Harris and Steven Johnson, undrafted free agents who made a 53-man roster.
Simmons said performing well in front of so many pro scouts was a great feeling regardless of what the future holds.
"We came out here and were talking about it, just thinking, "Dang, our dreams are within our grasp. We've just gotta perform,'" Simmons said. "Me and JaCorey have actually been looking forward to this day since we got here."
Roster updates
An updated KU roster was made available this week, and it featured a few noteworthy changes. Former quarterback Jordan Darling has been moved to tight end; offensive linemen Damon Martin and Brian Beckmann are no longer listed; Derrick Neal (cornerback) and Darious Crawley (running back) have officially moved back to wide receiver. In addition, KU's defense no longer features a Buck position, only defensive ends and linebackers. As previously reported, kicker John Duvic and linebacker Colton Goeas also did not appear on the updated roster.
On the mend
KU coach David Beaty said after Tuesday's practice that several Jayhawks would be limited or held out of spring practices while recovering from various injuries. They were: running back Corey Avery, offensive lineman Joe Gibson, linebackers Joe Dineen and Jake Love, cornerback Colin Spencer and defensive lineman Laytrion Jones.
Name Bench Vertical Broad 40
Ngalu Fusimalohi 22 — — —
Nick Harwell 9 34.5 10-3 4.40
Ben Heeney 19 — — —
Tedarian Johnson 17 28 8-2 5.41
Nigel King 15 39.5 10-9 4.46
Justin McCay 12 33 9-5 4.47
Dexter McDonald 10 40.5 11-2 4.37
Jimmay Mundine 20 38 10-1 4.60
Trevor Pardula — — — —
Tony Pierson 9 37 11-2 4.41
Michael Reynolds 15 31 9-7 4.50
Cassius Sendish 8 37 9-10 4.50
JaCorey Shepherd — — — —
Victor Simmons 18 41 11-0 4.56
Keon Stowers 18 29.5 8-6 —