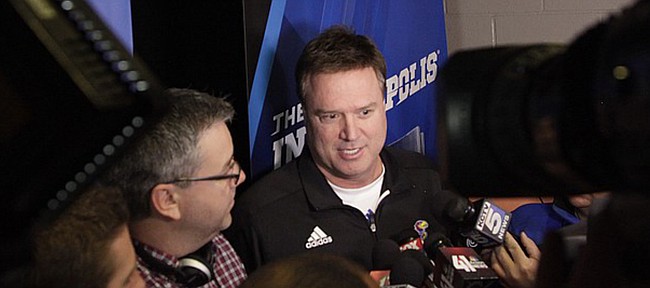 More than anything, Bill Self wishes he was in Cleveland today, preparing his Kansas University basketball team for an NCAA Midwest Regional Sweet 16 game against Notre Dame.
Instead, Sunday's 78-65 Round of 32 loss to Wichita State has put him on the road recruiting as he works on shaping the roster for the 2015-16 season.
"I am not making any excuses for our guys because we could have very easily advanced, but this was a team in which they did a pretty good job of piecing it together this year. The pieces didn't fit great," Self said Tuesday, speaking with one Journal-World reporter in his office instead of dozens of media members in Cleveland that would have descended upon the team hotel Tuesday evening had KU, not WSU, advanced.
"The kids adjusted and basically really did well to win the league and be a 2-seed against a monster schedule. Basically our inconsistencies certainly caught up to us at the very end," Self added.
Self, who has not watched tape of the season-ending setback, obviously remembers all the key moments in Sunday's defeat in Omaha.
"It was a disappointing end to a good season," Self said. "We lost to a really good team. They were a really good team on Sunday. They made shots the second half (16 of 27, 5 of 9 from three). We never got in a rhythm offensively and didn't get into a rhythm defensively to start the second half. The game came down to 10 minutes — the last five minutes of the first half they go on an 11-0 run (13-2 to grab 29-26 lead). The first five minutes of the second half they were able to extend the lead from three to 10. Other than that, we basically traded baskets. Certainly they were better."
KU had a chance to go up 10 with 41⁄2 minutes left in the first half. However, Landen Lucas missed an inside shot that was followed by an Evan Wessel three on the other end.
"We had numerous opportunities in the first half to be up by more than eight," Self said. "They finished the half right and we didn't, then they started the half right and we didn't. When you play with a lead, the basket gets bigger. When you play from behind, the basket shrinks. I thought we played really hard, especially the first half. I thought we lost our poise some to start the second half. The guys tried."
Self did not elect to complain about the fact the (30-4) Shockers entered the tournament as a 7-seed, instead of say a 3 or 4.
"This is a team that has won 90 games or whatever (95) over the last three years. They are better than a 7-seed, but it doesn't make any difference because you have to play whoever is in front of you," Self said. "So much comes down to matchups. We had a young team going against an experienced team. It was something we were capable of playing better than we did. I wish I'd gotten my guys prepared better to make more of a legitimate run, but it was a situation whoever you play in the second round will be a hard draw. Last year we drew a team that had unbelievable size, probably the biggest team we played all year (Stanford) and we played without our length in Joel (Embiid, injury). Not having our full complement of players probably did not help us. I'm not going to say it hurt us, either. Who knows how it would have played out?"
KU's Cliff Alexander did not play in KU's two NCAA Tournament games because of an NCAA inquiry into his eligibility.
"I am disappointed obviously because we didn't have our full complement of guys," Self said. "I feel bad for Cliff. I personally think that it's sad, sad, sad for him moreso than anybody else, but it's also sad for all his teammates, too, that count on him. You've got to deal with rules. I understand that. To me not having him was disappointing. I thought our players did a good job of handling it where it wasn't a distraction. We never talked like he was coming back with our players. Regardless of what kind of talks we had as a staff, our players weren't counting on it so I didn't think it was a huge distraction."
Self said nothing has been decided yet by the NCAA.
"Cliff is a member of the team. Nothing has been declared," Self said, indicating KU would announce something when the NCAA rules on the player's fate.
The bottom line on the season, Self said, "is we had a really good year. I'm proud of our guys. They fought hard. We had a lot of things to deal with. I wish we'd obviously played better at the end. They (players) do too. It wasn't for a lack of effort or competitive desire. If we could have won one more game and got to this weekend ... I felt the pressure probably was on us to get to the Sweet 16. (The) next week there was no pressure, just to play (against Notre Dame, then likely Kentucky in Elite Eight)."
NBA talk: Without naming names, Self acknowledged some players will likely be turning pro within the next couple weeks. Oubre and Alexander arrived as almost certain one-and-dones. Nothing seems to have changed in that regard. Perry Ellis and Wayne Selden Jr., also have not said for sure they will be back. As always, transfers are a possibility.
"I'm realistic to know we're going to have a guy or two leave," Self said. "I'm also realistic to know sometimes kids and families do things you don't anticipate them doing, too. That's the nature of this business right now — kind of wait and see. I anticipate losing a couple guys but I'm hopeful we'll have the rest of our players back because we do have a good foundation but we do need to solidify that and add a couple more players."
Self said he has already met with "a couple of them (players), but we'll get together and start talking at the end of this week or the first of next week."
Svi to return: Freshman Sviatoslav Mykhailiuk said in Omaha he'd return for his sophomore season. Self is planning on that.
"We've been talking to him about his summer plans and how to get better. He'll be home (Ukraine) between the end of the semester and start of summer school, two or three weeks," Self said.
Recruiting: KU currently has one scholarship to give in recruiting following the commitment of Carlton Bragg, 6-9, 225 senior from Villa Angela St. Joseph High in Cleveland.
"We've got one commitment. It'd be nice to sign another big. It would be nice to sign a guard," Self said.
Prospects who are considering KU include No. 2-ranked (by Rivals.com) Jaylen Brown, 6-7, Wheeler High, Marietta, Georgia; No. 3 Malik Newman, 6-3, Callaway High, Jackson, Mississippi; No.. 5 Thon Maker, 7-foot, Orangeville Prep, Mono, Ontario; No. 7 Cheick Diallo, 6-7, Our Savior New American, Centereach, New York; No. 8 Ivan Rabb, 6-9, Bishop O'Dowd, Oakland, California; No. 11 Stephen Zimmerman, 7-foot, Bishop Gorman High, Las Vegas; No. 19 Brandon Ingram, 6-8, Kinston (North Carolina) High.
Rivals.com indicated Self and assistant Norm Roberts would check in on Diallo today in New York.