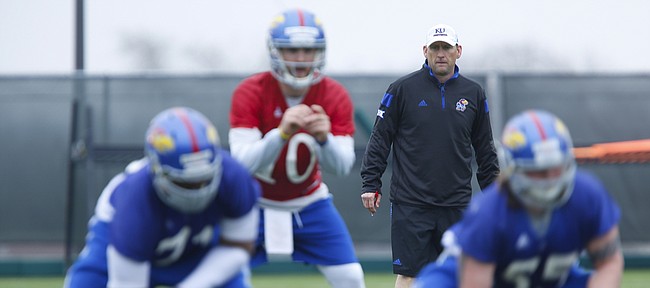 There was no depth chart, only a number of different position charts. There were no old habits, only new routines. And by the time the first spring practice under first-year Kansas University football coach David Beaty had wrapped — a little more than three hours after it began, thanks to a lightning delay that Beaty called "adversity" — Beaty summed up the day with genuine excitement over what had just been accomplished.
"I felt like our energy, our passion and our enthusiasm was there," Beaty said. "Now the challenge comes. Anybody can do that for the first day. How can we do it for the next 15, how can we do it on the off days and then what do we do off the field in between? There's a big transition going on here and it was a good step in the right direction, but it was only a single step."
Tuesday's spring opener, which took place in conditions more suited to late fall, was merely the latest move in what Beaty refers to as a process. That process began when he was hired on Dec. 5 and continued into the recruiting season which wrapped in early February and weekly, sometimes daily, meetings with KU fans, administrators and supporters from around the state.
The idea behind it all was exactly why Beaty said the Jayhawks did not yet have a depth chart.
"As coaches, we're trying to escape perception (and) deal with reality, not what people say, but what we see," Beaty said.
Although strength coach Je'Ney Jackson and his staff, who earned praise from Beaty for the work they did to get the Jayhawks ready for spring drills, had worked with Beaty's bunch during the past couple of months, Tuesday's practice marked Beaty's first opportunity to truly see his new team. And watching the squad work did not stop when the final horn sounded.
"We're so fired up, man," Beaty said. "We're like kids in a candy store right now with that video to watch. We just haven't had anything to watch that's ours, that we can (use to) truly evaluate our guys."
They do now. In addition to installing significant portions of their new offense and defense, the Jayhawks ran 94 plays in a 44-minute period, numbers that exceeded Beaty's expectations. One of the big reasons they were able to do that much was the simple philosophy with which Beaty and offensive coordinator Rob Likens operate.
"The installation, offensively and defensively is very rapid," Beaty said. "It's a three-day installation and we just repeat it every three days. Day 1, Day 2, Day 3. Day 1, Day 2, Day 3. Until we get bored. Until everybody knows where everybody's gonna be all the time."
Those plays included everything from deep balls and vertical routes to quick slants and tosses to the tight end over the middle. But the tempo remained high no matter what plays were called, and the Jayhawks moved quickly and with elevated enthusiasm throughout the day.
There were, of course, guys who got the first crack at the reps on the field, and Beaty said that was because they had earned it. That's not to say it will stay that way. As Beaty said, they might move a guy from the fourth spot on his position chart to the first, just to see how he handles it. But somebody had to go first at every position and Beaty said the guys who did on Tuesday, which included senior quarterback Michael Cummings, were the guys who had done the best work in the weight room or performed best in various competitions throughout the winter.
"Don't read too much into what you see out there early," Beaty said. "The thing that we wanted to impress on our guys was that from Dec. 5 to now mattered. And that's why you saw who went out there first, because they earned that opportunity."
Walk-on program a hit
One of Beaty's biggest goals when he took over at KU was to develop a walk-on program that could have a meaningful and immediate impact on the team. So far, so good. With a little more than just 50 scholarship players in Lawrence for spring drills, Beaty's numbers were bolstered by nearly 30 walk-ons who will work with the Jayhawks throughout the spring.
Beaty said the list of walk-ons included some pretty good football players and added that he was thrilled by the interest of so many players, many of the in-state variety.
"We've had to shut it down," an enthused Beaty said of the walk-on program. "We just didn't have any more spots."
No hurry at QB
Beaty reiterated that the coaching staff was in no hurry to name a starting quarterback for the 2015 season. He alluded to a time at Rice when the Owls did not name a starter until three days before the opening game. And while Cummings, Montell Cozart and T.J. Millweard all garnered mention from Beaty after practice, he made it clear that the priority with that position was to find the right guy.
His requirements for that player included a guy who could manage the game, take care of the football, move the team and be an effective leader.
"We'll take our time," Beaty said. "If we don't name a starter until the day of the game, I'm fine with that."
http://www.youtube.com/watch?v=S21Tz1IihWU