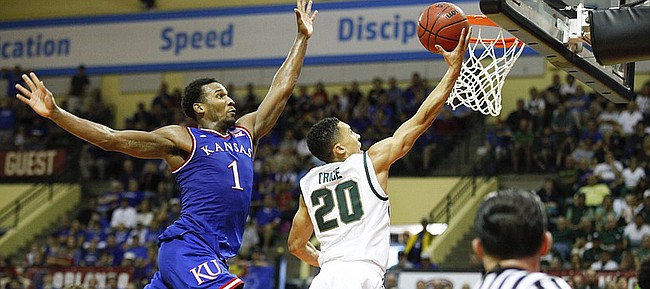 Kansas University's nonconference basketball schedule figures to be rugged again during the 2015-16 season.
What is known right now is KU will meet NCAA Sweet 16-bound Michigan State in the Champions Classic on Nov. 17 in Chicago and also travel to San Diego State to meet Steve Fisher's perennially tough Aztecs. S.D. State fell to Duke, 68-49, in an NCAA Round of 32 game Sunday in Charlotte, North Carolina.
KU will compete in the Nov. 23-25 Maui Invitational, which has a field that also features UCLA, Indiana and former KU phenom Danny Manning's Wake Forest team, as well as St. John's, UNLV, Vanderbilt and Chaminade.
KU's opponent in the Jan. 30 Big 12/SEC Challenge has not yet been revealed. There were strong rumors in January that Kentucky would travel to KU next season, with the Jayhawks heading to Lexington the following year as part of the one-day challenge.
"If I were a betting man, I'd put money on the (UK) Cats seeing Kansas in late January next year," wrote Drew Franklin of Kentucky Sports Radio.
Amazingly, if that game materializes and the Maui tourney pairings fall the right way, KU could face Kentucky, Michigan State, Indiana and UCLA in the same season.
The Jayhawks and Georgetown Hoyas, who were to have met in Allen Fieldhouse next season, have agreed to postpone that game until 2016-17.
Kansas will play in the CBE Classic in 2016-17 in Kansas City, Missouri. Teams have not been announced. Also, in 2016-17, KU will meet Indiana in Honolulu, travel to UNLV and play Georgetown in Allen. KU has not decided which preseason tournament it will play in 2017-18.
KU, which travels to South Korea to represent the United States in the World University Games this July, will be eligible for a summer tour to a foreign country the following summer.
Top prospects available: KU, which currently has one scholarship to give in recruiting (more if Kelly Oubre Jr., Cliff Alexander, Perry Ellis and/or Wayne Selden Jr. turn pro and if anybody transfers), in January received a commitment from Carlton Bragg, a 6-foot-9, 225-pound forward from Cleveland's Villa-Angela St. Joseph High.
The Jayhawks are after a batch of blue-chip prospects, meaning it figures to be an interesting upcoming month in recruiting.
Prospects who are considering KU include No. 2-ranked (by Rivals.com) Jaylen Brown, 6-7, Wheeler High, Marietta, Georgia; No. 3 Malik Newman, 6-3, Callaway High, Jackson, Mississippi; No.. 5 Thon Maker, 7-foot, Orangeville Prep, Mono, Ontario; No. 7 Cheick Diallo, 6-7, Our Savior New American, Centereach, New York; No. 8 Ivan Rabb, 6-9, Bishop O'Dowd, Oakland, California; No. 11 Stephen Zimmerman, 7-foot, Bishop Gorman High, Las Vegas; No. 19 Brandon Ingram, 6-8, Kinston (North Carolina) High.
Draft beckons: Oubre is listed as the No. 12 pick in the upcoming NBA Draft by draftexpress.com, No. 11 by ESPN's Chad Ford and No. 9 by nbadraft.net. Alexander is listed as the No. 24 overall pick by ESPN's Ford, the last pick of Round One by draftexpress.com and fifth pick in the second round by nbadraft.net. Ellis is listed as the ninth pick of the second round by nbadraft.net and is not listed by draftexpress.com. Ellis and Selden were not listed in Ford's list of the top 100 prospects.
Landen Lucas on the future: "Coach (Bill) Self understands what it takes to make it deep in the tournament. Going forward, we have to make sure whatever he says to do, to do it. It starts from the top down as far as leadership goes. Next year we have to make sure to do what he tells us to do.
"It hurts going out early. The main focus is doing whatever it takes in the future. If it's individual improvements, we have to make those improvements, make sure we do something about it instead of just talking about not going home this early."
More from Marshall: Wichita State coach Gregg Marshall, whose Shockers knocked KU out of the NCAA Tournament on Sunday, was on the Mike Francesa radio show Monday.
"They (Jayhawks) don't really have a need to play us (in regular season). They play a great schedule so they are going to be in the NCAA Tournament regardless. We want to play them because obviously we want to play teams as good as we can in our nonconference to give us an opportunity to be an at-large if we need to be, which we were this year," Marshall said. "It also would be good for the state. The bottom line is, it takes two to tango in scheduling. I have no problems with them not wanting to schedule us. They say it's not best for them, which is fine. We are in position to try to put ourselves in an at-large place by playing the best we can. So we want to see the game happen. The good news is, we've been able to make that happen three of the last four years, whether KU plays us or not."
Marshall's agent, Myles Solomon, told AL.com on Monday that he will begin researching Alabama, which CBS Sports says is prepared to make a "big run" at Marshall once WSU's season is over.
"Now that I've read those reports, I'll certainly just kind of look into the situation," Solomon told AL.com. "Then we'll see. A lot of times reports come out, and they have no (accuracy) behind them whatsoever. So we'll what happens."
Solomon told al.com he "might discuss" the CBS Sports report concerning Alabama with Marshall in the near future.
"It would have to be something extraordinary because they do love Wichita so much," Solomon said.