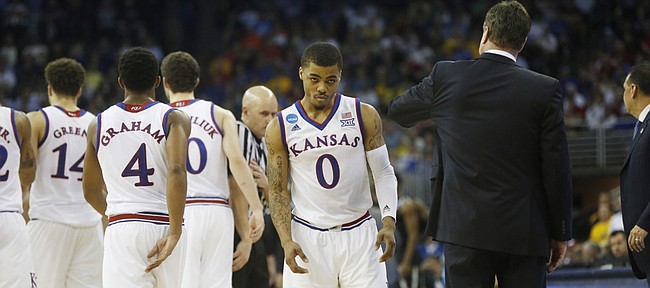 The malaise in the aftermath of Kansas University's two other recent NCAA Tournament losses to schools from the Missouri Valley Conference feels different this time.
Kansas started three freshmen, a sophomore and a junior in the loss to Bradley in 2006. All the starters knew they had to return for at least another year to elevate their games before entertaining thoughts of playing for pay. They were just too young to handle the NCAA Tournament pressure in the wake of a thrilling drubbing of a loaded Texas in the Big 12 tournament final. It was easy to see better years on the horizon.
After Northern Iowa bounced Kansas in the Round of 32 in 2010, freshman Xavier Henry, junior Cole Aldrich and senior Sherron Collins were done playing college basketball. That's a huge hit for any program. Still, Marcus and Markieff Morris and Tyshawn Taylor would return for their junior seasons, reserve forward Thomas Robinson showed strong promise. Veteran guards Brady Morningstar and Tyrel Reed exceeded expectations, and KU made it to the Elite Eight, losing to VCU.
Roster turnover in college basketball has increased since then. Prospects jump to the pros earlier. Freshmen and sophomores not yet in the rotation become antsy more often and transfer. Forecasting rosters in the wake of exiting the tournament becomes a hazier practice.
Who will start for Kansas next year? Impossible to say without knowing what players will make up the roster.
None of the 11 scholarship players is a senior. Subtract likely NBA Draft entrants Cliff Alexander and Kelly Oubre Jr. and add McDonald's All-American Carlton Bragg, a 6-foot-9 sharp-shooter from Cleveland, and that brings the roster to 10, leaving the space for three more recruits. Certainly, 7-footer Stephen Zimmerman from Las Vegas could change the team for the better. Many consider 6-3 shooting guard Malik Newman of Mississippi to be the most talented player in the class. Kansas has a shot at him and is in on a number of other McDonald's All-Americans.
KU should be able to count on its two best players — tough point guard Frank Mason and do-it-all forward Perry Ellis — returning, although Ellis hasn't said definitively that he will.
Guard Devonté Graham, the team's top player in the Wichita State game, should improve. Sviatoslav Mykhailiuk said earlier this week he would return to Kansas for a sophomore season. If he does, he has enough talent to leap over Wayne Selden Jr., who regressed as a sophomore, and Brannen Greene, who took a step back late in the season.
Inside, Landen Lucas, not nearly the athlete that Jamari Traylor is, developed into a better basketball player and showed enough to at least fill a key reserve role for his remaining two seasons.
Maybe a summer trip to Korea could bring the team closer together. Maybe. That word pretty well sums up the outlook for next season, when Kansas will attempt to win a 12th consecutive Big 12 championship and make it past the Round of 32 for the first time in three seasons.