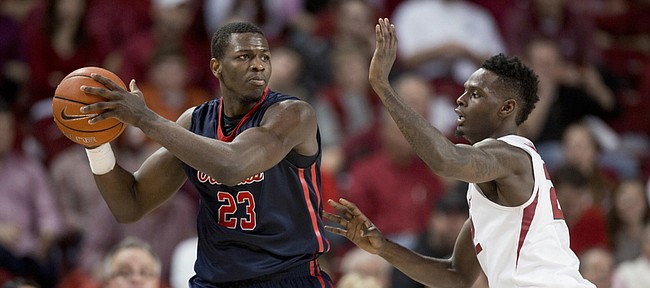 Bahamas National Team/future Kansas University power forward Dwight Coleby couldn't play next to his older brother, Kadeem, in the Caribbean Basketball Confederation Championships June 8-21 in Tortola, British Virgin Islands.
The brothers' planned reunion wasn't wrecked because of any untimely injury.
It was spoiled by a thief who broke into Coleby's buddy's car outside a Nassau gymnasium and swiped clothes, shoes and, more importantly, Coleby's passport.
The passport was stolen three days before Coleby was to leave for the CBC tourney. To get a new one, he needed a copy of the police report to take to Bahamas passport office. The report was delayed for unknown reasons.
"You would think that some people who have the authority would have assisted and made sure that he was able to go (on trip with teammates)," an irate Bahamas National team coach Mario Bowleg told the Bahamas Tribune.
"He was told that he will not be able to get the police report until Friday — a week later and the same time that we are traveling. Tell me why he has to wait a week after to get the report when he already made it known to them (police) that he is trying to travel with the men's national team. We thought that they would have made a special effort to try to get the report out in sufficient time so that he can apply for the passport," Bowleg added to the Tribune.
Coleby has since received a new passport in the mail. However, he is waiting on a copy of an I-20 form, which he needs to bring to the U.S. Embassy in Bahamas to receive a new visa.
This means he likely won't be in Lawrence for approximately two weeks. He had hoped to have been here right at the conclusion of the CBC tourney.
"I'm really disappointed because I came here (Nassau) to make the team, but someone else (thief) had to ruin it for me," Coleby told the Bahamas Tribune.
"It was a holiday (Bahamas Labor Day) so I guess they had to find a way to do their mischief. When they got everything else (sports equipment), they could have dropped the passport. It would have saved me a lot of time and energy. Now I will miss this opportunity to travel with the national team. I was really looking forward to playing again this year."
Bahamas went on to win five of six games and place second at the tournament. Dwight's brother, former Wichita State player Kadeem Coleby, was the only double-figure scorer in a 71-65 loss to Virgin Islands in the CBC finals.
"We had a good time last year (in qualifying tournament), and I was really looking forward to playing with him (Kadeem) again," Coleby said.
The good news is a top-three finish means Bahamas has qualified for next summer's Centrobasket Championships, where the Coleby brothers finally can be reunited on the court.
"Dwight's been looking good during workouts. What I've been impressed with is, he's hitting the outside shot," Coleby's high school and AAU coach, Darrell Sears, said in a Sunday interview with the Journal-World. "I know what he can do inside (averaging 5.4 points, 4.8 boards at Ole Miss his sophomore season). But he's been hitting 15 all the way to 20 (feet) ... hitting that shot consistently.
"He has the body," Sears added. "My biggest thing is coach (Bill) Self and the Kansas coaches will get him to play to the highest standard. Playing against guys going to the pros and Europe at practice ... every practice will be like a game. This year is so critical for him."
As a transfer he can practice but not play in games until 2016-17 season.
"If he stays healthy and learns what coach Self wants, I see no reason no matter who is coming in there ... when he is ready to play in 2016-17 I see no reason for him if not be a starter to be a major contributor," Sears added.
Chukwu to Syracuse: Paschal Chukwu, a 7-foot-2 center who left Providence after his freshman season, has decided to transfer to Syracuse. He also visited KU, Michigan State, Nebraska and Iona. KU had no scholarships available, thus he would have had to pay his own way to KU one year before being eligible for a scholarship in 2016-17.