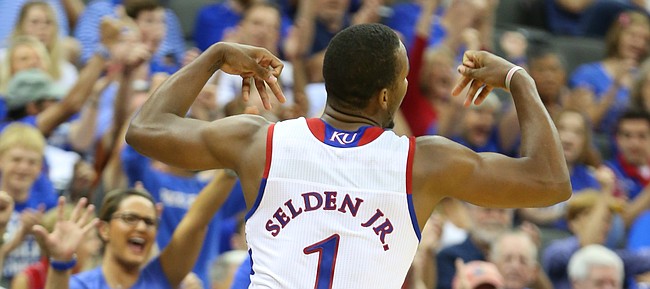 Kansas University junior Wayne Selden Jr. has the strength and quickness advantage on most college basketball small forwards, yet he had such poor offensive rebounding numbers his first two seasons.
Why? Because Andrew Wiggins and Kelly Oubre Jr., KU's small forwards the past two seasons, had better physical gifts for crashing the offensive glass. Selden, who played shooting guard the past two seasons, had to retreat to the defensive end when shots went up.
"We dissected last year's season a lot," Kansas coach Bill Self said after his team completed a two-game sweep of Canada in preparation for the World University games in South Korea.
Much of that time was spent trying to figure out how to make the most of the skills and intangibles Selden brings to a basketball team.
"Wayne was our second handler last year, and the year before he was our second handler," Self said. "And now the way we're playing, he's our third handler. So he doesn't have to be on the ball. He doesn't have to do some things."
One of those things is balance the floor by getting back on defense. Now he can crash the glass, and he did that well vs. Canada. Self said that when on the floor with Wiggins or Oubre, Selden didn't go to the offensive boards, "nine out of 10 times."
"You're in with Nic (Moore, filling Devonté Graham's role in South Korea) and Frank (Mason III) now that adds something to his game because now he's an offensive rebounder," Self said. "Just little things like that will help him."
Selden's sophomore slump followed a solid if unspectacular freshman season. He particularly struggled to finish drives to the hoop, sometimes taking off too far out in order to try to complete a throw-back dunk. At other times he came flying in and put up a shot without taking aim. He noticeably slowed himself down to finish with accuracy in the exhibition games against Canada. He did so multiple times to avoid charging fouls at Sprint Center, even though an impressive crew of referees blew a call against him, whistling him for an offensive foul.
"He looks more explosive than he has the last two years," Self said. "I think the majority of it comes from a fresh body. You get run down during the season."
A deeper bench will give Self the luxury of playing starters fewer minutes, especially if Perry Ellis, Carlton Bragg and a center play together at times, which won't be the regular lineup.
The best guess as to the most common 2015-16 starting lineup: Graham, Mason, Selden, Ellis and freshman Cheick Diallo.