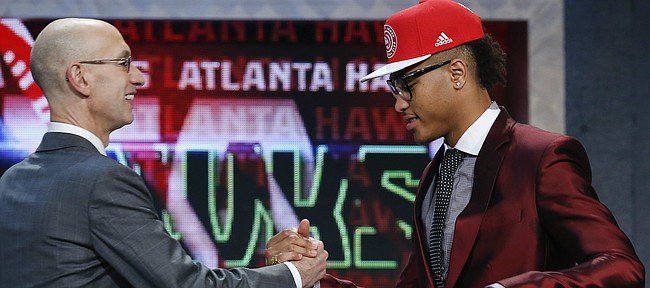 Former Kansas University guard Kelly Oubre, Jr., whose silver-spiked smoking slippers and maroon suit and slacks were all the rage at the 2015 NBA Draft, takes his fashion statement to the nation's capital next season.
The Atlanta Hawks on Thursday night made the colorful 6-foot-7, 19-year-old shooting guard the No. 15 overall pick — and in the process — gave KU a first-round selection for the sixth straight year. However Oubre was immediately traded by the Hawks to the Washington (D.C.) Wizards for Washington's pick at No. 19 plus two future second-round picks.
"Whoever gets me is getting a jewel," said Oubre, whose draft night outfit followed in the footsteps of last year's No. 1 overall pick — Jayhawk sensation Andrew Wiggins — who in '14 chose a rose printed black and white jacket with shawl collar, satin black trousers and velvet slippers — as his show-stopping wardrobe of choice.
"I feel like I'm a steal in this draft," Oubre added. "You know, my expectation was to go top 10. It doesn't work out like that for everybody, but I still feel like I'm one of the best players in this draft. My confidence is through the roof but I'm humble, also. I know I have a lot to work on and I'm ready to work on those things to help my team be the best that it can be. I've been through some bumps and bruises in college. I'm going to go through some bumps and bruises in the NBA.
"I'm ready to win a championship. Whatever team gets me will win the championship. I'm ready to put the work in to do so," he added.
Former KU forward Cliff Alexander was not selected thus will try to sign with a summer league team as a free agent.
As far as Oubre ... he goes to a winner. The team that selected him, Atlanta, went 60-22 a year ago. The team that acquired him, Washington, had a 46-36 mark. Former KU forward Paul Pierce plays for the Wizards, but he's expected to move on as a free agent this offseason.
"I showed them I'm relentless," Oubre said of his workouts for various teams. He did not work out for the Wizards. "A lot of teams passed on me, but that's fine. They made great picks. (There are) a lot of great guys in this draft. I'll give them 110 percent effort, pretty much show everybody what I can do, show that I can be great one day."
As No. 15 pick, Oubre, who averaged 9.3 points and 5.0 rebounds his freshman year at KU, will make $1,920,240 next season. He'll earn $2,006,640 his second year, $2,093,040 in year three and $3,208,630 in his fourth season for a four-year total of $9,228,550.
KU coach Bill Self, who said he's happy for Oubre, joked about his wild shoes/slippers.
"I noticed the shoes at the end. Everybody I guess needs something to stand out and be a little different. He did that," Self said. "I actually liked 'em. I thought they were pretty sharp, but I don't know if they are anything I'd ever sport.
"I was hoping he'd go in the lottery," Self added in a serious tone. "He went one pick out of the lottery, but gets a chance to play on a really good team. Hopefully Paul (Pierce) will still be there and some other guys who can help mentor him will be good for him."
Self said he texted Alexander after the draft to address the 6-8 forward not being picked.
"I said, 'Hey I know this is tough and everything, but not the worst thing that's happened,''' Self said. "I'd rather for his chances (of making team) to not get drafted than drafted real late.
"Now he can play for multiple summer league teams in multiple summer leagues and pick which team has the least number of guarantee contracts. I don't think this is a negative. From a pride and ego standpoint, we all wanted him to get drafted as early as possible. It just didn't work out."
Self spoke with Cliff, "two of the last four days asking him what he was hearing. He was pretty much in the dark on that too. It doesn't shock me. Here's the thing: Cliff didn't have a chance to play at the end of the season (because of NCAA issues) and certainly that hurt him. I don't know how he performed in workouts and interviews. The percentage play if you are not taken in the first half of the second round, you probably have a better percentage play in not being drafted," he repeated. "He gets to pick any of 30 teams to go to now as opposed to being locked in that one team. I bet you right now he's the most sought after guy not taken in the draft."
Alexander took to Twitter after the draft: "Started from the bottom before #motivation," he wrote.
More on Canada game: Self said he's looking forward to tonight's 7 p.m., exhibition vs. Canada in Sprint Center.
"I had as much fun in Tuesday's game (KU victory) as any time last year," Self said late Thursday night. "We were competing. At that date we'd spent maybe 45 minutes on how to guard certain actions and ball screens. I'm excited about tomorrow night. I think we'll play better and Canada will play better. We had a scrimmage today and either team coulda won," he added, not giving details of the scrimmage. "The crowd was unbelievable Tuesday and I'm sure will be Friday."