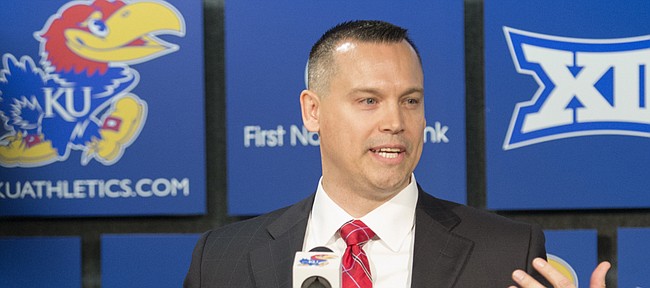 After a month of taking care of all the administrative duties that come with being the new head coach of the Kansas University women's basketball program, Brandon Schneider is finally ready to get to some basketball.
Today marks the start of Schneider's busy camp schedule, but instead of holding his breath and bracing for consecutive weeks of long days and repetitive instructions, Schneider is moving forward with the bounce of opening night.
"We're just trying to reach as many of the young people in the area as we can," Schneider said. "Whether it's through team camps or Junior Jayhawks, it's just great way to connect with the community."
Beyond that, Schneider views his camp circuit as an important way to sell the university.
Sure, a handful of the campers who attend KU's elite camp — today through Sunday at Allen Fieldhouse — will go on to play college basketball. And it's entirely possible that a few of them will join the Jayhawks in the coming years. But for the rest of the campers, which will include boys and girls from first grade to seniors in high school, Schneider believes the idea of representing KU well, and not just the basketball program, is a critical part of the hoops showcases.
"Hopefully we spark an interest in basketball for kids," Schneider said. "And for all age levels, hopefully we can spark an interest in Kansas and the university. We're hosting potential student-athletes, but, more importantly, we're hosting future students who might choose to come to the University of Kansas because they had good experience at our camp."
As for the specifics of each camp, Schneider said he and his staff have tried to tailor each camp to the age and skill level of the participants. For example, those who attend this weekend's elite camp and work with the current Jayhawks will get an extensive look at the way the Jayhawks will play and also an introduction to the importance of things like academics and compliance issues for college athletes. For the younger groups, the focus will be completely different.
"We have some more advanced camps and we have some camps where we just teach some of the rules and terminology," Schneider said. "For example, with second- and third-graders, we might just teach them what's a rebound."
While summer camps tend to become the same thing year after year, with only the ages and faces changing somewhat, this first go around for Schneider and company offers yet another opportunity for the new staff to develop some of its chemistry.
"Absolutely," Schneider said. "Just in the past week, as we've met and were preparing for these camps, it really was our first time together as an entire staff. A lot of things are on the agenda every time we sit down and come together and it'll be a great chance for us to really get to work together for the first time."
Summer Camp Schedule

June 5-7 — Elite Camp, high school
June 21-23 — Brandon Schneider Individual Camp, grades 5-12
June 27 — Team Camp, grades 8-12
June 29-July 2 — Junior Jayhawks, grades 1-5
July 20-23 — Junior Jayhawks, grades 1-5
All camps will take place at Allen Fieldhouse