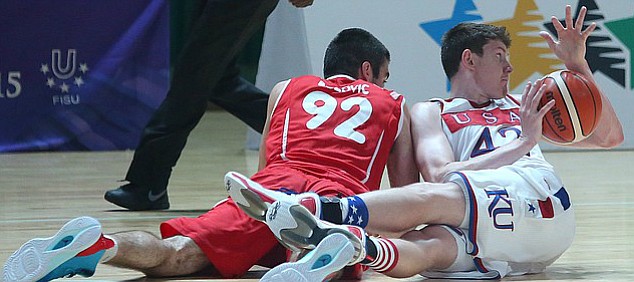 Gwangju, South Korea — After Kansas University senior forward Hunter Mickelson scored 14 points and added seven rebounds in USA's 66-65 win against Serbia on Wednesday, coach Bill Self declared the trip to Korea "the Hunter Mickelson coming out party."
Mickelson, who averaged 2.4 points and 1.8 rebounds last season, has played solid defense and finished through contact in the paint.
Following his performance against Serbia, Mickelson added six points, four rebounds and two steals in Thursday's 96-57 victory against Switzerland. The Jayhawks will face Lithuania in the World University Games quarterfinals at noon Saturday (10 p.m. Friday CDT on ESPNU).
"Hunter has unbelievable bounce and enthusiasm right now," Self said. "Now Wayne (Selden Jr.) has been the star of the show. There's been no doubt he's been the best player that we've had, hands down, easily, since we've been here. But I think Hunter has maybe been the second-best player that we've had. I've been real pleased with him. It's all because his mind is right, right now."
Photo Gallery
Team USA v. Switzerland
Photographs from Team USA game against Switzerland Thursday, July 9, at the World University Games in South Korea.
In the World University Games, Mickelson is fourth on the team averaging 9.8 points and third with 5.0 rebounds per game. He leads the USA squad with four blocks and has seven steals in the five pool-play games. He ranks third among all players in the tournament shooting 60 percent from the field (22-for-37).
"This kid wants to play so bad that even since he's been here, he works out every morning at 6 a.m.," Self said. "Maybe not on game days, but in addition to doing everything else. Six a.m., I know he comes from a military background, but myself, everybody else, laying around in bed trying to steal as much sleep as possible. He's really taken advantage of his opportunities."
Mickelson, a transfer from the University of Arkansas in 2013, downplayed his early workouts in the morning, but he certainly is spending as much time on the court and in the weight room as he can to prepare for his senior season.
"I get up in the morning and I've been working out and stuff out there in the (athletes) village," he said. "They have a little weight room and whatnot. Then, of course I shoot with the team whenever we go shoot and stuff like that. I don't know, more of it is I just can't really sleep. My sleep schedule is a little messed up so I'm up at 5:30 anyhow, might as well go do something."
With Mickelson's contributions, the Jayhawks had a 5-0 record in pool play and plenty of momentum heading into the medal rounds.
"I'm really enjoying playing with these guys," Mickelson said. "Everybody is doing really well. Just one of them times everyone is clicking and it's a good time for everybody."
Bragg comfortable without mask
For the past two games, Kansas freshman forward Carlton Bragg has played without his face mask after breaking his nose in practice on July 1.
When he did play with the mask in USA's first three pool play games, Bragg raised his mask over his forehead when shooting free throws.
"It was kind of frustrating me with that mask," Bragg said. "Can't catch the ball right. Shots not falling. It was pretty tough. I was seeing how I could play without it, and it's pretty good."
Bragg had nine points (4-of-9 shooting) and four rebounds in 19 minutes in the victory against Switzerland.
"I was thinking about if I got hit, it would hurt worse, but it's fine now," Bragg said of his nose. "It's been bumped but not like hit (directly)."
Freshmen learn from veterans
Kansas freshmen Bragg and guard Lagerald Vick said they are much more comfortable on the court compared to when they first arrived to Korea.
The freshmen combined for 20 points and 11 rebounds in the win against Switzerland.
"Jamari Traylor, he has taken me under his wing," Bragg said. "Showing me a lot. Showing me how to set screens. Teaching me leadership. It's pretty good though.
"Also with (Perry Ellis), too. He doesn't talk very much, but he leads by example."
Vick has been impressed by KU junior guard Wayne Selden Jr., who leads all scorers in the tournament at 19.4 points per game.
"Oh yeah. He's good," Vick said. "I'm playing off him. He's creating for me. He's just making me — making everyone around him — a better player because he's like the best player here right now."
Shooting ups and downs
The Jayhawks shot 59 percent from the field against Switzerland, but have struggled to make shots against top opponents. They shot under 40 percent against Serbia and Turkey.
"It's one thing to shoot the ball well in games that don't count, as opposed to in competitive games going out and performing well where you have to earn baskets," Self said. "I was happy everybody made shots today. But for our core group — Wayne and Nic (Moore) and Frank (Mason) and Perry — they should have made baskets today. Now they need to play like men moving forward on Saturday."
Off day shopping
The Jayhawks will have an off day on Friday before beginning play in the World University Games quarterfinals at noon Saturday (10 p.m. Friday on ESPNU) against Lithuania.
They plan to take it easy and enjoy their final off day of the tournament.
"Tomorrow will be a shop day for our guys," Self said on Thursday. "Then the rest of the tournament, it's just all basketball. We've kind of done our sight seeing fun, lackadaisical, goofy stuff. But beginning the day after tomorrow, there's nothing to do for us except focus in and try to win a medal and that will be difficult to do."
More from USA-Switzerland
---