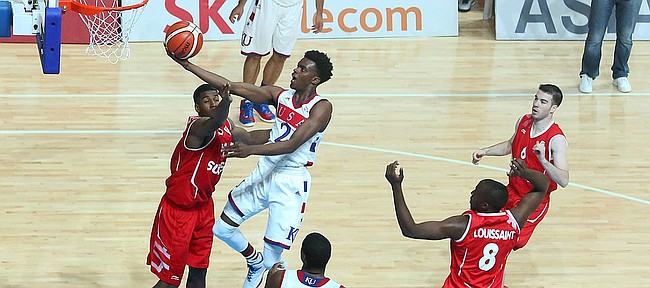 Gwangju, South Korea — With the starters off of the court, Kansas University freshman guard Lagerald Vick made the most of his minutes in USA's 96-57 victory against Switzerland on Thursday at DongKang College Gymnasium. 
Vick drove into the paint, hit a three-pointer and went hard after rebounds. He finished with 11 points in 15 minutes, adding seven rebounds and an assist. 
"He's definitely got a big upside," said Florida Gulf Coast senior Julian DeBose, who had 18 points in Thursday's win. "Just being a senior and looking at him as a freshman, he's got a big upside. He's got a quick first step. He makes good plays. He's just a freshman. He's got so many things to work, though. But he'll be great."
In the first four games of the World University Games, Vick averaged 4.3 points and 2.0 rebounds per game. 
"Lagerald can be an elite player," Kansas coach Bill Self said. 
Photo Gallery
Team USA v. Switzerland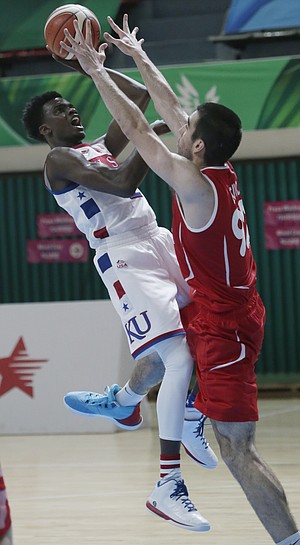 Photographs from Team USA game against Switzerland Thursday, July 9, at the World University Games in South Korea.
"We don't (have) three really, really good perimeter players with us. I mean really good — Devonté (Graham), Svi (Mykhailiuk) and Brannen (Greene). It could be fun. It could be fun on the perimeter. We need a big guy to step up. … I'm excited about it. I think Lagerald has a chance. Now, there's no guarantees, but if he can get to where he can play to his athletic ability and be able to react instead of think, which right now, he's thinking way too much, I think he could be a terrific player."
On Thursday, Vick scored five points in the first quarter and hit back-to-back shots in the second quarter. 
"I'm kind of comfortable now," Vick said.  "They're trusting me now. I feel way more comfortable than when I first started playing. It's a good feeling."
Diallo arrives
Kansas freshman forward Cheick Diallo arrived in Lawrence this week and has started attending classes. 
"Cheick got to campus … I think it may have been like the sixth of July. I'm not sure of the date," Self said. "But he's on campus and he's attending class. I can't wait to get back and see him because if our fans find out anything about that kid is that some of the hardest playing guys that we've ever had, Chieck may play harder than any of them. He's going to be a fun guy to watch. He's got an unbelievable motor." 
The 6-foot-9 Diallo couldn't play in the World University Games because he's originally from Mali. 
Travel issues for Coleby
Meanwhile, Kansas forward Dwight Coleby, a transfer from Mississippi who will have to sit out next season, has not arrived on campus. He's still dealing with paperwork after his passport was stolen when a thief broke into his car. The passport was stolen three days before Coleby was to leave for the Caribbean Basketball Confederation Championships, forcing him to miss the tournament and the chance to represent the Bahamas.
"Dwight had an unfortunate incident. He had his passport stolen with his visa in it," Self said. "He's been scrambling around and we've been trying to help him. But he's been scrambling around getting all the proper paperwork. … It's not like you're coming from Florida, even though the Bahamas isn't that much further. There's certainly some things that you have to do in order to make sure that he's set for a long stay once he gets back." 
---
More from USA-Switzerland
---
More like this story on KUsports.com