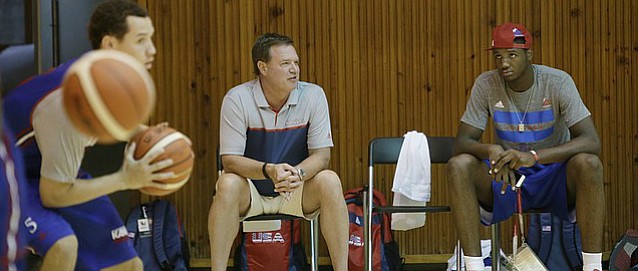 Gwangju, South Korea — Kansas University freshman Carlton Bragg sat out of Team USA's scrimmage against China on Thursday, one day after breaking his nose in practice. He doesn't plan on sitting much longer.
Bragg said he felt good enough to play on Thursday, but he's waiting for a protective face mask to arrive from Seoul, South Korea. He's confident he will be ready to play by Saturday's tournament opener against Turkey at noon (10 p.m. Friday CDT).
"This little stuff is nothing," said Bragg, after USA's 93-56 victory over China. "I've played with sprained ankles before so I know how it is."
Bragg didn't suit up for the scrimmage, wearing a grey t-shirt and a red hat while sitting on the bench.
"He should play next game," KU coach Bill Self said. "I think he could have played today. He thought he probably could have, too. But we're going to wait until we get a mask for him. That was supposed to come in today, but it didn't so hopefully we'll have it by tomorrow."
Bragg said he broke his nose in Wednesday's practice when he blocked a shot and was hit by senior forward Hunter Mickelson's elbow at the end of the play.
"When (doctors) told me I broke my nose, I thought I was going to be done for the rest of the whole trip," Bragg said. "But as I talked to the doctors and stuff, they said I should be fine. It's been good, though. I think I'll be able to play Saturday."
Bragg isn't excited about the idea of wearing a mask, but he has dealt with broken bones before. He said he broke his ankle once when he was younger.
"A company in Seoul sent one down," Self said of the face mask. "Hopefully it will fit OK. He's going to be able to play either way. You can't hurt it worse, and he's not going to get it fixed until he gets back. If he gets it hit again, it's not going to affect the eventual outcome anyway, which is to have surgery and straighten it back up."
"He should be fine to play," Self added. "The question will be, can he get his nose dirty with a broken nose? I don't know if he can do that yet or not."
When Bragg initially saw the swelling from his nose in the mirror, he did a double take. He said it was "the worst" pain he's felt and ranked it a "12" on a scale of 1 to 10.
"When I looked in the mirror, it was like crooked," Bragg said. "I was like, 'Oh!' I had to look down a little bit and looked up again. It was kind of freaky."
But the pain didn't last for long. He ventured into the city with his teammates after practice on Wednesday and was smiling throughout the scrimmage on Thursday.
"It's doing pretty good," Bragg said. "It was hurting at the time but I took some pain medication. The swelling went down a lot, though. I've been icing so I've been pretty good."