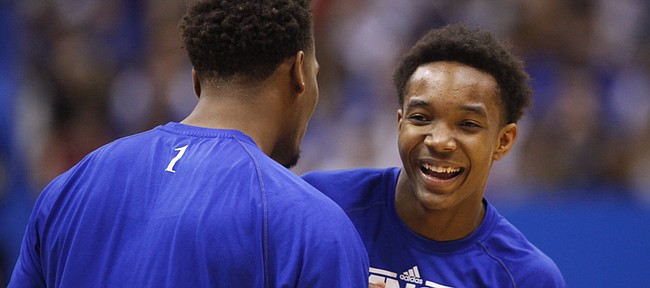 Podcast episode
Kansas freshman point guard Devonté Graham meets with media members and discusses how much he has learned about the game this season, as well as why he always seems to be smiling.
Podcast episode
Kansas sophomore point guard Frank Mason III speaks with reporters about how freshman point guard Devonté Graham has improved throughout the season, as well as how the backup's personality and approach help him and the team.
If statistics were kept on smiles per game, fun-loving Devonté Graham would lead Kansas University's basketball team — if not all of college hoops.
"The crazy thing about that," sophomore Frank Mason III said Monday, referring to the demeanor of the 6-foot-2 point guard from Raleigh, North Carolina, "is my family members say the same thing about him. They are like, 'Why is Devonté always smiling? Everyone has to have a serious face, and he's smiling.'
"He's always happy. It's great to be around him."
Graham, who has 20 assists against one turnover in five games played since returning from a turf-toe injury that forced him to miss six contests, admits he's happy to be healthy and playing a key role for ninth-ranked KU (16-3, 5-1) as a mere freshman.
"They (Jayhawks) say I'm always so happy. My team jokes around how I always play a lot, smile a lot. I'm just a big kid, I guess," Graham said.
KU coach Bill Self can hardly believe the exuberance of the first-year player who has averaged 5.8 points a game off 39 percent shooting with 27 assists against eight turnovers.
"Nobody can be in that good a mood all the time, I don't think," Self said. "He is a great teammate and happy-go-lucky kid. I would be curious to poll all kids on our campus, because our players swear he's the most popular kid on campus, just about. I don't know if that's accurate or not. In our players' minds it certainly is."
Graham showed his lighter side in a recent home win over Oklahoma. That's when he celebrated as Brannen Greene went up for a three-point shot. That's right: Graham celebrated before the ball fell through the hoop.
"In practice when we scrimmage a lot, it's me and Brannen on the same team, and usually Svi (Mykhailiuk). Every time they shoot the ball, I think it's a 95 percent chance it's going to go in," Graham said. "That's just my thought, so in the time and moment of the game, we were making a lot of shots, and he was wide-open. I just knew he was going to make it. I turned around and celebrated."
Graham said he heard about it "on Twitter, from everybody, my mom."
His mom?
"She was like, 'What if he would have missed? Coach would have taken you out? What were you thinking?' She was more on the negative aspect of it," Graham said. "I was just having fun, playing. I've never done that before. It was the first time."
Graham and Mason played well together during crunch time in Saturday's 75-62 victory at Texas. Graham had three assists, no turnovers and two points in 20 minutes. Mason had 12 points, four assists and no turnovers in 35 minutes.
"It's amazing to me his numbers since he's been back," Self said of Graham. "He was totally out, couldn't ride a bike for three weeks, in bad condition, didn't really bounce a ball. Then he comes back and has 20 assists, one turnover in league. He gives us another ball-handler, somebody late-game situation who can take care of the ball, utilize the clock and get the ball where it needs to go. Certainly I can see him continuing to play more and more."
Graham said in looking back, his injury might not have been so bad after all.
"Just sitting back being injured helped me improve, seeing the game from how coach wants it to be played," he said. "We all think we know how to play the game, but little things like where to be on the court, the right passes to make, who to get the ball to, seeing things like that helped me out. I picked up on how he (Self) wants us to play, watching film, different things like that."
KU's next test is Wednesday at TCU. Tipoff is 8 p.m. at 4,759-seat Wilkerson-Greines Athletic Center in Fort Worth, Texas.
Alexander honored: KU freshman Cliff Alexander on Monday was named Big 12 newcomer of the week. He averaged 14 points and 11 rebounds and hit 55.6 percent of his shots in wins over Oklahoma and Texas.
What a play: Self on Monday commented on Jamari Traylor's amazing hustle play against Texas. Traylor blocked a shot, had his shot blocked, went flying into the stands chasing an offensive rebound, ran to the other end and dove on a loose ball at halfcourt, the ball kicking to Frank Mason III, who scored a basket and was fouled.
"It's the best play anybody has made since I've been here. Everybody says Mario's shot," said Self, referring to Mario Chalmer's three-pointer that sent the 2008 NCAA title game into overtime. "Mario's shot was a great shot. This was the best play. It was a 17- to 20-second play he made. I've never seen a better dive for the ball. Not only did he dive for it, he dove for it and stole it as he dove.
"It was as good a play I've witnessed a guy making. There's been a fancier pass, this or that. This was an extended play. It was a special deal. He was so proud of himself, and the team was so proud of him."
K's 1000th win: Self said it, about Duke coach Mike Krzyzewski's 1,000th victory: "It's a remarkable accomplishment at a program led by a guy that is the standard in our business. I think he'll get a couple hundred more. They are recruiting well. He seems in great health and enjoying himself," Self said on his weekly "Hawk Talk" radio show.