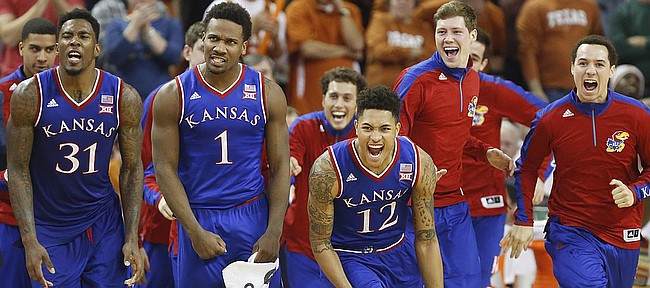 Photo Gallery
Kansas basketball v. Texas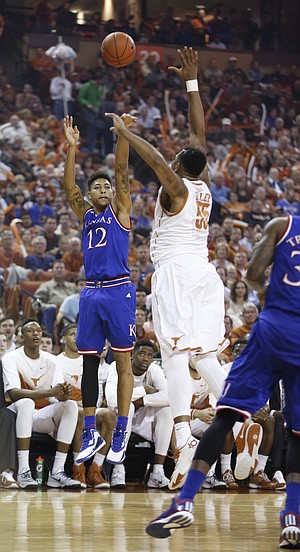 Images from Saturday's game between the Longhorns and Jayhawks at Frank Erwin Center in Austin.
Podcast episode
Kansas basketball coach Bill Self talks about the Jayhawks' Saturday road win at Texas, a victory in which he saw few issues for his team.
Podcast episode
Kansas basketball subs Brannen Greene and Cliff Alexander combined for 29 points off the bench in KU's win at Texas. They discussed the Jayhawks' win with the media.
KANSAS 75, TEXAS 62
Austin, Texas — Kansas University basketball coach Bill Self, who can be a perfectionist when it comes to assessing the play of his team after games, found little to nothing to fault after Saturday's 75-62 dismantling of Texas on Saturday in Frank Erwin Center.
In fact, as miffed as he was after that road loss to TCU a couple years ago ... he was the polar opposite emotion-wise following a victory that upped the 11th-ranked Jayhawks' record to 16-3 overall, 5-1 in the Big 12. No. 17-ranked Texas fell to 14-5, 3-3.
"That's the best game ... that's the best road game we've played in a long time. I mean maybe years, in large part because we took care of the ball," Self said after his squad tied a school-record with just three turnovers — fewest in a game since 1966 when KU had three versus Iowa State.
"Our shot selection was good, even though they blocked some shots (nine to KU's four). Our first-shot defense for the most part was pretty good. We played to scouting report pretty well. I thought our offensive efficiency was the best it's been all year," Self added.
He cited the play of Frank Mason III (12 points, four assists, no turnovers) and Devonté Graham (two points, three assists, no turnovers) as the main factors for the overall efficiency.
"I thought Frank and Devonté just totally controlled the game the second half (in which KU expanded on 32-30 halftime lead)," Self said. "Didn't you guys think it was their game?" Self added, asking a question of his own to media members.
Self dished out some additional superlatives, one involving Cliff Alexander, who scored 15 points — one off a career high — and grabbed nine rebounds in 27 minutes.
"We haven't seen Cliff run like that all year," Self said. "The great thing about Cliff is he's had a bruised sternum. Then somebody hit him this morning (at shoot-around). I'm thinking Ridley (Cameron, eight points, four boards) is going to knock the crap out of him, but he fought through it. He got four dunks blocked and still he took it right at the rim every time. He was impressive."
Self also lauded Brannen Greene (14 points, four threes after not practicing two straight days after running into Perry Ellis' elbow at practice) as "great" and said the sophomore guard "bailed us out."
KU's 12th-year coach saved probably the highest praise for junior Jamari Traylor, who was credited with a whopping eight floor burns (dives for loose balls).
Traylor in one first-half frenzy went flying into the stands while chasing an offensive rebound, then after running to the other end dove on a loose ball near halfcourt, knocked it off UT's Demarcus Holland with the play ending in a basket and free throw from Mason.
"I thought that was the best play I've seen since I've been at Kansas. I don't think there's ever been a better hustle play than that one," Self said of the action that came shortly after Traylor's rejection of a Holland shot. KU led 26-21 following Mason's bucket and free throw. 
"It was unbelievable. Plays like that give your team momentum and give your team confidence. That was a helluva play," Self added.
Self also was happy with a defense that held UT to 40 percent shooting, including a three-of-18 performance from three (to KU's six-of-18).
"Our big guys did the best job they've done in a while denying them touches," Self said.
The Jayhawks, who didn't shoot well (27 of 62 for 43.5 percent), did make up for that by suffering just the three turnovers — none the final half.
"That was huge. Going away and committing only three turnovers, that's big," said KU junior forward Ellis, who scored 14 points and grabbed five rebounds in 33 minutes. "That's how you win away games."
"That's awesome. That's how you win games on the road. That's big for us," Graham stated.
Noted Mason, who played 35 minutes: "That's always the formula to win on the road. If you can take care of the ball and execute on the offensive end and get stops on the defensive end, that's the winning formula."
Self was pleased the Jayhawks fared well against a tall Texas team, tallest squad the Jayhawks have faced since Kentucky, which beat KU by 32 points in November.
"It was different when we played against Kentucky's length. We shied away from it. Today we didn't shy away, we went to it knowing they'd block some," said Self, whose Jayhawks used a 27-10 run to turn a 44-39 deficit into a 66-54 lead. "We attacked their length well. We drove to pass as opposed to driving to score. It's hard to drive to score over length. It's much easier to force help when passing to somebody else. I thought we did a good job of sharing the ball."
The Jayhawks did so many things well ... "I think if they play the way I think the game is supposed to be played, with energy and unselfishness and those things I think I could fall in love with this group," Self said. "We haven't done that consistently. Today we ran. We were opportunistic. We played smart. Shot selection was good and we paid attention to scouting report for the most part."
KU will next meet TCU at 8 p.m., Wednesday, in Fort Worth, Texas.
---
More news and notes from Kansas at Texas
---