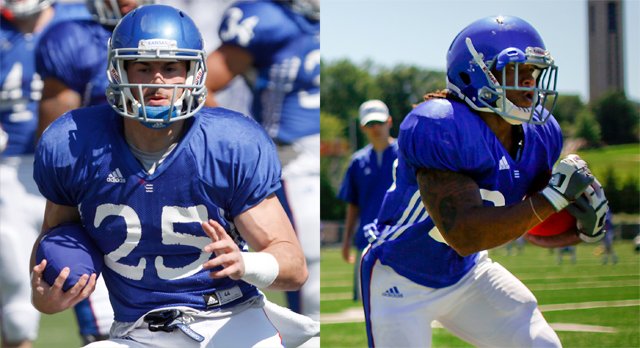 The Journal-World has learned that former Kansas University running back Brandon Bourbon will enroll at Washburn University in Topeka and play his final season of eligibility for the Ichabods next fall.
Bourbon, a former four-star prospect from Potosi, Missouri, who came to Kansas after initially committing to Stanford, battled injuries throughout his five-year KU career and never really got a prolonged chance to show what he could do.
After sitting behind James Sims for three seasons from 2011-13, Bourbon appeared to have his best opportunity heading into last season but suffered a season-ending knee injury during preseason camp.
The 6-foot-1, 225-pound back finished his KU career with 422 yards and four touchdowns on 81 carries in 30 games and seven starts. His best season came in 2013, when he played in all 12 games, started six, and rushed for 191 yards and three TDs on 41 carries. His 5.2 career yards-per-carry average is an indicator of what he's capable of, and Bourbon should have a chance to deliver more of that at the MIAA school he'll call home in 2015.
In related news, it looks as if Taylor Cox will return to KU for his final season of eligibility in 2015. A source close to the team told the Journal-World that Cox would return. The 5-11, 212-pound fifth-year senior who missed last season with an Achilles tendon injury is listed on KU's updated roster.
Cox, a former junior-college transfer, missed 10 games in 2013 and all of 2014 after rushing for 464 yards and three touchdowns on 91 carries in 12 games — three starts — during the 2012 season, his first with the Jayhawks.
Football in February
While busy finishing up his first recruiting class as the KU coach, David Beaty found time to map out the next several weeks.
In addition to welcoming prospects in for official visits and hitting the road to try to find more talent, Beaty has set up a schedule of events for February designed to put KU's coaching staff in touch with KU fans across the state.
They're dubbing it "Football in February" and it starts with a signing-day party from 5-8 p.m. on Feb. 4 at Abe & Jake's in Lawrence. Beaty and his KU coaching staff will be in attendance to meet and greet fans, as well as speak to the crowd about the newly signed recruiting class.
On Feb. 7, from 4-6:30 p.m., KU will host a Fan Fest at Anschutz Pavilion that will feature several of the events common on game days in the fall as well as appearances by Beaty, all nine members of his coaching staff and current and former KU football players.
Later in the month, Beaty will attend various luncheons around the state. The dates and places include: Noon on Feb. 12 at Smoky Hill Country Club in Hays; 5-7 p.m. on Feb. 12 at Prairie Dunes Country Club in Hutchinson; 5-7 p.m. on Feb. 17 at the Topeka Ramada Inn Convention Center; 5-7 p.m. on Feb. 19 at Sporting KC's Boulevard Members Club in Kansas City, Kansas; and 5-7 p.m. on Feb. 26 at Larry Bud's East Side in Wichita.