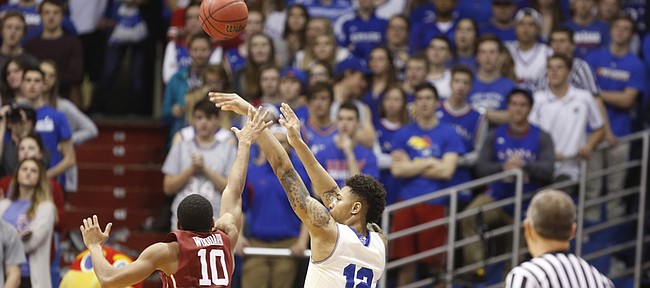 Kansas University freshman guard Kelly Oubre Jr., says he wasn't surprised to see a school-record nine three-pointers swish in the first half of Monday's 85-78 victory over Oklahoma in Allen Fieldhouse.
"We had a bunch of guys step up and make shots and show what kind of shooters they are," Oubre said of himself, Devonté Graham and Brannen Greene, who hit two apiece and Perry Ellis, Frank Mason III and Wayne Selden Jr., who each hit one as the Jayhawks raced to a 51-32 halftime lead.
KU actually hit eight straight threes for the first time in the 12-year Bill Self era. Most threes in a row in KU history is nine in 1994 at North Carolina State. The nine overall threes in 13 attempts tied the nine KU hit in the first half in 2010 at Nebraska; nine in the second half against Hofstra in 2009 and nine in the first half in 1994 at N.C. State.
"At the beginning of the game, we had in the back of our mind we went to Ames and didn't come out as successful as we wanted to," Oubre said of Saturday's 86-81 loss at Iowa State in which KU hit nine of 23 threes. "So we wanted to come out from the jump and do things better than we did at Iowa State."
The Jayhawks hit just one of six threes the second half, finishing with 10 threes in 19 tries. Oubre missed two three-point tries without a make the final half, but did score a team-high 19 points with nine rebounds in 29 minutes. His back-to-back baskets for KU gave the Jayhawks a comfy 81-76 lead with :55 left.
At 1:16, Oubre hit a driving layup, then at :55 he went coast-to-coast for another bucket at the rim.
"I knew I had to get the ball past halfcourt first off," he said of the crowd-pleasing coast-to-coast shot. "The defender was on my hip. I was going toward my left side. I had a free lane to go. I knew Spangler (Ryan) wasn't going to take a charge because he had three or four (three) fouls. I knew I could make something happen by pushing the ball, pushing the tempo there."
Oubre's stellar effort from both inside and out on the offensive end — he also had two steals on defense — came on the same day he was named Big 12 newcomer of the week.
The 6-foot-7 freshman from New Orleans certainly seems like a different guy than the player who scored in single digits in his first nine games as a collegian and was awarded single-digit minutes in five of his first seven contests.
"As coach says, I had a semester of summer school. I'm done with my first semester of college now. I'm pretty much considered a sophomore," Oubre said. "I have the mindset of being older."
Oubre — he has scored in double figures in four straight games and seven of the last 11 contests — says he's tried to soak up knowledge provided him by the Jayhawk coaching staff.
"Coach Self is one of the best coaches in America. He knows what he's doing. He's going to teach us lessons some way, somehow. He's motivating us to be the best players we can be," Oubre said.
"It's not going to be given to us. He's teaching us that lesson. He's making us come out and play harder and learn how to play hard and be the best players we can be. However he does that, I respect because I respect the process.
"Cliff feels the same way," Oubre added of fellow freshman Cliff Alexander (13 points, 13 boards), who also has had minutes limited when Self feels he's not producing with maximum effort. "We're going to give 100 percent for this university and for our coaches."
Oubre said he never lost faith in his own ability during the times when he wasn't logging much playing time.
"I talked to a lot of people in my class going through the same thing with their coaches. I talked to my teammates. I respect coach for what he did in the beginning," Oubre said. "I mean I wouldn't put trust in myself either. I didn't know how to play yet. He waited until I knew how to play, how to slow the game down in my mind and come out and be me."
Two players he phoned regularly were Arizona's Stanley Johnson and Craig Victor.
"Me and Stanley were going through the same things and Craig Victor is from New Orleans and I'm from New Orleans. We stayed in contact about what we were going through in our different situations. We found we were going through the same thing in a way," Oubre said.
Oubre, who averages 8.6 points and 4.7 rebounds a game, has kept a good demeanor all season, assistant coach Kurtis Townsend said on Monday's Hawk Talk radio show.
"The greatest thing ... when Kelly was not playing early, his attitude never changed. He came to practice and wanted to show you he could play better and play on the defensive end," Townsend said. "If you want something given to you, this isn't the place to come. Coach (Self) will hold your feet to the fire and make sure you do it the right way. Kelly listened. He could have sulked and had a bad attitude. If you watched him, he was waving the towel and cheering for the guys at Disney (Orlando Classic) when he wasn't playing. He was happy we won the championship no matter how much he played. Good things happen to kids who have that attitude," Townsend added.
Presidential pep talk?: It looks as if KU's players and coaches will meet with President Obama sometime Thursday on his visit to KU.
'I'm excited about that. He is a big basketball fan," Townsend said of Obama. "I got to know his brother-in-law, Craig Robinson (former Oregon State coach) over the years. What a great guy he is. He's doing some commenting (on broadcasts) now.
"It would be nice to get back there (Washington, D.C.) while he's still there," Townsend added of the Jayhawks winning it all and visiting Obama in the White House as a national title team. "We'll see what happens. He's picked us a couple times to win it all. He probably feels we let him down. It will be fun (to talk to him). I know our guys are really excited."
Noted soph Brannen Greene: "I'm excited about it. From what coach said talking to us in pre-game we'll probably get to sneak in and meet him. We are all excited. Everybody wants to see the president. It will be fun."
Happy coach: KU coach Self congratulated his players in his post-game speech Monday.
"He said it was great that we kept battling. He said that was the most fun he'd had coaching with that environment in a while," Greene said. "It was fun in all ways for us, the coaches, the players, the fans, fun in all ways," Greene added.
Of Self pounding the advertising video board next to the KU bench and knocking it offline in the second half, Greene said: "Yeah, he's broken it a couple times this year. When he gets angry about defensive assignments he'll break a board or two. It's coach being coach."
To see video of Self pounding the video board, go to the Web address http://ljw.bz/1xvRk2u