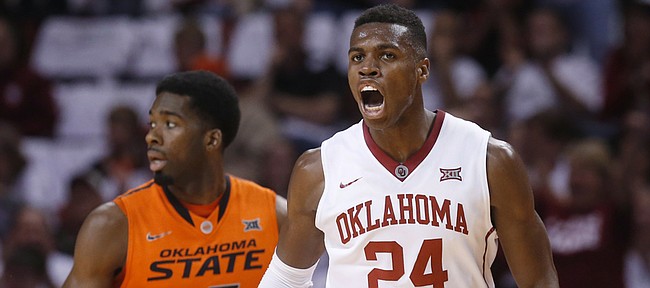 Buddy Hield thrust Oklahoma basketball into the national spotlight at last summer's LeBron James Skills Academy when the standout guard spoke to CBSsports.com about the 2014-15 Big 12 Conference race.
"We're gonna win the Big 12. I'm saying it right now. We're gonna win the Big 12," declared the 6-foot-4, 212-pound junior from Freeport, Bahamas and graduate of Sunrise Christian Academy in Wichita.
Hield, who earned second-team all-league honors his sophomore season after averaging 16.5 points a game and currently ranks second in the league in scoring at a 17.6 clip, didn't back down from his boasts at preseason Big 12 Media Day in Kansas City, Missouri.
"Why not?" Hield said, asked if the Sooners, who finished second last season, could actually place first in the league in which Kansas has claimed 10 consecutive regular-season crowns. "Every team believes they can win the Big 12 championship.
"We believe we can win. KU believes they can win. Texas, West Virginia, Iowa State, everybody believes. It's whoever competes the hardest, fights for loose balls, grinds it out the last two minutes. That's the team that will win the Big 12."
How is Hield's prediction going so far? The Sooners, who finished two games behind KU a year ago, enter Monday's 8 p.m. Big Monday contest in Allen Fieldhouse tied for fourth in the league. OU and West Virginia are 3-2, trailing second-place KU and Iowa State (3-1) and league leader Kansas State at 4-1.
Preseason All-Big 12 pick Hield, who erupted for 27 points off 10-of-10 shooting in Saturday's 82-65 victory over Oklahoma State, actually leads the conference in scoring in league-only games (22.4). He has hit 44.7 percent of his shots overall, including 51 of 125 threes for 40.8 percent.
"I think he's terrific," KU coach Bill Self said, adding "we recruited Buddy. I can't remember who we took instead (in Class of 2012, in which Hield was ranked 86th by Rivals.com). I'm not saying we could have gotten him (in a recruiting class that included Andrew White III, Anrio Adams, Perry Ellis, Zach Peters and Landen Lucas). I saw him play a ton. It was a bad miss. He was on Perry's (Ellis) AAU team. He's a good shooter, active. His personality is contagious. He brings life into a room, as opposed to sucking air out of it. Outside of my guys, there's nobody I enjoy watching play more."
Both Hield and Ellis played for Wichita's Pray and Play Players AAU team.
"Coach Self recruited me. I had a good summer. They came at me," Hield said. "He came to my school, talked to me one-on-one. He wanted me to come on a visit.
"I had to go to Oklahoma. I feel this is the spot for me. Not to say I wasn't good enough to play out there. I just feel they had all those guys there. I feel Oklahoma was a better fit for me. I still respect their program. I really like their program," Hield added of KU. "If there was anywhere else to go (besides OU), I probably would have went there."
Of the Jayhawks' personnel, Hield said: "I respect everybody. They are all good players. I respect Perry. Me and Perry worked out quite a bit last summer. We played on the same AAU team, so I really like Perry a lot."
Hield confessed that in one-on-one competition, "Perry got the best of me. I'm not gonna lie. He got the best of me. One-on-one doesn't matter right now. It's all about the team."
Ellis said Hield is a good friend.
"I know him real well. We played together my senior year and in AAU," Ellis said. "Coming from Wichita, we both are from there, it's definitely a big game for both of us."
Hield said he has tried to make the most of his offseasons in practicing with Ellis and others in Wichita.
"I feel I've improved just being in the gym a lot, just being hungry," Hield said. "Coming from Oklahoma, you have the hunger mentality. You can't be satisfied. My mom always told me, 'Don't be satisfied.' You always want more as a person. Everybody wants to be on top. I'm not going to stop until I get where I want to go."
Big 12 Player of the Year is not out of the question.
"I just can be what I can be. I can't worry about accolades that happen," Hield said. "I just worry about my team. We have great chemistry, and we are trying to compete for the Big 12 championship. I am not trying to do anything except play for my team and help accomplish our goals.
"It is strange. At first I started off just being a little freshman. Now I'm one of the guys to look up to now. I'm just trying to be a better leader for our team We know what our mission is. We won't stop until we complete this mission."
The mission, of course, is "to be Big 12 champion. Everybody is capable of being a Big 12 champion. We've got to be more locked in and more mentally focused than anybody."
About OU: The Sooners (12-5, 3-2) average 73 ppg while allowing 61.3. Three Sooners are double-digit scorers. They are: Hield (17.6), junior guard Isaiah Cousins (12.5) and senior forward TaShawn Thomas (11.5). Junior forward Ryan Spangler and soph guard Jordan Woodard average 9.5 and 7.9 ppg respectively. ... KU leads the all-time series 141-65. KU has won 12 of the last 13 meetings. ... KU is 44-7 vs. OU in Allen. KU has won 13 straight home games vs. OU. ... Self is 13-4 all-time against Oklahoma, including 13-2 while at KU. OU coach Lon Kruger is 6-15 versus Kansas, 1-5 while at OU.
Perry Ellis on OU game after tough loss Saturday: "I mean, we fought (against ISU). We got it close. Now we have to be ready for Oklahoma. We can't have our heads down now. We can't let one become two. We have a big game we have to get ready for now.
"We're down. A lot of people are down but we know we have to come back and get ready for Oklahoma. That's key."
Devonté Graham on OU: "We have to prepare for them, forget about tonight (ISU game) and come out and get a W."
Joel heavy?: The Philadelphia Inquirer reports that former KU center Joel Embiid of the Sixers weighs 300 pounds after being 250 at KU last season. Embiid, who is out following offseason foot surgery, was sent home during the Sixers' recent road trip after a blowup with assistant strength-and-conditioning coach James Davis. The Inquirer sources say Embiid has "blown off conditioning drills," and some have questioned his commitment to basketball. To read the story on Embiid go to http://ljw.bz/1GgV3dJ