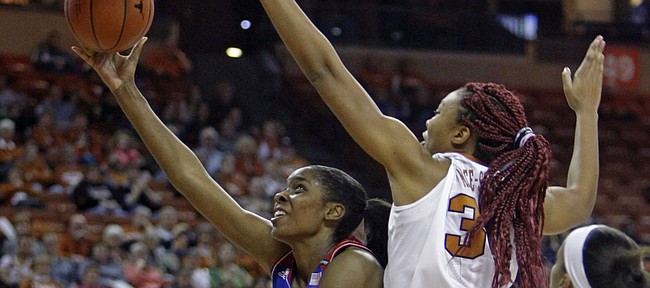 Austin, Texas — Chelsea Gardner led Kansas University with 11 points and eight rebounds, but the Jayhawks dropped their Big 12 women's basketball opener Saturday night to third-ranked Texas, 60-46, at Frank Erwin Center.
KU led by six points early in the game and trailed by just four points, 28-24, at halftime.
Nneka Enemkpali had 12 points and 14 rebounds for Texas.
Enemkpali, a 6-foot-1 senior, produced her sixth straight double-double for the Longhorns (12-0), who are off to their best start since 1985-86 when they went 34-0 and became the first undefeated NCAA women's champion.
Empress Davenport scored 13 points to lead Texas. Another guard, Brady Sanders, had 10 points and three steals. Texas produced 12 steals, including four by Krystle Henderson.
The Longhorns took command with a 15-2 burst in the second half. Kansas (9-5) went scoreless for a span of 6:23.
Gardner went to the bench with two fouls at the 5:16 mark of the first half. The Jayhawks' leading scorer had nine points at the time, and the team trailed by a point.
Texas stretched its lead to four at the half.
Natalie Knight added nine points for the Jayhawks, and Lauren Aldridge and Terriell Bradley scored eight points apiece.
"There are games in this league that you are gonna win in the 50s, not many you are gonna win in the 40s," KU coach Bonnie Henrickson said. "At some point, you gotta make a shot."
One thing Kansas accomplished in the first half was to stymie Longhorns center Kelsey Lang, holding her to two shots and no points in 12 minutes. The 6-foot-5 Lang began the night averaging 13.5 points a game, tied for the team lead. She scored six points in the second half.
At least one Texas player had a rougher half than Lang. Reserve guard Brianna Taylor fell to the court while trying to induce a charging foul less than five minutes into the game. She was helped off the court with an injured left knee and did not return to the game.
The Longhorns were already down one guard before Taylor's injury. Freshman Ariel Atkins, the team's No. 3 scorer, has missed the last five games with a right ankle injury.
Texas snapped a losing streak of nine straight Big 12 openers. Only two of the nine opponents that beat Texas were nationally ranked. And the Longhorns were ranked at the time in six of those games.
The Jayhawks will host Oklahoma for their Big 12 home opener at 7 p.m. Wednesday.