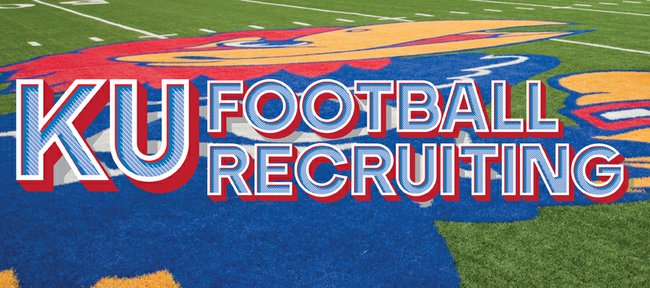 Wednesday is supposed to be the day with all of the signing day football buzz, but Kansas University got its portion of that started a day early when Huffman, Texas, wide receiver Chase Harrell signed with the Jayhawks early.
Harrell, a two-star prospect from Hargrave High, graduated high school early and signed in time to enroll for the spring semester. Doing so will allow the 6-foot-4, 205-pound wideout to participate in spring practices and get a jump start on learning KU's new offense.
"I am so happy to be able to get to Kansas this spring," Harrell said in a press release. "I want to be able to contribute immediately this fall and being here for spring practice will definitely help prepare me for that. Having the opportunity to learn the offense and get acclimated to school will give me a huge advantage."
Harrell was a standout wide receiver at Hargrave under head coach Mike McEachern. He earned four letters at HHS, taking home Offensive Most Valuable Player honors in Class 4A District 10 after helping lead the Falcons to a 9-2 mark. The rangy wideout who committed to KU in December over offers from Houston and Kentucky recorded 103 receptions for 1,741 yards and 19 touchdowns as a senior, on his way to being named Class 4A honorable mention all-state by the Associated Press.
Harrell also recorded 47 catches for 873 yards and 17 touchdowns as a sophomore in 2012 and missed his junior season because of an injury. KU's newest wide receiver also lettered in basketball and track at Hargrave HS.
Harrell's addition brings KU's list of signed players in the Class of 2015 up to nine. He joins the eight mid-year transfers who signed with the program back in December.
Starting bright and early Wednesday morning, 15 more prospects who have committed to KU are expected to make those commitments official by signing and sending their national letters of intent to the KU football offices.
As always, we'll be up with them every step of the way so, for the latest on all of KU's signing day activity, be sure to log on to the Tale of the Tait blog, which will be cranking well before 7 a.m. on Wednesday morning.
One in, one out
It sounds like juco cornerback M.J. Mathis may not wind up at KU after all. Despite having signed back in December, Mathis appears to have become an academic casualty and is no longer a part of KU's recruiting class.
His absence left the Jayhawks with one open spot, which was quickly filled Tuesday afternoon when offensive lineman Cam Durley committed to KU.
Durley, a 6-foot-6, 275-pound tackle from Houston Christian High chose Kansas over offers from McNeese State, San Diego State, TCU and Temple. He also was receiving interest from Texas Tech.
The addition of Durley brings KU's class back to 24, which, this year, is full capacity because of the blue-shirt rule the program used to get Nigel King, who left early to declare for the NFL Draft.