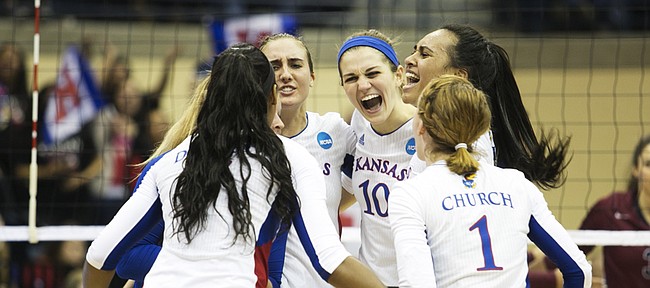 San Diego — The best volleyball team in the history of Kansas University accomplished another first Friday night in Jenny Craig Pavilion, and it was the biggest one yet.
The Jayhawks became the first volleyball team in school history to reach the Elite Eight of the NCAA Tournament.
Looking dominant in the second and fourth sets, Kansas defeated Loyola Marymount University, 25-19, 25-11, 21-25, 25-13. The Jayhawks lost their way serving for stretches, but never lost their composure.
Eighteenth-year Kansas coach Ray Bechard does a nice job of keeping his emotions in check, but when he said the word Omaha, site of the Final Four, his face involuntarily broke into a smile that lit up the state of California.
"I've always wanted Jayhawk fans to be proud of our volleyball program," Bechard said.
Mission accomplished. Relatives of the players and Kansas alumni on hand to support their university's team made their presence felt by pumping up the volume from their seats in the two sections behind the KU bench.
"Obviously, at the University of Kansas, we have some sports that have done extremely well," said Bechard, whose son Brennan is on basketball coach Bill Self's staff. "We want volleyball to be spoken of in high regard just like some of the other sports are. We want to be an elite team, and we put elite expectations on these kids each and every day in practice."
The harder this team is driven by the coaching staff, it seems, the closer together the circle draws.
"We have an unbelieveable staff that works hard," Bechard continued. "We've got a group of young ladies who believe in themselves and believe in each other. Here we are, one match away from Omaha."
That's right. Kansas is one step away from the Final Four. One giant step.
Kansas (29-2), seeded ninth in the tournament, will face No. 1 seed USC, which is gunning for its seventh national title. USC on Friday defeated Creighton, 3-1, in the other regional semifinal. The Trojans are led by two-time All-American Samantha Bricio.
The West regional final is scheduled to start at 10:30 p.m. Central and will be televised on ESPNU.
The stars shined for Kansas in defeating a Loyola Marymount squad that advanced to the Sweet 16 with a sweep against heavily favored Stanford.
Sophomore Kelsie Payne gave Loyola defenders fits all night by soaring so high and firing high-velocity, steep-angled bullets onto the floor. She had 21 kills and a .400 hitting percentage. Classmate Ainise Havili had 49 assists. Fellow sophomore Madison Rigdon had 10 kills and 14 digs.
Kansas defended so well that two sets into the night, LMU had a negative hitting percentage and finished the night at .050, compared to KU's .296, including a .484 mark in the clinching set, when the Jayhawks smelled the finish line and could not be stopped. In the second and fourth sets combined, Kansas had just two attack errors. They were every bit as impressive defensively, especially at the net.
Junior Tayler Soucie was in on 12 blocks, Rigdon seven, Payne five. Cassie Wait had 23 digs, joining Rigdon and Tiana Dockery (10) in double figures.
The Jayhawks didn't trail once in the opening set and closed it out on a 5-1 run. Impressive, but nothing compared to what came in the next set, when the Jayhawks fell behind, 7-6, and went on a 19-4 tear from there. Four of LMU's points in the second set came on KU service errors, of which there were 11 on the night, compared to four for the Lions.
KU's only two losses have been to Texas, which means the Jayhawks never have lost a match in which they were favored.
Dockery, the only player in program history to play in four NCAA tournaments, did a nice job of summing up what the team thinks of itself.
"This is a great time for us to be playing our best and doing the things we've been working for and training for all season," Dockery said. "... We feel like we still have so much more."
The Jayhawks responded like winners after losing a set coming out of intermission.
"Third set was a little rough, but we pulled out of it and told ourselves we needed to focus and fight, just like we did against Mizzou and against any of the other teams where we had lost a set," Dockery said.
Next up: The biggest match in the history of Kansas volleyball.