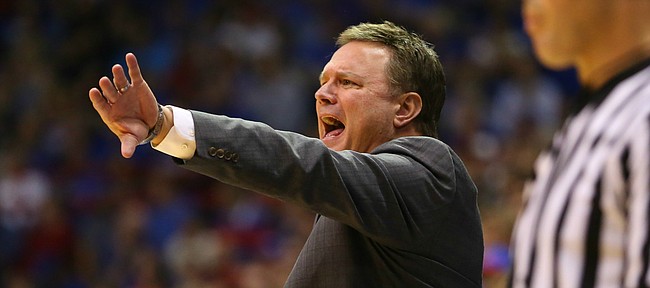 Kansas University's basketball team scored 75 points — third-lowest mark of the season — against Harvard the day after it was revealed the Jayhawks ranked second in the country in points per game.
Currently the fourth-most productive team in the land, the Jayhawks (7-1), who average 91.0 ppg, enter today's 7 p.m. Sprint Center tip against Oregon State (6-1) as the nation's leading three-point-shooting team at 47.2 percent from beyond the arc.
Oklahoma is second at 46.5 percent.
"I didn't know that. That shows you how much I look at stats," KU coach Bill Self said Friday. "I think (it means) we're probably taking good shots. We've got multiple guys who can make a shot. We've got six good three-point shooters in my opinion," he added, presumably meaning Wayne Selden Jr., (fourth in the country in three-point percentage, 59.5), Brannen Greene (8 of 9 on season, not enough attempts to be included on NCAA charts), Devonté Graham, Frank Mason III, Svi Mykhailiuk and Perry Ellis.
Podcast episode
Kansas basketball coach Bill Self discusses the No. 2-ranked Jayhawks' Saturday game versus Oregon State. The Beavers are led by Gary Payton Jr., son of a former NBA All-Star point guard, and Self says the apple doesn't fall too far from the tree. Plus, the Kansas coach revisits the idea ...
"Perry (4-of-11) hasn't made a ton of 'em yet. He's a very capable three-point shooter," Self stated. "That's good, but we don't need to live on that. If we do, we won't ever max out as a team. A lot of times making shots is a way to basically camouflage some other ills, but it does pay to have some guys that can step up and make a shot."
The Jayhawks are a confident bunch in letting shots fly.
Podcast episode
Kansas senior forward Perry Ellis speaks with reporters about playing in Kansas City, Missouri, at Sprint Center (venue for Saturday's KU game against Oregon State), the Jayhawks' three-point prowess and more.
"We have a team that can shoot it well," Ellis said. "That's not something I believe we want to live on. We're knocking down shots right now (sixth in country overall at 52.0 percent). We're still trying to do other things, also."
As far as the inside game, KU is expected to have six bigs available tonight. Landen Lucas (toe) and Jamari Traylor (ankle) may not be 100 percent yet, but are expected to play, along with Ellis, Hunter Mickelson, Cheick Diallo and Carlton Bragg. Self said Friday he was leaning toward starting Mickelson a second-straight game, but had not made an official decision yet.
Podcast episode
Spodcasters Matt Tait and Benton Smith breakdown the good, the bad and the surprising from the first eight games of the KU men's basketball team's 2015-16 season. Second-ranked KU has jumped out to a 7-1 start, with its only loss coming to No. 1 Michigan State.
"We should have a full complement of players. That makes it really good. That also makes it difficult until you figure out who you can play," Self said. "Perry gets his 27 or 30 (minutes). Everybody else gets 10 and you are at 80. It's not going to be like that (all year). Hopefully we can find three or four playing well at the same time.
"Our fans will be frustrated some this year," Self added, "because some guys will play some in some games. Situations may dictate in other games they don't play as much. If you need energy, Mari is the best guy to have out there. If you need a low post heavy defender/defensive rebounder, Landen is the best guy. If you need a pick and pop person, Hunter is the best guy. Cheick and Carlton over time have a chance to be the best prospects. We have some things we have to figure out without question. The big thing is those guys need to be playing around Perry (14.5 ppg, second to Selden's team-leading 15.9 mark). Nobody brings to the table what Perry does from a scoring or presence standpoint especially when he's aggressive and playing well."
Payton leads Beavers: Oregon State is led by Gary Payton II, son of the Hall of Famer with the same name. Payton, a 6-3 senior from Seattle, averages 16.1 points, 8.1 rebounds and 4.9 assists a game. He recently broke his dad's record by recording at least one steal in 38 consecutive games.
"He's a good player. Where he's probably the most dangerous just like his father is on the defensive end," Self said. "It seems like Wayne would be the best matchup for him because of size. (But) you put Wayne on him you take away pressure in a lot of ways. I do believe this is the type of player that both Frank and Devonté will probably have to take turns guarding. The numbers show he's a great anticipator."
OSU is coached by Wayne Tinkle, who has a 23-15 record in two seasons at the Corvallis, Oregon school.
Court storming: The Big 12 said on Friday it would issue no penalties to Iowa State for the court storming after Thursday's win over Iowa.
"I didn't see it (court storming). I heard about it. That's too bad," Self said of Des Moines Register reporter Randy Peterson breaking his leg as the fans charged the court after the final horn. "I watched the tail end of the game. It was an unbelievable finish. I'm happy for our league Iowa State won the game. It was unfortunate anybody would be injured."
Last year, Self was pinned against the scorer's table for a moment during a storming incident after a loss at Kansas State.
"No, no. I was never (in danger). My life was never threatened or my health in any way, shape or form," Self said.
Of the area by the table in which KSU coach Bruce Weber tried to pull Self to safety, Self said: "It was a crowded house. I would say the fire marshal would have probably thought there were too many people in that respective area if they were to check it out," Self added, smiling. "It was not a big deal."
This, that: Landen Lucas' dad, Richard, played for the University of Oregon from 1987-91. Lucas was recruited by Oregon State. ... Oregon State was picked to finish sixth in the Pac-12 in a preseason vote of league media. Arizona was first, followed by California, Utah, Oregon, UCLA, OSU, Colorado, Arizona State, Stanford, USC, Washington and Washington State. ... A win would give (6-1) Oregon State its best start through eight games since the 1980-81 team opened 26-0. The 1984-85 and 86-87 teams opened 7-1. ... KU is the highest-ranked nonconference team OSU has faced since Nov. 30, 1977 when the Beavers lost at No. 2 North Carolina, 90-64. OSU's last win over a top-five team came in 2000 (OSU 70, No. 3 Arizona 69), and the last over a top-five team away from Corvallis was 1981 (No. 20 OSU 62, No. 3 Louisville 56 in Japan).
... Gary Payton II broke the Oregon State record for consecutive games with a steal (38) and is closing in on the school record for consecutive games with multiple steals (16). His dad holds the previous records. ... KU has won the only previous meeting, 84-78, on Nov. 30, 2012 also in Sprint Center. ... In Tinkle's first year, OSU went 17-14 and finished seventh in the Pac-12 after being picked last in the preseason poll. OSU beat No. 7 Arizona for its first win over a top-10 team in 15 years.
Probable Starters
OREGON STATE (6-1)
F — Drew Eubanks (6-10, Fr.)
F — Olaf Schaftenaar (6-10, Sr.)
G — Langston Morris-Walker (6-5, Sr.)
G — Malcolm Duvivier (6-2, Jr.)
G — Gary Payton II (6-3, Sr.)
KANSAS (7-1)
F — Perry Ellis (6-8, Sr.)
F — Hunter Mickelson (6-10, Sr.)
G — Frank Mason III (5-11, Jr.)
G — Wayne Selden Jr. (6-5, Jr.)
G — Devonté Graham (6-2, Soph.)