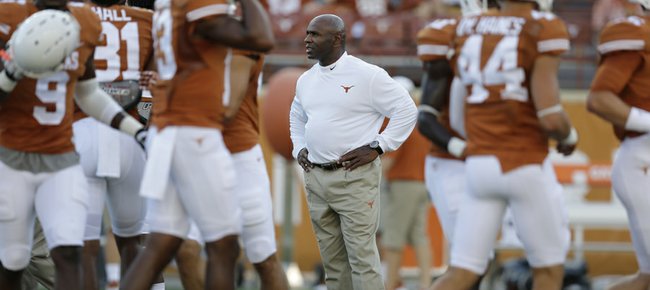 Forget the fact that they enter Saturday's 3 p.m. game at Memorial Stadium with a first-year head coach, a 1-2 record and a lack of identity.
The burnt orange on their uniforms and years of success give the Texas Longhorns all they need to catch any opponent's attention.
Kansas University coach Charlie Weis emphasized that on Monday morning's Big 12 coaches teleconference, when asked what it would mean to pull out a victory this weekend against the Longhorns.
"We have a lot of respect for Texas, the program, the tradition, everything that goes with it," Weis said. "... We understand that we're gonna have to play very well to have a chance. We don't underestimate the Texas athletes one bit."
One of the biggest reasons for that is the fact that 25 players listed on the KU roster in this year's media guide are natives of the Lone Star State and grew up watching and/or rooting for the Longhorns as young athletes.
Weis and his coaching staff are well aware of that fact, and they hope to tap into it this week as a source of motivation for the Jayhawks (2-1).
"Very few of those guys ever got a sniff from Texas (in recruiting)," Weis said. "So there's a lot of incentive for these guys to play their best game, realizing they have a lot of physical guys, and we're gonna have to play very well to have a chance."
UT coach Charlie Strong, who won his debut over North Texas but has since lost to BYU and UCLA, uttered similar words about his team, which lost starting quarterback David Ash for the season because of concussion issues and has endured several suspensions during the season's first few weeks.
"It's about effort," Strong said. "It's all still about us and going out and competing and playing with a sense of urgency. We just need to be a team that goes out there and plays with some effort and with great assignments and fundamentals and technique. You have to win every snap and every play and just play hard."
Weis hopes to draw on recent experiences versus UT for confidence.
Two years ago, KU held a lead on Texas until the game's final few seconds. Last year in Austin, the Jayhawks were driving to make it a one-score contest in the third quarter before the game got away from them.
"Even though the coaching staff is different, and they're doing different things, Texas still has a bunch of good players," Weis said. "And in the last two years, our team has been very competitive against Texas."
Like in those matchups, Weis believes the Jayhawks have to approach this weekend's meeting a certain way.
"Our team is not built to get into shootouts," he said. "Our team is more built to try to hang in there and win a slugfest. If we can keep the games like that, it really minimizes your margin for error, but I really believe that's the mentality we have to have. If we're gonna win football games, we have to play with that mentality."
KU-WVU kickoff set
During the last few seasons, 11 a.m. was the most popular starting time for KU football games.
So far this season, early afternoon games have been more en vogue.
Add another such start to the list, as the Big 12 Conference announced Monday that KU's Oct. 4 kickoff at West Virginia was slated for 3 p.m. The game will be broadcast on Fox Sports Net.
The WVU rematch will mark the third straight early-afternoon kickoff for the Jayhawks, who began their 24-10 victory over Central Michigan at 2:30, will kickoff against Texas on Saturday at 3 and will do the same at WVU the following week.
West Virginia leads the all-time series with Kansas 2-1, with the Jayhawks winning last year's matchup, 31-19, in Lawrence. Both of the Mountaineers' wins have come in Morgantown.