Photo Gallery
Kansas volleyball v. UMKC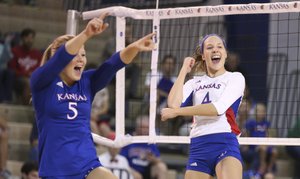 Images from Tuesday night's matchup between the Jayhawks and Kangaroos.
A 3-1 home victory might be all right for some teams, but members of Kansas University's volleyball program feel like they're past that point. That's why the No. 24 Jayhawks (6-1) left Horejsi Center disappointed Tuesday night, following a victory against UMKC.
"We're still working on our process," senior outside hitter Sara McClinton said after leading KU with 18 kills. "Even though we're winning, it's not how we want to win right now."
The Kangaroos (4-3) looked like the superior team for stretches. The visitors took the second set, 25-17, and had Kansas on the verge of a 2-1 hole in the third set. UMKC led 24-22 following one of KU's 26 attack errors in the match, but McClinton came up with a kill to keep some breath in the Jayhawks' lungs. After back-to-back attacking errors by the 'Roos, freshman setter Ainise Havili assisted fellow freshman Kelsie Payne for the set-winning kill.
With that, Kansas never trailed in the fourth set, and won its fifth straight, 25-23, 17-25, 26-24, 25-19.
The Jayhawks found it easy to draw parallels between their play in the victory and an Aug. 29 upset home loss.
"I thought we were more engaged in the Lipscomb match, personally," coach Ray Bechard said. "These midweek matches are sometimes a catch-22, but everybody plays them, so you just have to be ready, and obviously there was times that it looked like Kansas City was a little more engaged than we were."
Havili, who led KU with 42 assists, admitted it helped to have that Lipscomb loss somewhere in their minds as a reference, so they could avoid a second nonconference home loss a couple weeks into the season.
"Especially not letting a team come onto our court and have more energy that us," Havili said, "dig more balls than us (KU won the battle 64-60 versus UMKC). That's not gonna happen."
Kansas freshmen Havili, Payne, Kayla Cheadle and Addison Rigdon all played key roles in the win. But the team's overall youth, Bechard said, shouldn't double as a crutch.
"Our upperclassmen could've stepped up a little bit more tonight, too," the 17th-year KU coach said. "So let's don't put it all on being young. When we play well, we don't talk about being young. When we struggle, we talk about it."
Kansas will travel Friday to the Villanova Invitational. The Jayhawks will face No. 3 Penn State — the defending national champion — Saturday and also face Villanova, Yale and American.