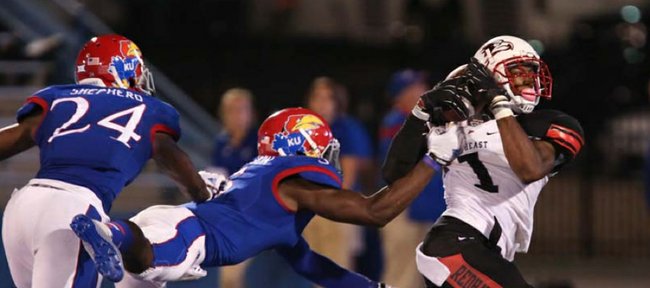 Five completions for 184 yards and three touchdowns.
Those were the staggering fourth-quarter passing numbers put up by Southeast Missouri State quarterback Kyle Snyder during last week's 34-28 loss to Kansas University that left several Jayhawk supporters scratching their heads and wondering what happened to the vaunted KU secondary.
But the worries of the fans never made their way into the Kansas locker room.
"Uh uh," senior safety Cassius Sendish said Wednesday. "No concerns."
The reasons for the continued faith of the KU secondary are plenty and they get to the very nature of what it takes to play defensive back at any level: short memory, extreme confidence, love of a challenge.
Like Sendish, senior cornerback JaCorey Shepherd said he was not overly focused on people's impressions of the Kansas secondary after Week 1 because he knows they still have plenty of time to prove themselves.
"It was just that fourth quarter," Shepherd said. "It wasn't like we were playing that way the whole game. I don't really care about putting doubts in people's minds because we know what we can do. The mistakes we made, they were all correctable. The fact that we understand what we did wrong and we can see it on film and learn from it, we can fix it next game."
Fixing any flaws that led to that fourth-quarter near-collapse will be critical against a Duke team that features a couple of elite wideouts as well as some talented complementary pieces. Seniors Jamison Crowder and Isaac Blakeney get the headlines, but the presence of junior slot receiver Max McCaffrey and junior tight end David Reeves has the Jayhawks well aware that defending the pass during Saturday's game — 2:30 p.m. at Wallace Wade Stadium in Durham, North Carolina — will come down to a lot more than Shepherd and Dexter McDonald against Blakeney and Crowder.
"Sunday, we went to the film room and analyzed all the stuff that could've gone our way and didn't," Sendish said. "I've heard throughout my time playing football that the biggest week of transition comes from your first week playing to the second week, so I'm looking forward to us learning from some of the mistakes, mental errors and missed assignments we made in the first game and capitalizing on that."
Shepherd, with the help of a few text messages and ribbings from head coach Charlie Weis, knows he'll be in for a major test given McDonald's strong showing last week.
"He said something again (Tuesday)," Shepherd joked of Weis. "I think it's good to have that relationship. I take it as he trusts me. He's just out there playing, joking around and making it a little more fun and not as serious going into the game. I actually like it."
Strong safety Isaiah Johnson also likes his position entering Week 2.
"The Duke coaches are probably sleeping on me right now, thinking, 'Yeah, we got him. He's not as good as we thought he was,'" he said with a smile.
And all four veterans in KU's starting secondary are confident that the freshness of last Saturday's forgettable fourth quarter will help them lock in when kickoff rolls around this week.
"It's real hard to watch that," Shepherd said. "When we look at it, it's disappointing because we know we're better than that."