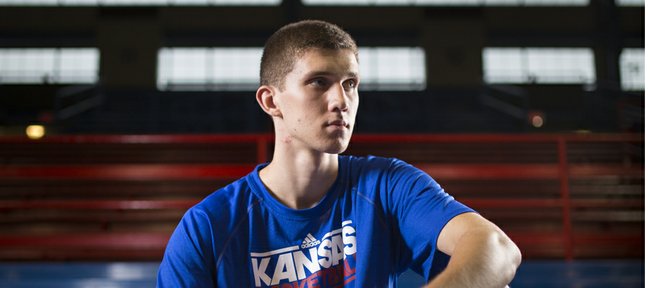 Kansas University freshman Sviatoslav Mykhailiuk's command of the English language most certainly will improve in the two school years he's likely to spend in Lawrence.
The 17-year-old basketball guard from Cherkasy, Ukraine already has the ability to express his thoughts in a foreign land, however. That was evidenced by short, succinct sentences that packed a punch in a positive way during his first meeting with local media members Wednesday in Allen Fieldhouse.
"Here, everything is perfect," Mykhailiuk, who arrived on campus on Monday, said of KU — a school he chose over runner-up Virginia last May.
"My goal is to be a good player, to be a good personality and to help my team to win ... also to be good at school," he added with a smile, referring to his upcoming freshman season.
Mykhailiuk, who earned MVP honors at this summer's Under 18 European championships and also competed on Ukraine's World Cup team, was asked why he decided to play at KU two years (he's not eligible for the draft until he's 19 in 2016) instead of playing pro ball in Europe.
"I thought it would be easier for me to go to the NBA from college than from Europe. It was my dream from when I was a child. I was looking for (the) NCAA. It was my dream to play in NCAA," Mykhailiuk said.
He was asked when he thought he'd be ready for the NBA. "I still don't know. We'll see."
Asked about his knowledge of the KU program, Mykhailiuk said: "I know a lot of basketball players, like Andrew Wiggins and Joel Embiid. Before it was like Mario Chalmers, Paul Pierce, Kirk Hinrich, Morris twins. Here there are a lot of good players."
Asked who he was looking forward to playing with the most, he said: "With everybody. Some of the best players (go to KU). Great recruiting class, great sophomores like Wayne (Selden), like Perry (Ellis), like Jamari (Traylor). We'll have a good team."
Mykhailiuk showed some personality Wednesday in sitting at a table in front of a batch of media members.
"Boo," he said, performing a mic check prior to the start of the proceedings.
Asked how tall he'd like to get, Mykhailiuk — who said he's 6-8 in shoes — cracked, "I'm good right now."
Asked what he does best as a player, "Svi" said: "Everything."
And asked if he ever rushed his shot when going against older World Cup players, he said simply, "No."
"It was a great experience," Mykhailiuk added of World Cup competition. "Playing against players like D. Rose (Derrick Rose), Kyrie Irving, James Harden ... it was pretty hard but it was pretty fun."
The hardest thing about playing against older players?
"I think it's physical and intelligence. Everybody is older by 10, 12 years, maybe seven (years). It was very hard. Also you need to get a lot of experience to play on this level good," said the 195-pound Mykhailiuk, who welcomes entering Andrea Hudy's KU weight program.
"It (KU weight program) will help a lot, because I will stay bigger. I will stay stronger, I will stay quicker. I will stay much better than I was," he said.
Mykhailiuk arrives in Lawrence (this is his third time in the United States) during a serious time in which his country is involved in a conflict with Russia.
"My city is in the middle of Ukraine, so it's not affected (daily life) in my city," Mykhailiuk said. "But it was closer to the border, it affected them — bombing, killing people, so it's horrible."
The roommate of KU junior Evan Manning, who has been busy completing a lot "of paperwork," says he's raring to get on the court with Boot Camp conditioning to begin Monday, the start of practice Oct. 3 and Late Night in the Phog on Oct. 10.
"I was at home for a couple days and here I was one day. So I have enough energy to practice," Mykhailiuk said.
An ESPN panel ranks KU No. 2 in its list of 25 schools "best positioned for success over the next three seasons." Duke is No. 1. Kentucky is No. 3, followed by Louisville, Florida, Arizona, North Carolina, Syracuse, Michigan State and Michigan.
Andy Katz writes: "The Jayhawks have a future Hall of Fame coach in Bill Self, who has dominated the Big 12 during his tenure. The Jayhawks are now starting to land the one-and-done recruits, and Self has consistently been able to mold teams that might have a possible question mark at a key position (see point guard) but still win the league. Kansas is one of the most stable programs in the country in terms of prestige and support, and that's a main reason Self hasn't been enticed to leave for the NBA. The Jayhawks have also done a tremendous job developing talent and turning role players into conference all-stars to complement the future first-round draft picks on the roster. Kansas will be a perennial title contender."