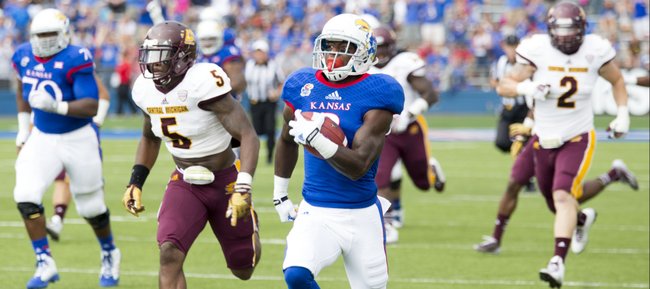 The plan going into last week's second and final bye week of the 2014 season was for the Kansas University football team to get healthy.
At least one Jayhawk made good on that goal.
KU coach Clint Bowen said on Monday's Big 12 coaches teleconference that running back/wide receiver Tony Pierson was back in the mix after recovering from an injury that knocked him out of the Jayhawks' loss to Texas Tech after just two plays.
"We gave him a couple days off," Bowen said. "It was kind of an upper-neck injury, almost a sprain, and we had him checked out thoroughly and he's fine. He's back to practicing and shouldn't be any issues."
Pierson enters this week as the Jayhawks' third leading rusher (172 yards, 1 touchdown and a 7.8 yards-per-carry average on 20 carries) and receiver (191 yards and 1 touchdown on 16 receptions) and is expected to be a big part of this week's game plan.
The Jayhawks (2-5 overall, 0-4 Big 12) will play at Baylor (6-1, 3-1) at 3 p.m. Saturday, when they'll hit the field as a 33-point underdog against the 12th-ranked team in the nation. Baylor is coming off its first loss of the season — a 41-27 loss at West Virginia on Oct. 18 — and, like Kansas, had a bye last week.
Bowen, who also serves as KU's defensive coordinator, said Monday morning that he has nothing but respect for the Bears' high-powered offense.
"Since Coach Briles has been there they've just continued to improve and they've done it with different quarterbacks, different players. They have one of the most creative, challenging offenses in college football and it shows up every year. They have four wide receivers that can truly take the top off of a defense and run. The quarterback's obviously one of the best guys in the nation, makes great decisions, throws with accuracy. And then the tailback can run and the O-Line plays well. They've created a talented team with a great system and it makes it pretty tough."