Photo Gallery
Kansas baskeball v. Emporia State (exhibition)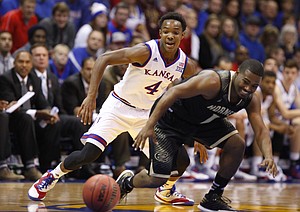 View a gallery of images from Tuesday night's exhibition between the Jayhawks and Hornets at Allen Fieldhouse.
Podcast episode
Jamari Traylor, Brannen Greene & Landen Lucas talk about KU's 109-56 win over Emporia State
Podcast episode
Bill Self says KU was better vs. Emporia State but still has work to do to be ready for Friday night's season opener.
If taken literally, Emporia State coach Shaun Vandiver's word for the Kansas University men's basketball team's front court sounds more like an affectionate nickname from a young child to one of his grandparents.
"We call 'em GAMs," Vandiver said after ESU's 109-56 exhibition loss to KU at Allen Fieldhouse on Tuesday night.
It did not take even the short pause Vandiver took between the initial word and its explanation to understand he actually was describing the complete opposite.
"Grown ass men," Vandiver said, revealing the meaning behind the acronym. "Throw it up and go get it. Tonight those grown ass men imposed their will on us."
What was a slow and sluggish first half for both squads turned quickly into a Kansas runaway, as the KU big men — particularly freshman forward Cliff Alexander — began playing above the rim and added a series of highlight-reel dunks to a 45-29 rebounding advantage to knock out the scrappy Hornets.
"You come off the bench with Cliff Alexander, he's just a beast," Vandiver said. "And then you've got guys like Jamari (Traylor) and Perry (Ellis)."
It wasn't just KU's size that put pressure on the Hornets, it was also the Jayhawks' intensity and pressure defense — both on the ball and off the ball — that forced the Hornets out of their game. ESU finished with 20 turnovers and just six assists on 15 field goals.
"Them speeding us up shows us how it's supposed to be played and how we should impose our will on the game as a whole," said Terrence Moore, who scored nine points and swiped two steals.
Added ESU sophomore Jay Temaat, who led the Hornets with 16 points: "What we can take from it is how disciplined they were. When we look at the film, they'll be in the right spots and we need to be in the right spots. In the beginning, it's a little overwhelming, but you get used to it. I mean, you know it's gonna be crazy."

Despite all of the individual moments that impressed the Hornets during Tuesday's loss, it seemed to be the sum of it all that stood out the most.
"The greatest thing about watching them play is just how hard they play," Vandiver said. "The way they communicate, they were talking, they were communicating, they were flying around. That's the sign of a championship team. I don't know if they're gonna win it all or not, but they have the characteristics because they play so hard."
---