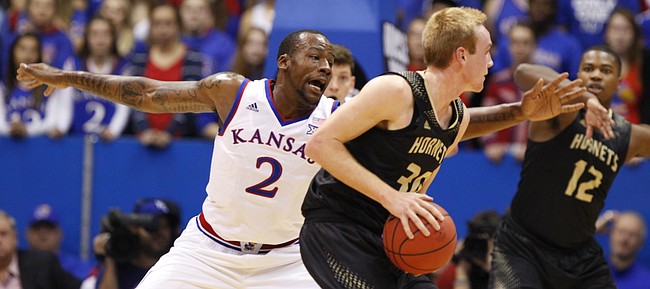 Photo Gallery
Kansas baskeball v. Emporia State (exhibition)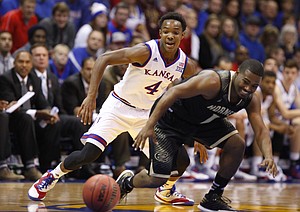 View a gallery of images from Tuesday night's exhibition between the Jayhawks and Hornets at Allen Fieldhouse.
Podcast episode
Jamari Traylor, Brannen Greene & Landen Lucas talk about KU's 109-56 win over Emporia State
Podcast episode
Bill Self says KU was better vs. Emporia State but still has work to do to be ready for Friday night's season opener.
Cliff Alexander was the last Kansas University scholarship freshman and the last of the Jayhawk big men to enter Tuesday's exhibition game against Emporia State.
"Just because I think those other guys probably deserved to play more based on the last couple practices," coach Bill Self said after KU's 109-56 rout of the Hornets.
The 6-foot-8 Chicago native, who scored 12 points and grabbed six boards in 13 minutes, did have quite a second-half flurry.
Alexander flushed a 1-handed slam off a perfect pass from Wayne Selden, then downed a 2-handed dunk off a feed from Perry Ellis — and after blocking the shot of Terrence Moore — ripped home another one-handed dunk off a feed from Frank Mason III and flexed for the fans. On the next possession he hit a jumper.
That flurry of a block and eight straight points stretched a 65-34 lead to 73-34.
"I was happy for him. He had the building going crazy," junior Jamari Traylor said after scoring nine points off 4-of-4 shooting and grabbing five rebounds in 18 minutes. "I don't think it got as loud up until that point. It's what he can bring to the table. He's a dog. He will work hard. He will run hard in transition. He can block shots. I was happy for him to get those plays he did."