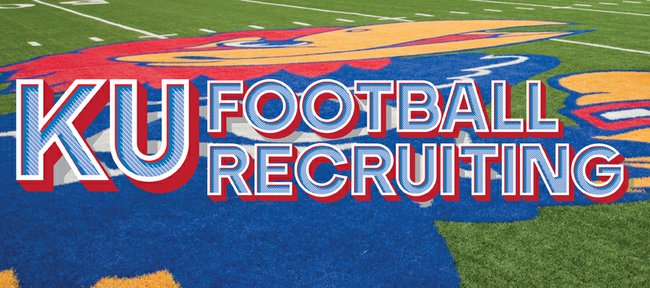 After a slow start landing commitments in the Class of 2015, Kansas University football picked up the pace and gained pledges from eight players this month, the latest coming Sunday from Trinity Valley Community College safety L.B. Bates.
The 6-foot, 180-pound Bates was one of eight prospects who made official visits to KU two weekends ago. The seven others on that trip already had picked Kansas. Bates made it a clean sweep with a morning phone call.
KU coach Charlie Weis, unable to comment on specific recruits until they sign with Kansas, praised the work put in by his staff this month through a message on Twitter.
"Congrats to my staff for closing out a June official visit weekend going 8/8," Weis wrote. "Nice job, Rock Chalk!"
Interestingly enough, new wide-receivers coach Eric Kiesau was the first member of KU's staff to make contact with Bates, who played both cornerback and safety in junior college. KU secondary coaches Dave Campo and Scott Vestal also got involved in the pursuit.
"He stayed in contact with me a lot," Bates said of Kiesau in an interview with JayhawkSlant.com's Jon Kirby. "He was the first coach to really get on me and we have a good relationship. Being around coach Vestal and coach Campo was humbling. Those are two guys that really know the game."
Bates was hosted by current KU safety Cassius Sendish. He chose Kansas over Nebraska and Texas Tech, which began to show interest this spring.
KU has secured 10 commitments in the Class of 2015: three high schoolers and seven juco players.
Shepherd honored
KU cornerback JaCorey Shepherd, a senior-to-be from Mesquite, Texas, was named one of nine male finalists for the annual Big 12 Conference Sportsman of the Year award.
Shepherd, who switched to defense after playing wide receiver as a true freshman, has grown into one of the team's top players on defense, but he earned this nod for his presence in the community.
According to the Big 12's website, the criteria for being selected as a finalist includes a strong commitment to sportsmanship and ethical conduct, citizenship and academic achievement.
Shepherd is an active member of the Big Brothers/Big Sisters program and consistently volunteers to read to local elementary school children and participate in clinics for young people and people with special needs. In 2013, Shepherd attended the Big 12 Leadership Summit and also was selected to the Kansas Football leadership council. In addition, he was named second-team academic All-Big 12.
Former Oklahoma offensive lineman Gabe Ikard won the award for 2013-14, while Baylor softball star Whitney Canion was the female winner.
Media Days reps
Three weeks from today, Weis and four members of his team will be in Dallas answering questions from the media about what to expect from the Jayhawks this fall.
The four players chosen to represent Kansas at this year's annual Big 12 media days event are: senior wide receiver Nick Harwell, senior linebacker Ben Heeney, senior tight end Jimmay Mundine and senior safety Cassius Sendish. Heeney and Sendish, two of four co-captains in 2013, represented KU at the event last season.