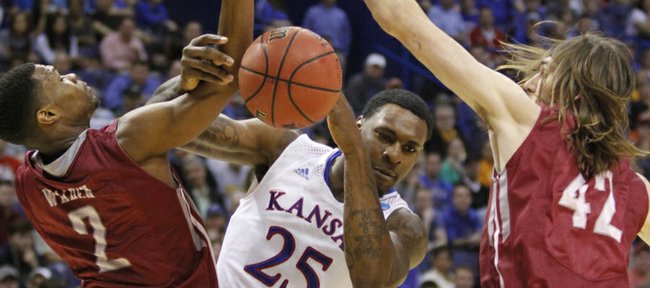 Not all of the intrigue surrounding members of the most recent Kansas University basketball team during Thursday night's NBA Draft will take place toward the front of the lottery, where teams will make decisions on Joel Embiid and Andrew Wiggins.
My guess is most KU fans will stay tuned in until the end of draft coverage to see whether one of their favorites, another one-year Jayhawk, will get chosen.
Tarik Black, who gained the level of popularity with Allen Fieldhouse crowds that it normally takes a reserve a few seasons to build, has a shot at hearing his name called.
Think about the qualities that make an ideal 13th man on an NBA roster. He must have the inner strength and stability to remain upbeat, into the game and passionate about the game he's watching and has very little chance of entering.
If he's a big man who has the body and willingness to commit fouls that leave a bruise, all the better. He has to run the floor well enough to keep up during those times he's called upon.
Since the NBA takes great care to polish its image with a great deal of community outreach, it never hurts if the 13th man enjoys interacting with the public, especially with children, and represents the organization with a smile, a personality and an intelligent message to share.
In other words, the ideal 13th-man prospect for an NBA roster would be well-advised to spend time shadowing Black to learn how to fit the role to perfection.
Measured at 6-foot-8-and-1/2 inches in shoes, Black is a tad short for an NBA power forward, but compensates with a long wingspan (7-2.75) and has the know-how to use his 253 pounds to move bodies out of the way to claim rebounds.
Black turned heads at a Los Angeles Clippers workout when he made all six of his field-goal attempts and totaled 13 points and nine rebounds in a scrimmage against other draft prospects.
Nobody should be shocked if Black is drafted and carves out a long career as an NBA reserve.