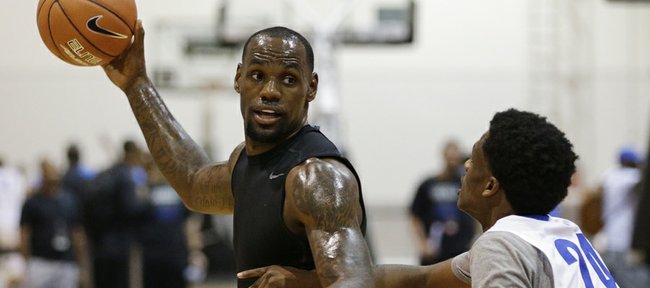 Podcast episode
Back in Lawrence following a summer trip to Las Vegas, where he and Kansas University basketball teammate Kelly Oubre were two of the select few college basketball players invited to the LeBron James Skills Academy, junior forward Perry Ellis talks about playing with James and how his overall experience at ...
Kansas University junior forward Perry Ellis, who was running the court as a teammate of future Hall of Famer LeBron James in a game at James' skills camp last week in Las Vegas, knew what to do after accepting a flashy pass from the Cleveland Cavaliers' phenom.
Convert.
"He threw a behind-the-back pass. I was on the wing. I hit a jump shot. That was fun," Ellis said Monday in Allen Fieldhouse.
"He (James) told me 'good job' out there. It was good."
Ellis, who along with KU teammate Kelly Oubre was an invited guest at the 2014 LeBron camp, had been up close and personal with James one other time.
"I went to the camp in high school. I remember in high school being so nervous," Wichita Heights grad Ellis said. "There were a lot more players, 100 or so high school players thrown on teams. I've grown a lot. There were less players (30 college invitees as well as 80 high schoolers). I've gotten more mature. I was a lot more comfortable."
Ellis said he was granted no inside information regarding James' decision last week to leave the Miami Heat for the Cavaliers in free agency.
"Honestly, it was pretty quiet. There wasn't much commotion about it," Ellis said. "He wasn't making a big deal about it. He was trying to work with the campers. It was a quiet deal out there."
Ellis, who also attended the Nike big man camp in June in New Jersey, played a lot of small forward at the LeBron camp.
"I would say it was a challenge. There were a lot of wings and guards there," the 6-foot-8 Ellis said, indicating West Virginia's Juwan Staten, Iowa State's Georges Niang and Texas' Isaiah Taylor all attended.
"I had to get out there and guard those guys a lot, which will help me, and I need to learn to do that. That was a big part of it for me, confidence. It's definitely a confidence-booster going to these camps. Competing with all these guys, it definitely helps you out mentally," Ellis said.
Ellis said he was most impressed with his camp roommate, Sam Dekker of Wisconsin.
"We got to talk some. He did real well," said Ellis, who would welcome playing on the perimeter some during his junior season at KU.
"He's definitely putting us (Ellis and Jamari Traylor) around the wing a lot more, to get the feel and see what our options are," Ellis said of KU coach Bill Self.
Ellis, who will attend the Adidas Nations camp from July 31 to Aug. 4 in Los Angeles, said he hopes all this summer experience will translate to his junior season.
"I haven't really thought about individual goals. I'm just focused on winning another Big 12 championship," he said. "Just keep working toward that, keep on thinking game by game, winning."
Obviously he hopes to play in the NBA someday.
"I mean, that's the goal. I'm going to keep working to get better and listen to coach and go from there," said Ellis.
Oubre out two weeks due to ankle sprain: Ellis said he was impressed with the play of 6-7 freshman wing Oubre, who drew rave reviews until spraining his left ankle near the end of the camp.
Oubre, who wore a walking boot on his left foot Monday, will be out of action up to a couple of weeks, Self said.
No surgery is necessary.
"He turned his ankle at the LeBron deal. He'll be out for a little bit, but hopefully no more than a couple weeks," Self told the Journal-World. "Tests were all negative. Everything's fine, but he did sprain it pretty good."
KU freshman Cliff Alexander recently sprained his right ankle at a KU workout two weeks ago and has been wearing a boot as well. No surgery is necessary.
Of Oubre's performance at the LeBron camp, Ellis said: "We never were on the same team. We always played against each other. Every once in a while we'd match up. He did real well. He was competing, rebounding, attacking, shooting well. He had a great showing."