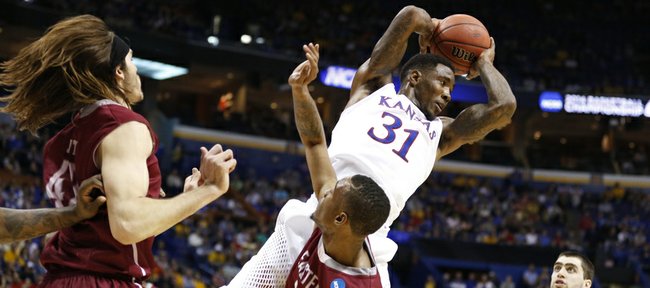 The Jamari Traylor who scored a career-high 17 points and grabbed a personal-best 14 rebounds in Kansas University's NCAA Tournament victory over Eastern Kentucky last March looked like a guy who might contend for All-Big 12 honors his junior or senior season.
"I don't know. I'm not really thinking about that kind of stuff. I feel it did open some eyes," Traylor, a 6-8, 220-pound red-shirt junior forward from Chicago, said Tuesday after working as a counselor at Cole Aldrich's basketball camp in Robinson Gymnasium.
He followed that breakout game with just three points and five boards in a loss to Stanford.
"I hope people respect me more coming into this year. I've been working a lot more on my offensive game. I'm going to be a lot more comfortable out there," added Traylor, who averaged 4.8 points and 4.1 rebounds while logging 16.1 minutes a game his sophomore campaign.
The ultra-athletic Traylor — he says his latest vertical measurement is "about 40, no lower than a 38" — may be playing on both the inside and outside during the 2014-15 season.
"He (Bill Self) has me working with the guards sometimes — me and Perry (Ellis, 6-8 junior)," Traylor said. "We've been working on everything. It depends what he wants to do with us. We can go small. We can go big with some guys at the small forward position. He can have one of us come in (at small forward)."
This year, the Jayhawks do not have a 7-footer on the roster, like lane-cloggers Joel Embiid and Jeff Withey of recent seasons past.
"It's going to be a lot different this year. We're going to have to make adjustments," Traylor said. "We've got a good coach, so we're going to make adjustments."
If Traylor does build on the Eastern Kentucky game and emerges as a huge offensive threat — he's been working on his jumper a lot this summer — he could hear more talk about his pro potential. A Chicago blogger spurred some discussion on Twitter recently by mentioning Traylor as a sleeper for the 2015 NBA Draft.
"I mean, I think so," Traylor said, asked if he believes he has NBA potential. "If I don't have faith in myself, then nobody else will. I'm happy guys recognize me a little bit. I'm moving forward to get there.
"If I'm doing well enough, I will," he added of leaving early. "I'm not going to rush anything. I'm not really even thinking about that now. I'm thinking about the season. If success comes, that may happen. If it happens, I'm blessed with the opportunity."
He's heard some comparisons.
"When I go in to watch film with my coaches, a guy they want me to play like ... they want me to bring energy like Kenneth Faried (6-8, Denver Nuggets)," Traylor said. "Guys my type and body size and athleticism like Dennis Rodman, those kind of guys. If I do that kind of stuff, I can help my team win a whole lot. I watch a couple videos of crazy stuff he can do. I think I can do a lot of that," he added of former NBA rebounding machine Rodman.
Traylor said he enjoyed working with free agent NBA center Aldrich Tuesday and playing pick-up games with him on Sunday.
"He's big. You can't really push him around like that. I play him like I do anybody else," Traylor said of the 6-11, 250-pounder. "He was on my team most of the time."
---
More on Fourth flap
Traylor, who spent the Fourth of July holiday with teammates at a team barbecue, was involved in a mini-controversy earlier that day when he posted this message on Twitter: "Happy Independence Day! To a country built on lies, injustice and hypocrisy. 'Freedom' to all."
He included a picture of a man crying with a flag hanging around his neck. Traylor was blasted by many KU fans on message boards for his initial social media comment.
A couple hours after his tweet, Traylor apologized with this tweet: "Please read this if I offended you & I apologize if you misinterpreted my message. ... Don't get me wrong, I love where I live & there's no place like it, but there are still injustices going on everyday. I'm sorry if I offended you but everyone has different lives & everyone can't relate to mine just like I can't fully relate to yours. I really appreciate the people who fight to protect us. I was just trying to show how things aren't fully changed & I chose a strong picture to illustrate my thoughts. I just want to spend holidays with my dad who I feel is wrongly & unjustly imprisoned."
Traylor's dad, Jessie, is in prison in Indiana, serving a life sentence for conspiracy to distribute cocaine.
"I wasn't mad, I was tweeting about how I was feeling, my dad's situation," Traylor said Tuesday. "I don't feel I lied about anything. Anytime you say things, everybody's not going to be happy with what you say, but it's just how it is. I had a couple people get some angry tweets back at me, but that's life. No coaches are mad at me. They just wanted to know what I was thinking."
Traylor indicated holidays are tough for him with his dad imprisoned in Indiana.
Asked if he wanted to say any more about the issue, he said: "No."