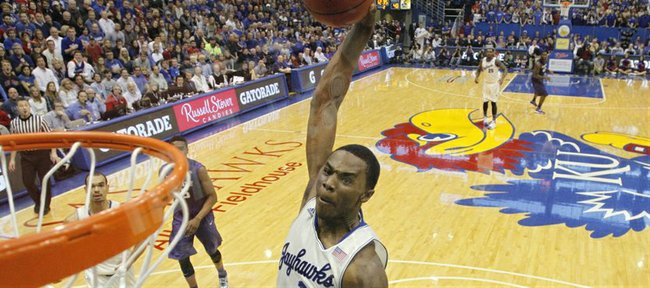 Photo Gallery
Kansas basketball v. Kansas State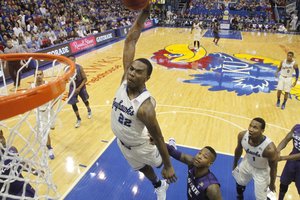 Images from Saturday's Sunflower Showdown game at Allen Fieldhouse.
Podcast episode
Bill Self on KU's 86-60 win over KSU and Monday's showdown with Iowa State
Podcast episode
Naadir Tharpe, Wayne Selden and Andrew Wiggins discuss the latest victory in the KU-K-State rivalry
Wayne Selden stays hot
Somebody did a good job of briefing Canadian basketball sensation Andrew Wiggins on the Kansas University-Kansas State basketball rivalry the past few days.
"It's tradition. What are we, 186-91 now?" Wiggins said, rattling off the results of the all-time series against K-State after burning the Wildcats for 22 points in the Jayhawks' 86-60 victory in Saturday's Sunflower Showdown in Allen Fieldhouse.
"(We wanted to) extend the lead to show we are the most dominant team in Kansas," the Jayhawks' freshman guard added.
Wiggins — he hit seven of 13 shots, including three of four threes and five of six free throws and also shut down KSU freshman Marcus Foster (seven points, 3-of-12 shooting) — was just a bit off on his figures regarding the rivalry. 
KU is now 187-91 all-time versus KSU, including a 44-18 mark in Allen Fieldhouse.
As far as who gave Wiggins the information ... apparently it was not head coach Bill Self.
"I never talk like that. Maybe somebody did something, (but) I never talk like that," Self stated.
Self did, however, show films of past KU-KSU games to the Jayhawks prior to the game.
"With six freshmen and Tarik (Black, Memphis transfer) being a newcomer, we wanted to put them in a mindset of the energy and type of emotion this game has been played with in the past," Self said. 
"It might have helped. I don't know. I don't think it helped us make any more shots. Any time we can educate our youngsters on certain things ... I think if we'd have gone into the game and had them not understanding that, I think I'd have been upset with myself afterwards."
Black — who scored the 1,000th point in his college career on a day he totaled four points, four rebounds and two blocks in 15 minutes — indicated some members of the KU hoops staff were the ones providing the numbers regarding KU vs. KSU.
"Yeah they've been over it with us," Black said. "Even though we are new here, we know it's a personal game, very personal, for both teams. We know for us, especially, we have to get a win, protect the home floor first and foremost. At the same time defend our legacy with the rivalry."
Black — he had a great pass to Jamari Traylor for an assist on a highlight-reel bucket and was recipient of a nice feed from Traylor for his own hoop — said watching KU-KSU films proved educational and inspirational.
"We saw tapes of old games, showing us the energy in the building, even at their place," said Black, who said he understood what the films were meant to convey upon entering the fieldhouse Saturday morning.
"You could tell it was grind time," Black said. "You could tell it was a personal one for everybody. You walk in, look around and say, 'This is the game.' We're blessed to be able to play games like this where the intensity is high ... great teams clashing together, expectations that come from the game and fulfilling those expectations."
Freshman Wayne Selden scored 14 points the first half as KU took a 45-28 lead into the break. It was Wiggins' turn to dominate the scoring the final half, with 17 points off 5-of-10 shooting. At one point, he had 13 points in a row for KU, including two off a vicious one-handed dunk.
"I think I was more calm than last game and the games before that," said Wiggins, who had nine points off 2-of-9 shooting in Wednesday's win at Oklahoma and 14 points off 4-of-14 shooting in a loss to San Diego State last Sunday.
"I think I'm just having fun. Coach mentioned today in the locker room we have eight more games left to play in Allen Fieldhouse, so I'm just trying to enjoy every one of them."
Wiggins acknowledged that as a "streaky shooter," he needs to "get in the gym" and continually put up shots.
"It's all repetition," he said. "I haven't changed anything. My father told me when I was young my shot will naturally change as I get older. I think that's what it's doing."
As far as his defense ... the 6-8 Wiggins gladly accepted the challenge to guard the 6-2 Foster.
"It was fun, because he's the second-leading scorer in the Big 12," Wiggins said. "People say he's one of the best freshmen, so it's always good to match up and see where you stand."
Of Wiggins' work on defense, Self said: "Andrew's length bothers a lot of folks. Foster is a good player, aggressive. A 7-2 or whatever wingspan guarding 6-2, the advantage would be Foster getting the ball down on the deck and beating us off the bounce. But Andrew slides very well also. He made shots, so he played well offensively. I thought he had a good game defensively as well."
The Jayhawks played well from the opening tip, storming to the 17-point halftime lead because of ultra-efficient play. 
KU had zero turnovers the first half against 14 assists.
"The ball moved and I think we got 19 baskets in the first half and 14 assists," Self said of the Jayhawks, who hit 65.5 percent of their shots the first half and 56.1 percent overall. "I don't think we've ever had 14 assists in a half, with no turnovers, and of course that helped. We did a good job taking care of the ball. Naadir (Tharpe)'s line wasn't good scoring, obviously, but it was good: nine assists, zero turnovers (with four points).
"One thing that really concerned us was their ability, especially No. 5's (Jevon Thomas) ability to pressure the ball and I thought our guards did a real good job of being sound with it."
It all added to a stat that is worth repeating. 
KU has won 187 games against the Cats against 91 losses. But as far as Wiggins' assertion KU is the most dominant team in Kansas ... wouldn't his brother, Nick, who plays for Wichita State, take exception to that?
"Yes, but that's all part of competition," Wiggins said. "They are competitive. They are going to think their team is the best. We are going to think our team is the best. Kansas State probably still thinks their team is the best. It's all competition."
Now 11-4 overall and 2-0 in the Big 12, KU travels to (14-1, 2-1) Iowa State on Monday for an 8 p.m. game against the Cyclones. K-State (12-4, 2-1) will play host to Oklahoma on Tuesday night.