Photo Gallery
Kansas basketball v. TCU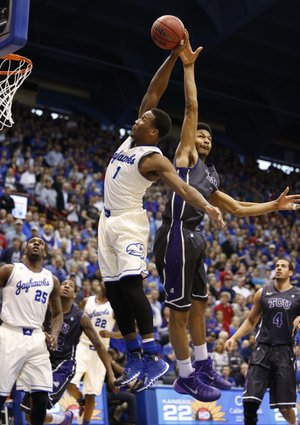 Images from Saturday's game between the Jayhawks and Horned Frogs at Allen Fieldhouse.
Podcast episode
Kansas coach Bill Self talked about Perry Ellis's 32-point afternoon, as well as KU's improved defense in the second half and the fact that Joel Embiid will play on Tuesday at Texas Tech.
Podcast episode
Perry Ellis, Wayne Selden and Andrew Wiggins discussed the Jayhawks' second-half recovery and Ellis's monster game following KU's home win over TCU.
KEEGAN RATINGS
KANSAS 95, TCU 65
Kansas University sophomore Andrew White III, who hadn't scored a point since Thanksgiving Day, busted the drought with four points in five minutes in Saturday's 95-65 victory over TCU in Allen Fieldhouse.
"It felt good. I think those were my first points in conference play," said White, who entered having played eight minutes total in Big 12 action. 
"Coach (Bill Self) has been stressing to be aggressive. That's what I want to do. Although I was cold and stiff, I knew I had (the last) four minutes to give it everything I've got. I went out there and played hard. It's all I can do at this point. I think I blended in with the other walk-ons. Every opportunity I get I'm going to play hard regardless of how much time it is or what the score is."
White, who is on scholarship, had hoped for more this season.
"It's been real frustrating," the 6-6 guard from Richmond, Va., said. "Although there's a lot of talent here, everybody kind of has their own expectations when the year starts. That's usually them planning to play well and get playing time. It didn't go accordingly. I'm not happy about it obviously but I don't complain. I don't make phone calls home complaining. I just do what I can and that's work hard in practice every day and try to be ready when and if coach calls on me. It's been a big down point but I'll recover."
White stressed: "I've not been slacking in practice. Me being on the court (sparingly) isn't an indication of what I'm doing off the court. I've been practicing hard. I've been putting in extra time. I've been competing with guys at my position as if I was playing. It's a matter of getting there. That's in coach's hands, not mine."
Senior Tarik Black was happy to see White get on the board.
"Andrew is one of the hardest workers we have on our team by far," Black said. "It was good to see him out there. He was doing his thing. He was knocking down shots and playing defense. I'm happy for him."
More discipline: KU freshman Brannen Greene was held out of the game by Self for what was deemed "a pattern of irresponsible behavior."
Self said he expected Greene to return to action Tuesday at Texas Tech.
"We are a team. Obviously, I like them a lot. I actually think they are too nice (but) we can have slippage from a responsibility standpoint," Self said. "That's basically what happened with him. This would have been a game he could have played a lot of minutes. 
"Certainly to me,  I would rather try to have their heads right early in their career than being lax and trying to get them back later. I would rather address this, get it out of the way. Now he'll know better."
Jamari Traylor returned from his one-game suspension to score a career-high 10 points with eight boards in 22 minutes.
Embiid to return soon: KU freshman Joel Embiid, who has a sore knee and back, missed the game. Self said he should practice today and be back in action Tuesday at Texas Tech.
"He could have played today if he needed to," Self said. "He is not totally pain-free. We'll get him out there tomorrow and see what he can do, but he should be able to play Tuesday."
She blinked: Actress Barbara Eden, best known for her role as a genie in the 1960s TV series, "I Dream of Jeannie" attended with her husband, KU grad Jon Eicholtz, and sat next to KU's chancellor. Eden was shown on the scoreboard at various junctures and even performed her trademark head nod and blink for the fans, who gave her a loud ovation.
Other faces in crowd: Former KU players Brandon Rush, Jeff Withey and Nick Collison, who are in the NBA, attended, as did former KU players Matt Kleinmann, Mario Little, Wayne Simien and Kevin Young, as well as former KU football player Steven Johnson of the Denver Broncos.
Stats, facts: KU held TCU to 41 shot attempts, fewest since Colorado's 38 attempts on March 12, 1993 in the Big Eight Tournament. The 41 attempts marked the fewest in a regular-season conference game since Nebraska's 39 attempts on Feb. 16, 1988. ... KU is 10-2 in Big 12 play. It's the 20th-straight year the Jayhawks have won 10 or more conference games (beginning in 1994-95). ... KU is 7-1 all-time vs. TCU. ... KU has won 112 straight games against unranked teams in Allen. ... KU has scored in the 90s six times, most 90-point regular-season games since the 2010-11 team won seven. ... The 95 points were a season-high. ... KU shot 61.5 percent (40-for-65), its highest percentage since 66 percent (31-for-47) efficiency against Texas Tech in the 2013 Big 12 Tournament. ... KU out-rebounded TCU, 35-18 (21-7 in the second half). ... TCU's 18 rebounds were fewest by a KU foe since Oklahoma had 16 boards on Feb. 26, 2011. ... Kyan Anderson's 21 first-half points are the by a player by halftime, topping Jabari Parker of Duke, who had 19 points in the first half  (11/12/13). ...KU missed its first six free throws and finished 10 of 17.
KU player notes: Perry Ellis' 13 field goals were most since Elijah Johnson's 13 buckets at Iowa State (2/25/13). ... Ellis is KU's first 30-point scorer since Ben McLemore scored 36 against West Virginia (3/2/13). ... Ellis scored 21 points in the second half, most by a Jayhawk in a half since Travis Releford's 21 in the first half against Saint  Louis during the CBE Classic (11/20/12). ... Andrew Wiggins' 16.1 scoring average is currently the best all-time by a KU freshman.