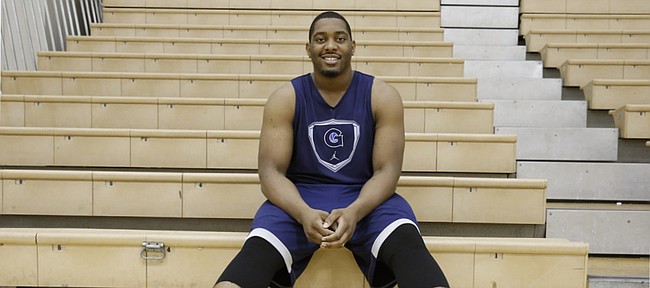 Kansas University's basketball team, like just about every squad in America, is at a size disadvantage when going against Georgetown and the Hoyas' imposing center, Joshua Smith.
"It'll be like a lunar eclipse if Josh is standing a certain way and Cliff is behind him. There's a chance you will not see Cliff," KU coach Bill Self said, jokingly, of 6-foot-8, 240-pound Cliff Alexander guarding 6-10, 350-pound man-mountain Smith during today's 6 p.m. battle between the No. 10-ranked Jayhawks (6-1) and unranked Hoyas (5-2) in Verizon Center.
"I don't think you can prepare for Josh. He's huge. He's got great feet. He's got soft hands. He's a good passer. He moves so well," Self added of Smith, who averages 12.7 points off amazing 66.7 percent shooting and 6.9 boards in his senior season at Georgetown.
The Jayhawks are quite familiar with Smith, who chose Georgetown over KU as his transfer destination after two seasons at UCLA.
This will be KU's fourth meeting against the McDonald's All-American.
As a freshman, Smith scored 17 points and grabbed 13 rebounds while playing 28 minutes and fouling just twice in UCLA's 77-76 loss to KU on Dec. 2, 2010, in Allen Fieldhouse.
As a sophomore, Smith had one point, one rebound and fouled out after playing 13 minutes in the Bruins' 72-56 loss to KU on Nov. 22, 2011, in Maui.
Last year, Smith had five points and no boards and fouled out of KU's 86-64 win over the Hoyas in Allen Fieldhouse.
"To me, he looks like he's in very good shape. They're playing through him more. His production per minute is off the charts," Self said of the pivot who was called The Washington Monument, Round Mound of Georgetown, Joshua Tree, Transfer from UCLWeigh, Capitol Rotunda, SmithZONEian, Big Smooth and Freight Train by Hoyas fans who created possible nicknames for Kent, Washington, native Smith in an unofficial Twitter/Facebook discussion in November of 2013.
"We're going to have to limit his good touches and allow him not to get to his spot on the block quite as easily," Self added.
Smith, 6-9, 239-pound senior Mikael Hopkins and 6-3 Big East preseason player of the year D'Vauntes Smith-Rivera (14.4 ppg) provide an effective inside/out combination for the Hoyas, who defeated Florida (66-65, OT) and lost to No. 5 Wisconsin (68-65) in the Battle4Atlantis in the Bahamas. KU also beat Florida, 71-65, Friday in Allen Fieldhouse.
"He (Smith) is a big dude. We really have to front him and do things like that," said Perry Ellis, KU's leading scorer and top rebounder at 14.6 points and 6.7 boards a game. "He has a big body and is strong. They are a real aggressive team. We'll definitely have to compete."
KU will be without inside depth, as 6-8, 220-pound junior Jamari Traylor has been suspended a game following his weekend arrest.
"We all support him. At the same time, somebody else will have to step up," Ellis said. "I feel we have the pieces to do that. We just have to make sure we do step up."
Landen Lucas, a 6-10, 240 sophomore who Self said would again start with Frank Mason III, Wayne Selden Jr., Ellis and Sviatoslav Mykhailiuk, likely will open on Smith, with Alexander getting plenty of minutes trying to stop the immovable force.
"Cliff embraces contact, there's no question about that. When he and Josh are guarding each other, there will be some banging going on in that regard," Self said. "I think Cliff has done a really good job. I didn't think he was very good the first half at all against Florida, but he was tuned in the second half (as KU erased 18-point deficit). I thought he played great, played with energy, those things. He and Landen without question are our most physical guys."
Smith spoke about KU to the Washington Post on Tuesday: "You can see why they're always in the tournament. They're always playing hard. They're always physical. They have a great coach. They're not going to give us anything. We have to go out and take it."
Mason update: KU's Mason, who sprained his ankle against Florida on Friday, practiced Tuesday and will play tonight, Self said Tuesday night.
Prep rivals: Georgetown freshman Paul White, a 6-8 forward from Chicago Whitney Young, was a high school rival of KU's Alexander, who attended Curie High.
"Throw it out the window. Different setting, different teams, different support," Thompson said. "Obviously he's played against Cliff quite a bit. So if you are asking if I went to Paul for Cliff's scouting report, I might do that today once we get in there (for Tuesday practice)."
Fans studying: Georgetown coach John Thompson III, about the possibility Georgetown fans may not show up tonight in full force. This week is first-semester exams. "Let's be honest, there are not too many places like (Allen Fieldhouse). I hope our fans come out and give us a boost." It's expected thousands of KU fans will attend tonight's game.