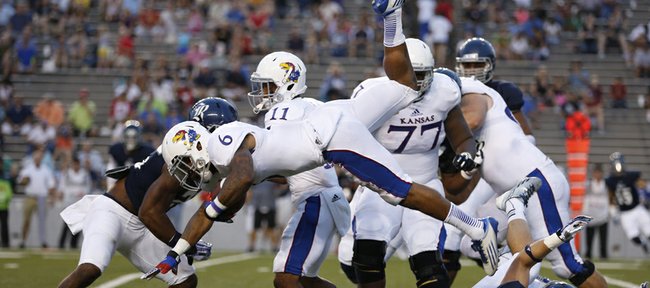 Judging by Kansas University football coach Charlie Weis' comments on Monday morning's Big 12 coaches teleconference, it's been anything but an off week for the KU offensive line.
On the heels of back-to-back sub-par performances by KU's most overhauled position, Weis said Monday that piecing together the front five on offense remained "a work in progress," and it seems likely that, from this point on, the most physical players will inherit the most important roles.
"In the run game this past week (in a victory over Louisiana Tech), just like the week before against Rice, I thought that we didn't get the best of it," Weis said. "If we're gonna be any good, we need to be able to run the ball efficiently. You gotta be able to control the line of scrimmage, and for two weeks in a row that hasn't been the case."
So rather than using the early part of their second and final off week of the 2013 season to take it easy, Weis turned up the heat.
"We're doing something different each day (of the off week)," Weis said. "But the first thing we're gonna do is we're gonna beat the hell out of each other on Tuesday. We still need to become a tougher team and I think that the off week is a good week to do that."
After proving it could run the ball against anybody during 2012 the Jayhawks have gotten off to a slower-than-expected start in that area in 2013. KU's run game still has produced an average of 4.5 yards per carry, but Weis was not pleased with his team's effort up front against either Rice or Louisiana Tech. Eight linemen got into the mix against LA Tech, with two — center Dylan Admire and right tackle Riley Spencer — making their first starts at Kansas and the others getting sprinkled in because of injuries, which Weis said earlier this week were not thought to be serious.
"They might be banged up a little bit physically," he said. "But I think their egos are more banged up than their bodies are banged up."
Tackles and junior-college transfers Mike Smithburg and Ngalu Fusimalohi both suffered minor injuries during the win against the Bulldogs and veteran reserve guard Randall Dent missed the game altogether.
Senior Aslam Sterling made his third straight start at left tackle and juniors Pat Lewandowski and Zach Fondal as well as sophomore Damon Martin all are vying for spots.
"I don't think inexperience is the issue," Weis said. "We have about seven or eight guys that are all involved in the mix and we'll just see where it is going forward."
KU has spent its off week focusing on different aspects of the season ahead. One day the Jayhawks took an early look at their Oct. 5 opponent, Texas Tech. On another they emphasized self-scouting and fundamentals.
Regardless, the Jayhawks have focused on a couple of key things while prepping for the Big 12 gauntlet that lies ahead — tightening up and capitalizing on the momentum of being 2-1.
"I'm really not a big fan of byes," Weis said. "But I think now is a good time for us to say, 'OK, we got three games in, here's the things that we do decent, here's the things that we're not very good at and see if we can't try to fix some of these deficiencies that we have.'"