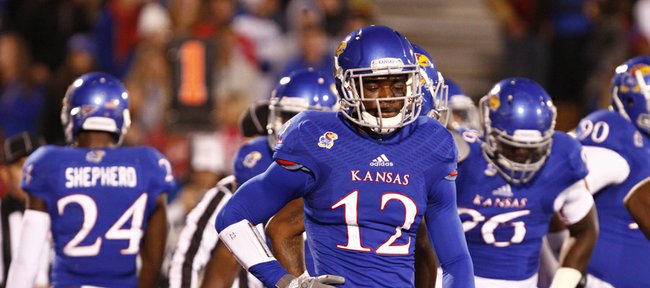 Saturday night's 59-14 loss to sixth-ranked Baylor marked the 11th time in the past four seasons that Kansas University's football team had given up 50 points or more in a game and the sixth loss of at least 45 points during that same stretch.
Several Jayhawks — veterans like Kevin Young, Keba Agostinho and James Sims — have been in crimson, black and blue for every one of those beatings. Others, such as first-year junior-college transfers Cassius Sendish and Rodriguez Coleman and true freshman Montell Cozart, have limited experience with such lopsided losses and, therefore, may not suffer as much when another rough outing goes down.
Not so says second-year Jayhawk and co-captain Keon Stowers.
"It's easier for us (newer guys) to see (things more positively)," Stowers said following his 16th loss in 19 games as a Jayhawk. "But, in another sense, those (older) guys have been through it so much, and they do a good job, when they start seeing those long faces, of coming in as soon as they see 'em. When Baylor scored 14 quick, the long faces started to come on, and you could hear Keba and KY as the loudest guys trying to say, 'Come on, guys, keep your head up, let's keep going.'"
Sendish, who is seven games into his Jayhawk career, said the concept of newcomers and veterans does not exist in the KU locker room, particularly when it comes to how the group deals with coming up short week after week.
"I think we've got a mentality, this year, that's completely changed," Sendish said. "I think they realize what our team is capable of, and we're all on the same page."
Asked if the task of getting the Jayhawks to sail past the setbacks with heads held high fell more on the guys who had fewer losses in a KU uniform, Sendish also did not discriminate.
"It comes from people like me who just got here and haven't experienced stuff like this," he said. "And it comes from the people who have experienced stuff like this. Nobody wants to lose, and that's not the demeanor we're going to accept the rest of the season."
Stowers agreed.
"Oh, yeah," he said. "That comes from leadership. And there's a lot of quiet leaders on this team."
If there's one thing the Jayhawks consistently have done well during the first two years of the coach Charlie Weis era, it's bounce back, week after week, regardless of what went down the Saturday before. Although the Bears lit up the scoreboard and gained the third-most yards ever surrendered by a KU defense (743), moving on might actually be easier this week because the Jayhawks knew what kind of offensive machine they were up against.
"They're really good, and we expected them to be really good," running back Brandon Bourbon said. "But, at the same time, it's disappointing, and we just have to keep fighting to get a win."
Added Stowers: "The first thing (Weis) said when he came in the locker room was, 'We just got beat by a really good football team.' It is what it is. We just have to come back, correct the mistakes and get ready for Texas."
KU (2-5, 0-4) will face Texas (5-2, 4-0) at 2:30 p.m. Saturday in Austin, Texas.