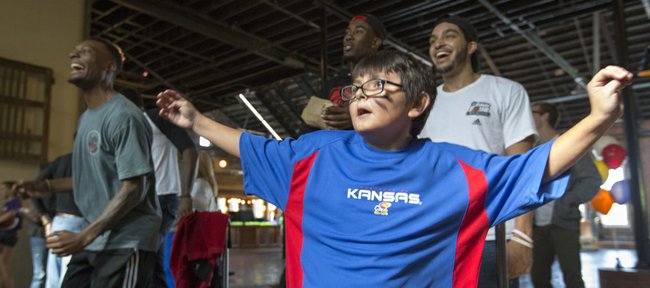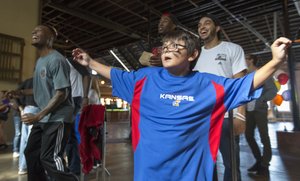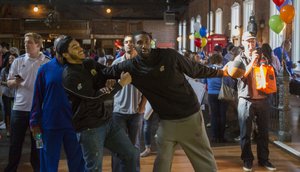 If everybody stays healthy — and produces as expected — Kansas University's starting basketball lineup might not change much during the course of the 2013-14 season.
"You would think that Tarik (Black), Perry (Ellis), Wayne (Selden), Andrew (Wiggins) and Naadir (Tharpe) would probably have a head start on everybody, because that's kind of how we've viewed it, and that's kind of how they've been since the first day," KU coach Bill Self said Sunday at his Assists Foundation's Fall Festival and Equipment Drive at Abe & Jake's Landing.
"There's other guys out there fighting hard."
Barring some surprise, one senior (Black), one junior (Tharpe), one sophomore (Ellis) and two freshmen (Selden, Wiggins) will start Tuesday's 7 p.m. exhibition opener against Pittsburg State.
"Don't read into it who starts in our exhibition games. That to us is another practice, but obviously a choreographed practice," Self noted.
Asked if anybody has been dominating the closed scrimmages that have been held since the open scrimmage on Oct. 19, Self said: "Obviously, Andrew (Wiggins) has had his moments. Andrew White has had his moments. Joel (Embiid) and Perry ... all of 'em have had their moments," Self said. "Naadir has been consistent. I like our team a lot. I don't think we're close to putting it together though, not even close.
"I do think the pieces fit. We haven't figured out how to put 'em together just quite yet. Guys are fighting for minutes. I know we're looking forward to playing against somebody else."
Self's continued praise of Andrew White III puts to rest any thoughts out there that the 6-foot-6 sophomore guard from Richmond, Va., might red-shirt this season.
"Andrew's going to play. I can't imagine him not playing," Self said. "I think he's worked so hard. He's been one of our most consistent performers, without question."
The only veteran to red-shirt this season will be newcomer Hunter Mickelson, who can practice but not play in games in accordance with NCAA transfer rules. He played at Arkansas two seasons.
KU's six freshmen can play in the two exhibition games and still be red-shirt candidates in accordance with NCAA rules. Any veteran that plays in an exhibition cannot be red-shirted.
"I don't know what we're going to do yet. We still have about 10 more days to try to figure it out," Self said of the possibility of meeting with a freshman about sitting out a year to get a fifth year down the line.
Of the status of the six freshmen heading into Tuesday's practice game, Self said: "Yeah, they'll all play. I don't know how much, though. Everybody is so young, we need to get them all up there (in game situations)."
Self, who didn't push the players hard the first week or so of the NCAA's new, expanded season, which opened on Sept. 27, said things have picked up of late.
"We've got a lot of stuff to get in," Self said. "We've got to get real serious. We've got, I guess, a legitimate 10, 11 days before we need to have the majority of our stuff in. We're not going to have it all in when we play our first game (against Louisiana Monroe, Nov. 8).
"Hopefully we'll get something out of our exhibition game Tuesday. Hopefully we'll play well and get some confidence and really have a serious week, not so much getting after them, but as far as getting in a lot of things that have to be gotten in before we play our first game."
Equipment-drive fun: More than 100 youths played interactive games with the Jayhawks, posed for pictures and landed autographs at Sunday's event for Bill and Cindy Self's Assists Foundation. All equipment brought by fans will be donated to the Boys and Girls Club.
"We've got some games I think our players are enjoying playing more than the actual kiddos," Self said. Stations were held where youths and the Jayhawks fired baseballs through targets and also competed in Pop-A-Shot and Dance Dance, Revolution. "The biggest thing is getting equipment to give away to kids through the Boys and Girls club. Hopefully then they'll become more active and do some things they wouldn't have been able to do. A lot of equipment has come in today."
Tharpe said he enjoyed competing against the youths in the dance game.
"I love being around the kids all the time. Just for them to be able to see basketball players up close, people they look up to, is great. They're trying to get competitive. It's fun," Tharpe said.
"It's great coach is doing something for the kids of the community. Everybody is coming together as a team, and it's good for us to get together as a unit and do something like this. It's a great atmosphere," Tharpe added.
Noted freshman Brannen Greene: "It's cool being able to interact with the little kids. What else would I be doing on a Sunday? It's fun."
Cliff notes: Cliff Alexander, a 6-8 senior from Chicago's Curie High, has switched his decision date from Nov. 16 to Nov. 15, Zagsblog.com reports. He will announce on ESPN. No. 4-rated Alexander, who visited Illinois last weekend, has a list of KU, Illinois, DePaul, Memphis and Michigan State.
"We had a great time like all the other visits," Alexander's mother, Latillia, said of the Illinois visit to SNY.tv and zagsblog.com. "The coaching staff was great. They really make you feel like a family, and that plays an important part in our decision. I need to know that my son is going to be taken care of on and off the court. He might just be Cliff Alexander to most people, but he's still my baby."
Dynamic duo visited Duke: Jahlil Okafor (6-10, Chicago Whitney Young) and Tyus Jones (6-1, Apple Valley, Minn. High), the Nos. 1- and 5-rated players in the Class of 2014, visited Duke over the weekend. "Back home in minny. Had a good visit to Duke, thanks to the fans for showing love," Jones tweeted. The two visited KU Oct. 18-19.
Robinson ticketed: Former KU forward Thomas Robinson of the Portland Trail Blazers was cited by Portland police for driving his Porsche 107 mph on Interstate 5 on Oct. 25, the Oregonian newspaper reports.
An officer "observed a white 2013 Porsche Panamera traveling at a high rate of speed on the freeway," Sgt. Pete Simpson, Portland Police Bureau, told the Oregonian. "The officer's LIDAR would clock the vehicle at 107 MPH in a 55 MPH zone."
Robinson was cited for violation of the Basic Rule (100-plus mph), which carries a fine of $1,150, Simpson told the paper.
Robinson tweeted on Sunday: "Apologies for that speeding ticket rip city gotta be more careful with watching the speed limit my first and last one tho for sure"
Twins hit jackpot: The Phoenix Suns have picked up the 2014-15 team options on the rookie contracts of former KU players Markieff and Marcus Morris, according to valleyofthesuns.com. Markieff will make $2,989,239 and Marcus $2,943,221 next season. Markieff makes 2,091,840 and Marcus $1,987,320 this season.