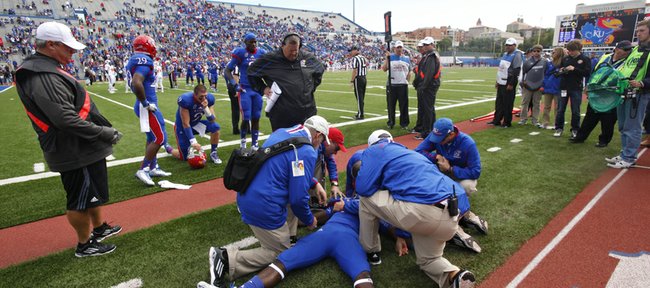 Photo Gallery
KU football v. Texas Tech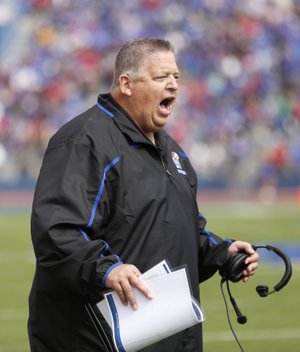 Images from Saturday's football game against Texas Tech at Memorial Stadium
Podcast episode
Kansas football coach Charlie Weis talks after his team's 54-16 loss to Texas Tech on Oct. 5, 2013.
As if the numbers on the scoreboard were not bad enough, the worst news for the Kansas University football team after Saturday's 54-16 loss to No. 20 Texas Tech may have come in the form of an injury to one of its top players.
Shortly after junior Tony Pierson made the play of the day, a juking, jumping, 39-yard gain midway through the third quarter, KU's leading receiver, who tallied 118 yards on six receptions, was momentarily motionless on the KU sideline with an apparent injury.
After teammates, trainers and coaches huddled around Pierson to see if he was OK, the KU speed back eventually got to his feet and walked back to the bench. KU coach Charlie Weis said seeing Pierson moving around on the sideline and in the locker room was a relief, but added that the Jayhawks (2-2, 0-1 Big 12) may be without Pierson for a while.
"His head hurts. I'm sure that he took a good knock on the head and has a concussion," Weis said. "Probably (he) will miss some substantial time would be my guess."
KU quarterback Jake Heaps, who knelt by Pierson's side and looked visibly shaken by the incident, also was relieved that his buddy was OK.
"Tony's such a great person," Heaps said. "Regardless of all the football stuff, he's just such a great person and it wasn't looking good. You see injuries happen all the time, but it really hit me personally. We missed him out there on the field, but I'm just glad that he's healthy and OK."
Oh, snap
Weis said after the game that KU's trouble with the quarterback-center exchange — an ongoing problem so far this season — took the Jayhawks out of a lot of what they hoped to do offensively.
"The quarterback-center exchanges alone killed us," Weis said. "And we'll throw some false-start penalties on there, too."
Heaps agreed with his coach that the snaps were an issue and said KU had to find a way to fix it.
"That's a pride thing," Heaps said. "We've gotta be able to do that. That's a fundamental thing. We'll work out the kinks, we'll work out the mistakes and we'll look to improve on 'em."
Weis said he and offensive line coach Tim Grunhard already were brainstorming ideas for future weeks in the fourth quarter.
Understandable exit
Asked about playing in front of a mostly empty stadium in the fourth quarter, Weis did not seem one bit upset by the KU fans' early departure.
"If I were at the game I probably would've left, too," Weis said. "The product they were seeing wasn't worth (staying) around (for). (The people who stayed) should get combat pay just for staying to the end."
Moment of silence
Before Saturday's game KU observed a moment of silence for Shawnee Mission West senior Andre Maloney, a KU commitment who passed away Friday after suffering a stroke during West's game Thursday.
After the loss, Weis expressed his sorrow about the loss of the 6-foot-2, 180-pound defensive back.
"On behalf of the whole Jayhawk family, we want to send our condolences to the Maloney family, friends, everyone from the high school after what has just transpired," Weis said. "It's a nightmare. It's just a true tragedy."
This and that ...
The Jayhawks lost Saturday's opening coin toss for the fourth game in a row and Texas Tech chose to receive the game's opening kickoff. ... Junior Connor Embree recorded his first career reception in the second quarter. ... Junior Ben Heeney led KU's defense with 12 tackles, 11 of them coming in the first half. ... Texas Tech now leads the all-time series with KU, 14-1, and is 8-0 in Lawrence. .... Temperature at kickoff was 55 degrees, under partly sunny skies with winds of 11 mph out of the west.