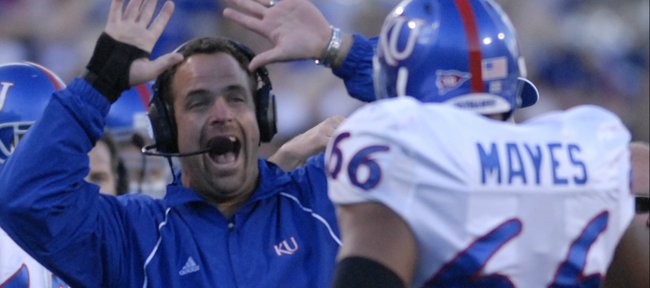 The wheels are in motion for Kansas University football coach Charlie Weis to bring in an offensive coordinator following this season.
The Journal-World reported Wednesday afternoon that KU offensive line coach Tim Grunhard would step down after Saturday's 11 a.m. season finale against Kansas State, and Weis confirmed the report Wednesday evening in a statement.
"Sunday, Tim Grunhard is stepping down as offensive line coach so he can spend more quality time with his family," said Weis, who revealed that Grunhard's replacement had already been hired but would not be announced until that coach "becomes available."
Sources have told the Journal-World that Rice offensive coordinator John Reagan, a former KU assistant on Mark Mangino's staff, will be hired to serve in the dual role of OC and O-line coach and bring his offense to Lawrence.
The move would free up Weis to focus entirely on running the program as head coach, a role that entails recruiting, motivating players on the field and in the classroom, instilling discipline and challenging assistants in a variety of ways.
Grunhard joined Weis' initial staff in 2012 after spending six seasons as head coach at Bishop Miege High in Roeland Park.
"With the time commitment and challenges of major college football, I felt I was being delinquent in my responsibilities to my family," Grunhard said in a statement. "... I would like to thank Coach Weis and the rest of the Kansas football staff for teaching me the valuable lessons of loyalty and due diligence. I plan on continuing my relationship with the KU community that I have grown to love and respect."
Weis stayed in-house for his first attempt at sparking a listless offense when he turned over play-calling duties in midseason. He put quarterbacks coach Ron Powlus in charge of the passing game and had tight ends coach Jeff Blasko coordinate the running game, roles they will fill through Saturday's game.
Reagan, who served as KU's offensive line coach and run-game coordinator for five seasons, is wrapping up his fourth season at Rice and third season as the Owls' offensive coordinator.
Linemen who benefited from Reagan's tutelage at KU include 2007 All-American Anthony Collins, a finalist for the Outland Trophy and a fourth-round draft pick of the Cincinnati Bengals. Jeff Spikes and Jeremiah Hatch earned freshman All-American honors in 2008 under Reagan and others earned All-Big 12 honors.
Reagan's time in Houston has been wildly productive. In 2012, the Owls produced the second-most productive offensive season in school history, piling up 5,556 yards, 414 points and 306 first downs on their way to winning the last five games and capturing the Armed Forces Bowl championship. The Owls also set a school record and led the nation by averaging 33:59 in time of possession.
This season, Rice ranks 51st in the country in total offense and is averaging 431 yards per game and has scored 45 touchdowns. The Owls (8-3) boast the country's 14th-ranked rushing offense (250 yards per game) and quarterback Taylor McHargue ranks 65th nationally in total offense, accounting for more than 2,300 yards from scrimmage in 11 games.
Before joining the Jayhawks and Owls, Reagan, a Syracuse graduate, coached at Air Force and Temple. He has long been considered one of the up-and-coming offensive minds in football and his familiarity with the Big 12 and recruiting connections in Texas could provide a huge lift for a KU offense that has struggled during the past two seasons.
Reagan has returned to Lawrence often throughout the past several years to spend as much time as possible with his children, Kaitlyn and Daniel, who reside in Lawrence with their mother. During an interview with Journal-World sports editor Tom Keegan before last year's Rice-Kansas game in Lawrence, Reagan spoke fondly of his time at KU.
"It's a great college town, and we had the best five years in the history of KU football, and that was fun," he said.
Rice, which currently sits in first place in the West Division of Conference USA, plays Tulane on Saturday. A victory would move the Owls into the C-USA title game. A loss would leave them awaiting their bowl fate.