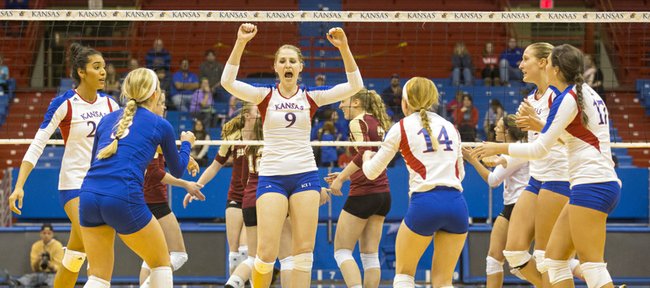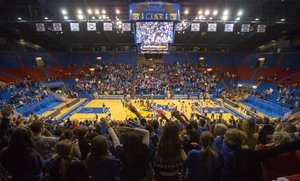 In their final regular season match in Lawrence, the Kansas University volleyball team overcame a slow start and knocked off visiting Denver University in four sets, 25-23, 26-28, 25-16, 25-16, Tuesday night at Allen Fieldhouse.
No. 21-ranked Kansas, which owns an RPI of 12, needed some time to get in sync as it played away from the familiar confines of Horejsi Center — a dress rehearsal for possible home-court NCAA Tournament action for the second season in a row. The Jayhawks opened with two tight sets against the Pioneers, who were playing their final match of the season.
"They definitely played like they had nothing to lose," said freshman middle hitter Tayler Soucie, who was one of KU's top offensive options early and finished with 12 kills. "We may have overlooked them a little in the beginning."
The aggressive approach by the Pioneers (17-13), along with some poor KU passing, forced the Jayhawks (23-6) into 18 hitting errors in the first two sets, and the two teams went into the break knotted at one apiece.
"That's extremely uncharacteristic for us," KU coach Ray Bechard said of the unforced errors. "We were just a little loose offensively."
That vibe carried over into the pivotal third set, where Kansas actually trailed 12-9 before heading to the bench for a timeout that seemed to make everything right again. The Jayhawks stormed out of the timeout and finished the third set on a 16-4 run. The surge continued into the fourth set, and Kansas closed the night by outscoring Denver 41-20.
"That was kind of a tipping point," Bechard said of the timeout in the third. "We got a little more disciplined and it wasn't anything I said, it was more how they communicated with each other. They kind of said, 'Let's go. Let's start playing at the level we want to play.'"
Added senior middle hitter Caroline Jarmoc, who led the Jayhawks with 15 kills: "There was definitely a lack of energy in the beginning and that's on us. We always say you need to fake it to make it and whether you're feeling crisp or not you have to force that energy out and make a solid performance."
Luckily for the Jayhawks, there were plenty of plays that sparked the strong finish. Jarmoc and senior Chelsea Albers began to dominate at the net. Sophomore Tiana Dockery (seven kills) put down some loud kills at critical times. And senior setter Erin McNorton got things flowing on offense, particularly in the middle with quick sets to Jarmoc and Soucie. Add to that the usual strong defensive efforts by Bri Riley, Jaime Mathieu and Cassie Wait and it was clear that the Jayhawks, who entered the match on a roll, merely needed a little time to find themselves.
"You have to look at the good and the bad," Bechard said. "And we were good after the break."
Tuesday was the team's fourth match in Allen Fieldhouse in the past 12 months. Because the Jayhawks are in a position to host the first and second rounds of the upcoming NCAA Tournament, they needed to give KU's basketball arena a trial run because their regular home environment does not provide enough seating to host. The team went through the same thing in preparation for last season's NCAA Tournament and wound up hosting. The Jayhawks are 3-1 in their last four matches at Allen Fieldhouse and, while it may have been old hat for the team's seven seniors, it was a new experience altogether for the freshman Soucie, who showed no signs of nerves playing in front of nearly 4,000 fans.
"It's a really cool place to play, and I think it kind of shocked me how many people were there," Soucie said. "After a while, I kind of just stopped thinking about it."
Bechard was pleased by his team's poise in the unusual venue and said he thought the 2012 experience came through Tuesday.
"Last year, it was 'Let's see how this goes,'" Bechard remembered. "And this year, they were excited about it and couldn't wait to get in the Fieldhouse."
Added Jarmoc: "I love playing in Allen. The bigger the crowd, the better."
The Jayhawks will close out the regular season at 7 p.m. Saturday at Oklahoma, where a second-place conference finish and postseason positioning will be on the line.
KU will learn its postseason draw at 8:30 p.m. Sunday via the NCAA Selection Show on ESPNU.