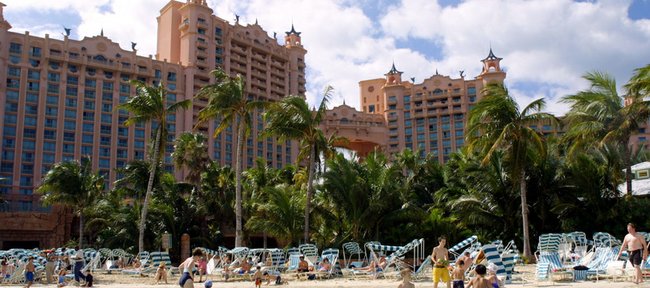 Paradise Island, Bahamas — It's hard to hide a seven-footer outfitted in Kansas University gear at a resort teeming with college basketball fans.
Once the No. 2-ranked Jayhawks arrived at Atlantis Tuesday evening, it didn't take long for KU fans — or even vacationing tourists who didn't know who this apparent celebrity was — to notice freshman center Joel Embiid and approach him to pose for a photo. Embiid, wearing a backward Kansas cap, and crimson and blue from head to toe, obliged for shot after shot before the team hustled off to a secluded outdoor dinner.
Jayhawks coach Bill Self, whose team opens the Battle 4 Atlantis tournament against Wake Forest at 2:30 p.m. on Thanksgiving afternoon, said his players always get the rock-star treatment when they hit the road.
"That's one thing about it, we do travel," Self said of KU loyalists. "We'll have 2,000 or so fans here. It is tiring on the players, though. We're gonna have to have security, because some of the guys will never get through the lobby. But it is good to have so many fans here, and I'm sure it'll be a good home court for us."
The travel day began, Self said, with the Jayhawks getting to work back in Lawrence.
"The guys lifted at 8:45 (a.m.) and then we practiced at 9:30, and went for an hour-and-a-half hard," Self said. "It was a good practice. They're excited to be here."
The Jayhawks got their first glimpse of what the resort has to offer on their way to dinner, as their route took them under a lagoon and past numerous aquariums filled with sea life. Junior guard Naadir Tharpe joked they should try to find Nemo.
Self said the team's stay in the Bahamas is primarily about business, and competing on the Imperial Arena court against the field of Wake Forest, Villanova, USC, Tennessee, No. 23 Iowa, Xavier and UTEP. But the 11th-year Kansas coach said the players will be able to enjoy themselves some, as well.
He'll even let them try out the resort's 200-foot water slide if they want to.
"They may have some free time (today) or some free time Sunday," Self said. "But they won't have any free time Thursday, Friday or Saturday."