Game Balls
Photo Gallery
KU football v. West Virginia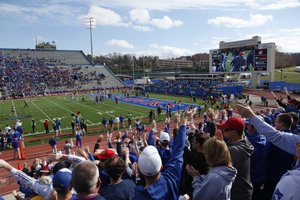 Images from Saturday's game between the Jayhawks and Mountaineers at Memorial Stadium.
Podcast episode
Charlie Weis post-game vs. West Virginia
KU 31, W. Va. 19
Montell Cozart for doing a terrific job of managing the offense in his first career start. He rushed for 60 yards and didn't turn it over once.
James Sims for a 211-yard rushing day that included runs of 62 and a career-high 68 yards. They were the two longest rushes of the season for KU and both came in the second quarter.
Gassers
Whoever selected the jersey color scheme. The numbers were easy to see on TV, but the announcers couldn't see them from the press box, which had to make it difficult for them to paint a picture for the fans listening on radio.
Aslam Sterling for a holding penalty late in the opening drive, a big factor in KU having to settle for a field goal instead of a possible touchdown.