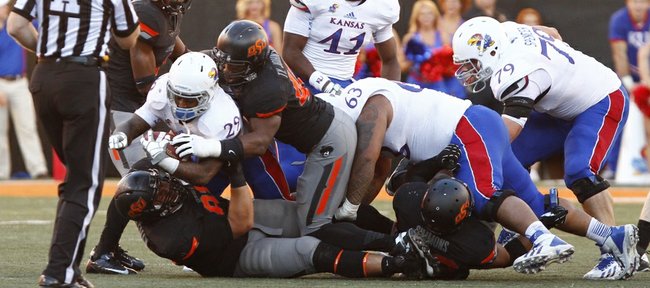 After running the annual Big 12 gantlet — one that seemingly never ends — the Kansas University football team is set to finish 2013 with three games that, on paper, appear to be a little easier than what the Jayhawks just went through.
After losses to 8-0 Baylor, 7-2 Texas and 8-1 Oklahoma State in the past three weeks, the Jayhawks (2-7 overall, 0-6 Big 12) will close the season against three opponents whose combined record is 10-18.
However, just because the records get a little bit worse does not mean that the competition gets easier. KU coach Charlie Weis was the first to point out that, if his team wants to add another win or two to its record before season's end, the Jayhawks will have to bring their A-game the rest of the way.
"I don't look at (KU's remaining schedule) as being softer," said Weis, whose team will welcome 4-6 West Virginia to Lawrence for an 11 a.m. kickoff on Saturday. "I think that West Virginia's capable of beating anyone like they showed when they beat Oklahoma State at home (Sept. 28). Like they showed last week when they had Texas basically beat. But, they could lose to anybody, too."
That's where the focus starts and ends this week for Weis, who is not in any way looking ahead to games against Iowa State (Nov. 23) or Kansas State (Nov. 30). By putting all of his focus on the Mountaineers, Weis avoids the potential of dwelling on a past schedule that ranks as the 25th toughest in the country, according to college football analyst Jeff Sagarin.
"Obviously, we went through a brutal stretch with a bunch of teams that are really good, and most of them all ranked," Weis said. "It is what it is. You're going to play nine games in the Big 12. That's the way it is."
So while he can't control who he plays or when he plays them, Weis is choosing to focus on the things about which he has some say.
"I can't worry too much (about the records of our opponents)," Weis said. "I respect everybody. I respect the coaches, I respect the players, I know who they are, I know what they do. But I have to be more concerned with what my guys do."
To that end, the players also are keeping their minds focused internally, working as hard as ever on fundamentals, to come up with a game plan that gives them the best shot at snapping their six-game losing streak and 27-game skid against Big 12 foes.
"We've got a team that matches up well with us, and we just have to figure out how to go in and get a W," said junior defensive lineman Tedarian Johnson.
Added senior running back James Sims, who was asked what he wanted to accomplish in the final three games of his college career: "Just to finish on a positive note. I want to finish 3-0, and we just have to take it one week at a time."