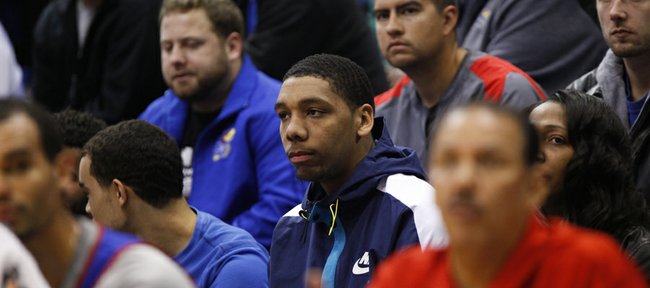 Kansas University's basketball program today hopes to sign the country's No. 1-rated high school player for the second straight recruiting season.
Top-ranked Jahlil Okafor, a 6-foot-10, 270-pound senior center from Chicago's Whitney Young High, is expected to announce for Kansas University or Duke shortly after the start of ESPNU's college basketball recruiting show at 3 p.m., Central time (WOW cable channel 35).
His announcement is to be reported at the same time as his package-deal buddy — Rivals.com's No. 5-rated Tyus Jones, a 6-1 senior point guard from Apple Valley (Minn.) High, who also is expected to choose KU or Duke. Jones, though, had not officially eliminated Baylor and Minnesota in his pre-decision day blog in USA Today.
Meanwhile, No. 4-rated Cliff Alexander, a 6-8, 240-pound senior power forward from Chicago Curie High, will sign with either KU, Illinois, DePaul or Memphis at about 3:15 p.m., on the same ESPNU TV show.
So by 3:30 p.m., KU will either have signed three, two, one or zero of the top-five rated players in the Class of 2014 after inking Andrew Wiggins, No. 1 in the Class of 2013, last May.
KU has already announced the signing of No. 12 Kelly Oubre Jr., a 6-7 senior shooting guard from Findlay Prep High in Henderson, Nev.
"Okafor and Jones are Sporting News' No. 1 and No. 2 rated prospects and they cover the two most important positions on the floor," writes Mike DeCourcy of the Sporting News. "I could be persuaded that Dallas-area big man Myles Turner (No. 6-rated player, 6-11 from Euless, Texas, who will sign in April) might have a similar long-term impact in the game, but I'm not as convinced he's ready to carry a program in the same way as Okafor for a single season at the Division I level," DeCourcy added.
He says the Okafor-Jones winner will automatically possess the No. 1 recruiting class in the country.
"There are some other excellent recruiting classes out there, and some classes that already are strong could be enriched by landing wing Stanley Johnson (6-6, Santa Ana, Calif.) or power forward Cliff Alexander. But the team that gets Jones and Okafor, who have pledged to attend college together, will be landing the best players in the 2014 class around whom a coach can build a team. Having the best players wins more often in this game than having the most good ones," DeCourcy wrote on SportingNews.com.
Here's a quick look at all three players:
Jahlil Okafor: The first-team all-state selection led Chicago Whitney Young to its first Public League championship since 1998. He averaged 20.9 points (off 69.8 percent shooting), 8.8 rebounds and 2.9 blocks. Young lost to Jabari Parker-led Simeon in the sectional finals.
"Jahlil Okafor is one of the most skilled and poised back-to-the-basket centers to come along in some time," Eric Bossi of Rivals.com wrote of the player who also had Arizona, Illinois, Kentucky, Michigan State and Ohio State on his original list.
"He establishes and holds positions, finishes with either hand and is a great rebounder. Okafor isn't a high flyer but fully understands how to use his skill and size advantage."
Tyus Jones: The two-time AP Minnesota prep player of the year led his high school to the state title and a 30-1 record a year ago, averaging 20.6 points and 7.0 assists per game. Jones had 26 points, 11 rebounds and eight assists in Apple Valley's 74-57 victory over Park Center in the Class 4A boys' state title game. He was 18-of-18 from the line in that game.
"Jones is a heady floor general and a tough competitor. He runs the show and is in total control of what is happening while he has the ball," writes Bossi. "He doesn't make a lot of mistakes and shoots with accuracy. Jones isn't the biggest or most explosive athlete but he has great body control and balance."
Cliff Alexander: Alexander, who averaged 21.3 points, 13.0 rebounds and 5.0 blocks his junior year, was first-team all-state a year ago.
According to the Chicago Tribune, Alexander, "played Okafor to a draw for the second time in his career in Curie's 62-58 loss to Young in a (2013) sectional semifinal."
"His upside is great," Curie coach Mike Oliver told SNY.tv and zagsblog.com. "Cliff's only been playing five years. He's gotten better every year. I think his best basketball is still ahead of him. He's going to be a great player. If he gets an opportunity to play right away, I think it will help him grow."
Noted Bossi: "Alexander is a physically intimidating power player. He uses his strength, long arms and attacking nature to go right at the rim. He can make jump hooks and is developing touch to eight feet. Perhaps his biggest strength is his rebounding. Alexander grabs rebound above the rim and often snatches them away from opponents."
KU has two scholarships to award in recruiting. The Jayhawks will lose senior Tarik Black to graduation and Andrew Wiggins to the NBA. However, Wayne Selden, Joel Embiid and Perry Ellis also could turn pro with transfers always a possibility as well.