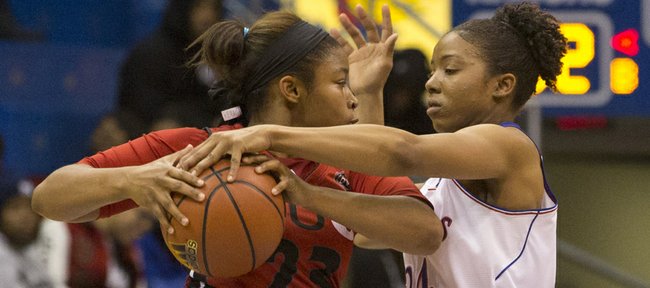 Hospitality is overrated. Kansas University's women's basketball team showed Wednesday night they prefer making their opponents uncomfortable at Allen Fieldhouse.
After winning the season-opener at the free-throw line three days earlier, KU earned its second victory of the young season with its defense. The Jayhawks forced SIU-Edwardsville to commit 26 turnovers and turned their foe's miscues into 31 points in a 72-56 victory.
When the Cougars wanted to swing the ball from one side to another or create a passing angle for a post player, inevitably they found a KU defender waiting to snatch the pass away or deny the lane altogether.
"I thought we guarded their sets pretty well," Kansas coach Bonnie Henrickson said of the key to getting SIUE (0-2) out of sorts early.
The Jayhawks' activity throughout the first 20 minutes, which included a 16-0 run, led to nine steals (three from junior forward Chelsea Gardner), a flurry of deflections, two shot-clock violations by SIUE and 18 points off turnovers for KU.
Gardner poured in 19 points in 24 minutes, despite sitting for a long stretch in the second half when her right ankle bothered her (she later checked back in). But she did far more damage on defense as she fronted the post, blocked three shots and made a point to deny SIUE of any easy offense.
"I'm just having to move my feet more," Gardner said, "and getting around and getting in the passing lanes like the guards are, and getting big deflections."
Offensively, the 6-foot-3 forward from De Soto, Texas, had 14 points and four rebounds in the first half. Gardner knocked down an open baseline jumper, ran the floor for an easy transition basket off a pass from junior point guard Natalie Knight and showed she could play with physicality inside, too, posting up in the lane and hitting a short turn-around jumper.
Henrickson said the game plan all along was to feed Gardner inside, and the Jayhawks (2-0) did when they could. Though the coach praised the team's go-to post player for her great hands, touch and ability to score facing up, Henrickson said Gardner needs to use her lower body on the blocks and create space for the KU offense to meet its potential.
Ideally, Henrickson wants Gardner to be the type of big Carolyn Davis was the previous four years for the KU program.
"Where she's got to grow is to work early like Carolyn did," Henrickson said of Gardner. "We talk about score before the catch. With Carolyn, she always worked early and by the time she caught it, she was in a 70-percent catch area. (Gardner) isn't there yet."
KU picked up another offensive boost from junior guard Asia Boyd, who scored 10 of her career-high 18 points in the first half and converted four of her five three-point tries.
After KU led easily at the break, 36-20, Boyd knocked down back-to-back threes — one from the left corner and another from the right wing — early in the second half to keep the team rolling.
"I felt pretty good," she said following her second career start, "so I just kept shooting the ball."
Kansas finished with 16 steals (six from sophomore guard Lamaria Cole) and five blocks, and held SIUE (0-2) to 38.6-percent shooting.
Said Gardner of the defensive effort: "I think we all have to come together as one and just have a lot of energy in order to get those steals."
Cole set new career-best marks with eight points, six steals and five assists. Freshman guard Dakota Gonzalez went 3-for-7 off the bench for six points, and senior guard Markisha Hawkins also scored six off the bench.
The Jayhawks play their third straight home game at 4 p.m. on Sunday against Creighton.